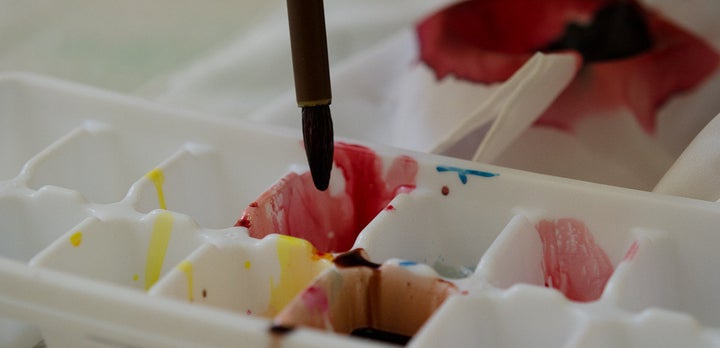 "I really love this bouquet I found in a magazine, but I think I can save money by going down to the flower market the day before my wedding and making it myself."
"I don't want to spend money on a DJ, so we're just going to hook my iPhone up to a boom box and play it for the reception."
"I'm going to design and print up my own invitations -- it will save us tons of money."
"I want cupcakes instead of cake, so I'm going to make them all myself."
The Myth of Wedding DIY is that it's going to save you time, it's going to save you money, and it's as easy as it looks. Build it yourself and it will come out just as great or run just as well as if a professional has done it. And I get it. You don't think you'll be able to find what you want, or at a price you can afford. And it does seem so easy, doesn't it? The flowers wrapped in ribbon, fashioned in the exact right way.
But a florist knows what the best cuts of flowers look like, when and where to get them, and, most important, how to arrange them. They have all the materials they need on hand, so there's no scramble if something is missing or if you want to change how it looks. And, at some point, you're going to want to change how it looks. The DJ knows when to fade the music out, when to turn it up, and if you go up to them and want another song other than the one that's about the play, it happens seamlessly. Someone needs to be in charge of the music, and just the music, at all times. Trust me on that one. Stationery stores are responsible for all the typesetting and all the printing for your invitations, and they're responsible for whatever it takes to make that happen. And do you really have the space to bake and hold 300 cupcakes? Time and experience -- and, yes, storage -- are what you're paying for in order to get a perfect result.
Don't get me wrong, I've worked with couples who've created gorgeous DIY wedding projects. Luxurious centerpieces, jaw-dropping table numbers, and beautiful invitations and programs, many of which are now hanging on my office wall.
But everyone had one thing in common: They'd done this type of thing before. They knew how long it would take, how much it would cost, and they were eager and excited to devote the time to work on it.
If you have never attempted any of these projects before, now might not be the time to start.
You can do it, but my point is that you really need to think about whether you should. There's a delicate balance between saving money and setting yourself up for disappointment while driving yourself nuts! This is what you know about doing anything new: It takes time to learn how to do it, and even more time to learn how to do it well, and that means spending money on supplies over and over until you get it right.
Another option is to go partial DIY. Instead of making the invites yourself, consider buying an invitation kit. The kit has enough invites for 100 guests, plus all the inserts and envelopes you're going to need. You can find them at any stationery store, or even Target, for that matter. Simple: You print them up with your information, then mail them out. Remember to get an extra box for practice and mistakes, and extra ink for your printer. There is nothing worse than being 35 straight, centered invites in when the black ink starts to get blurry.
Instead of an elaborate centerpiece, you could find ready-made non-floral centerpieces that you can just pick up and drop off. And bake or cook your favors -- they're smaller.
Do the research -- and a run-through -- before you decide. Keep looking for vendors that fit into your budget before you decide. Figure out what you're getting into -- and then decide.
And if you do decide to go DIY, live by these three words: Practice, practice, practice.