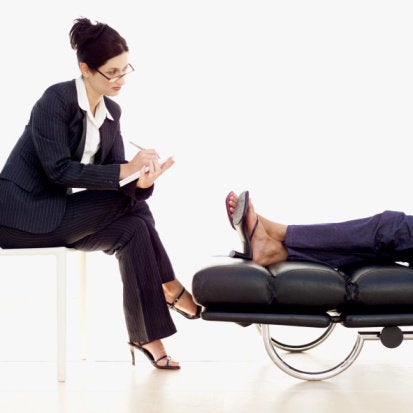 The Naked Lady Who Stood On Her Head: A psychiatrist's stories of his most bizarre cases
Gary Small and Gigi Vorgan
William Morris/Harper Collins, 2010
Dr. Gary Small began his prominent career as a resident in psychiatry at the Massachusetts General Hospital (MGH), in Boston, Massachusetts. His collection of stories also begins at this illustrious hospital and then traces the arc of his career -- with the last story one where he the child has now become father to the man.
In full disclosure, I was at the MGH as the inpatient psychiatry director when Dr. Small arrived, though he did not rotate on my service. But I recall meeting him and getting to know him through his training years. He had the same qualities of warmth, lucidity, humor, intelligence and humility that come through in his stories. The tales he tells create an intimacy with him, what psychiatrists do and our manner of practice, and even a window into his marriage and parenting (in other words, it is all so human), with his wife and co-author Gigi Vorgan. But it is Dr. Small's ability to instruct with clarity and brevity that has keenly developed over the years that gives the book its unique value.
Our journey into the world of psychiatry begins with the tumultuous story of working with someone with a borderline personality: young Dr. Small is soon over his head with problems caring for his patient, aggravated by bad supervision. We move on to the "Naked Lady Who Stood On Her Head", the book's namesake, where he delivers a quick emergency cure to a young woman delirious from severe hypoglycemia; but he also has the sense not to stop there and continues to work with her and her family so she can move beyond dependence and self-neglect, which is what will keep her out of the ER in the future. "Fainting Schoolgirls", an account of mass hysteria among students in a Boston suburban school, put our author on the professional map while still a resident and is a great tale of mystery, hubris and public (mental) health. Other stories uncover how our minds can take control over our bodies with phenomena as seemingly 'bizarre' as false pregnancy, catatonia with mutism, and hysterical blindness. Still other stories have Dr. Small unlocking family puzzles that are creating psychic pain and familial dysfunction. The last story, of fifteen in all, has him today as the world renowned geriatrician he has become taking on the care of his mentor who turns to him to be his doctor. Dr. Small has gone from student to master of his craft but with the right amount of self-doubt and self-examination to help ensure that he will do right by his patients, no matter who they are.
This collection is a primer on psychiatry. It benefits tremendously from Dr. Small's approach, which is a blend of biological, psychodynamic and family treatments. He was well schooled and as his career progressed he did not cloister himself in biology -- even as his principal research focused on the brain and Alzheimer's disease. While some of the stories seem too neat or quick to resolve, unlike my experience of how messy or extended our work often can be, he adds, sotto voce, that his treatments tended to continue for some time.
This is a book whose stories thoughtfully depict essential aspects of mental health treatment. Few people actually understand, and thus tend to mischaracterize or stigmatize, what goes on in a psychiatrist's office: for good reason, since it can be hard to explain. Stories have always been a wonderful way to illuminate the unknown or seemingly inexplicable. The "Naked Lady Who Stood On Her Head" had the good fortune to have had Dr. Gary Small cure her. Many patients, and their families, will be helped to enter and remain in mental health treatment by his and Ms. Vorgan's lively and revealing storytelling, which will be almost as good as seeing the good doctor himself.
The opinions expressed herein are solely my own as a psychiatrist and public health advocate.
Dr. Sederer receives no support from any pharmaceutical or device company.
Visit Dr. Sederer's website at www.askdrlloyd.com -- for questions you want answered, reviews and stories.
Calling all HuffPost superfans!
Sign up for membership to become a founding member and help shape HuffPost's next chapter