When I was on my way to visit contemporary artist Scott Campbell's studio in Brooklyn in the middle of a frigid afternoon, I wondered if he was one of those tough tattoo parlor guys, wearing leather and speaking with a southern twang (Campbell was born and raised in Louisiana). Although I had met him years ago at a party and had seen his portrait in the press, I had never interacted with him. So I was very surprised when I saw him waiting for us at the doorstep of a nondescript building in Williamsburg. Instead of what I imagined, I found an incredibly smart and kind gentleman with a New York accent who runs marathons, works with laser-focus determination to produce great pieces of art and is in the middle of a renovation project that he decided to undertake himself: a Fort Greene brownstone he just bought with his wife of less than a year, actress Lake Bell. The tattoos covering Scott from the neck down were the only thing correct about my assumptions.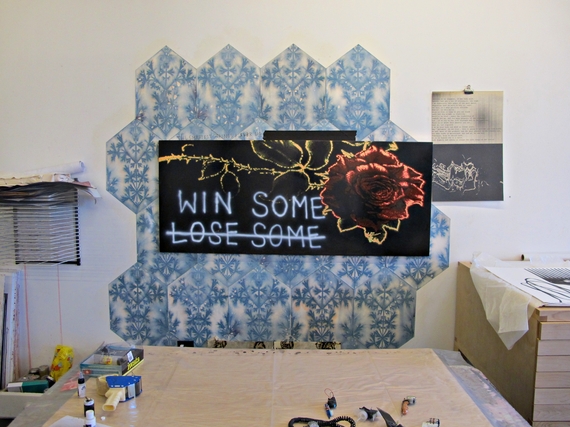 I had been familiar with Scott's work first as a tattoo artist, most notably as the creator of all of Marc Jacobs' body art, but also having inked the likes of Johnny Depp, Sting and Courtney Love among many others. I later discovered his fine art when I saw his work in the house of a collector who has a couple of his dollar bill low-relief pieces a few years later. Having been a fan of Scott's for a while, I felt honored to have him show me around his studio and answer some of my questions regarding his start, his transition and influences in art, and his upcoming projects.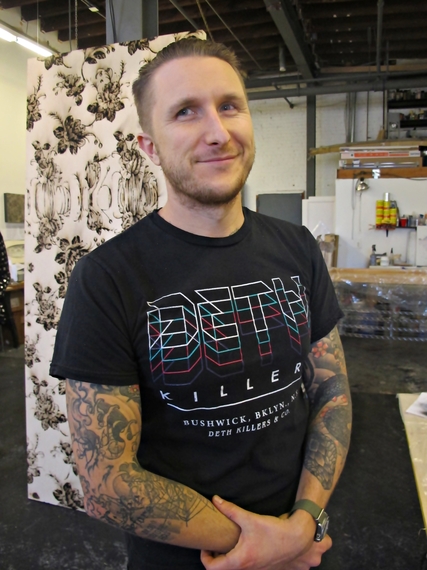 MB: Why did you decide to get your first tattoo?
SC: I was 15 and wanted to irritate my father. After that, each tattoo I've gotten has a meaning; it is a piece of my life at any given time. I have also let friends tattoo on me, I don't necessarily have to carry the best and most perfect tattoos. I care a lot about what I do, but less about what's inked on my body.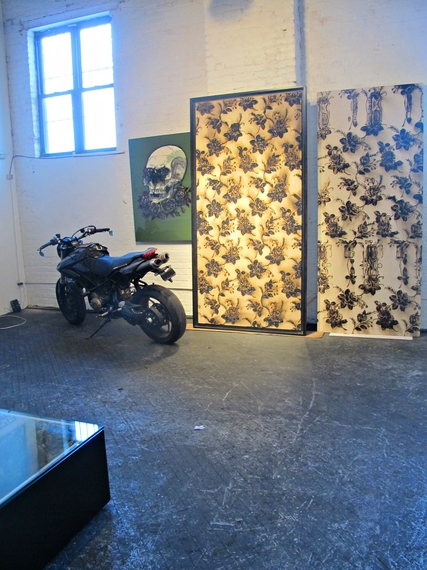 MB: That's interesting because I always tell my clients that they should use the walls of their homes as a narrative of their lives. And sometimes people collect because they cannot say with words what you express with art. And those collectors usually go pretty wild with their art choices.
SCZ: Absolutely, that's right. But you know, sometimes a tattoo can be a lot less permanent than a piece hanging on the wall. The art piece has more permanence. The tattoo may get lasered-out, sunburned, whatever.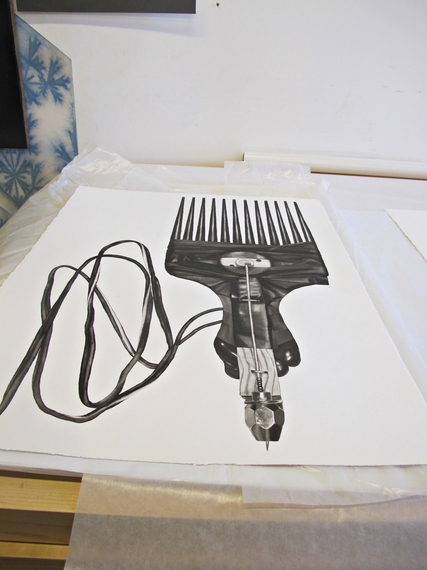 MB: How did you become a tattoo artist?
SC: I moved to San Francisco in the 90s and went to a tattoo parlor in the lower Haight and asked for job, told them about what I had been doing in the South. They took me and that's how I seriously started in the industry. Then I moved to New York in 2001, and in 2005 I opened my own studio, "Saved Tattoo" in Williamsburg. Things started happening after that.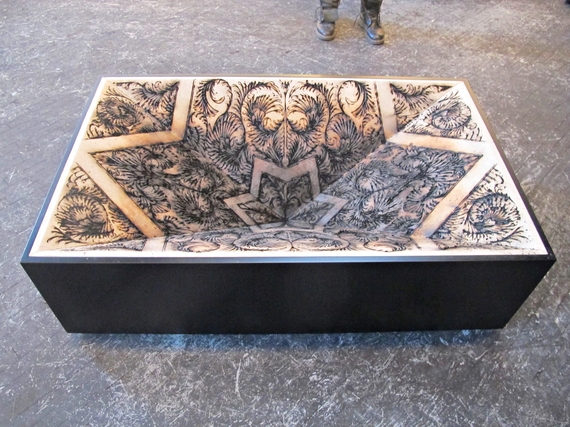 MB: How did you transition from being a tattoo artist to being a fine artist?
SC: I have always been drawing and painting. But then I had been tattooing all these famous artists that I admired, some of them with long and very successful careers. I realized while listening to their stories and hanging out with them, that we were all the same, that we all had ups and downs and had insecurities and screw-up moments. I was probably idolizing the career of an artist without knowing how normal an artist can be as a person.
MB: I love everything you do, the money reliefs, the dollar works on paper, the burned table, the Fuse Paintings, the large watercolors. Everything is different, yet cohesive. In a way, it feels to me that every single one of your art pieces comes from the tattoo world subculture -- it's all very subversive. That's pretty remarkable considering all the various media that you work with.
SC: Yes, for example, I loved my project where I worked with inmates in a high security prison in Mexico City. I spent two months with them. They are not allowed to get tattoos, yet we created a very rudimentary machine for each of them with whatever we had inside the prison. They were happy to get a tattoo that differentiates them from the next man who is also wearing an orange suit. I documented my project and did these large-scale watercolors of the tattoo machines that we used. With the money sculptures, there's always a reaction, almost as if using real dollar bills were to be blasphemous. The wood panels that I used to build the table were drawn with gunpowder and then lit, thus creating the burned intricate designs, which pretty much resemble the tattoo patterns commonly found in parlors.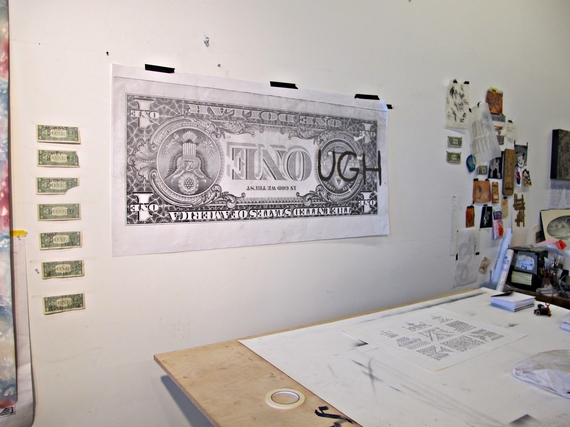 MB: What are your most immediate projects?
SC: I have my upcoming solo show with Galerie Gmurzysnka in St. Moritz, Switzerland. It's called "The Smartest Things I Ever Did Were Foolish Things for Love" and it's pretty much based on this idea of love and that's why I decided to work depicting roses, words that are poetic, you know, I'm a newlywed! Then in April, I'm this year's honoree of Free Arts NYC and I have a very cool project that I will develop with them.
"The Smartest Things I Ever Did Were Foolish Things for Love" opens at Galerie Gmurzysnka (Via Serlas 22, St. Moritz - Switzerland) on February 20, 2014
Calling all HuffPost superfans!
Sign up for membership to become a founding member and help shape HuffPost's next chapter