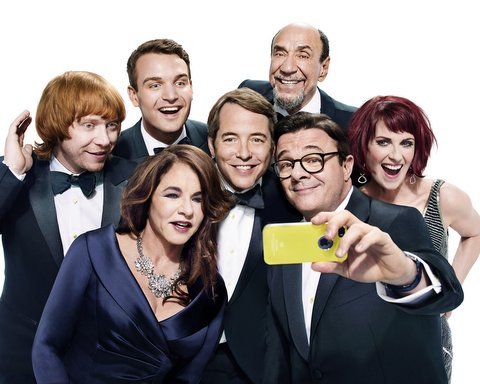 Rupert Grint, Micah Stock, Stockard Channing, Matthew Broderick, F Murray Abraham, Nathan Lane and Megan Mullally in It's Only a Play. Photo: F. Scott Schafer
You will not likely find anything funnier onstage, just now, than Nathan Lane in the opening scene of Terrence McNally's It's Only a Play. Lane, as a humble off-Broadway actor turned top-tier sitcom star, is given a barrage of robustly funny jokes to launch at us, mostly of the lacerating variety. What's more, he is given a straight man--a tall, young, Midwestern deer-in-the-headlights type played by a skilled newcomer named Micah Stock--who genially listens while clearly not understanding any of Lane's jokes. Not one. Lane tries harder and harder to get through, his brow furrows deeper and deeper, and things turn funnier, funnier, and desperately funnier.
Fifteen minutes in, when you think the cascading laughter will never stop, the action begins and it does. Stop. Stockard Channing gamely hobbles on as a washed-up, drug-addicted ex-movie star. (The hobble is real; Channing is just back from three weeks of missed previews due to a knee injury, and gets through the evening with a cane--albeit she is careful to make it look like a mere prop.) She plays her role expertly, but her material is typical "comic washed-up drug-addicted ex-movie star" stuff, as opposed to the comic riffs playwright McNally has lavished on Lane.
Then comes Rupert Grint (of the Harry Potter franchise) as a British directing genius with a mass of manias. He even crawls around at times under a black cloak, looking like a low-lying storm cloud drifting over the landscape. Grint eventually takes out a puppet version of himself and smacks it around--his dad didn't like him, you see--and displays quirks which are more quirky than funny. Equally unsuccessful is Megan Mullally as a dilettante producer with apparently no taste, no talent, and little sense. She does have a rich husband (offstage) and a ferocious dog (mostly offstage). Mullally drones through the evening in an airily vacant voice, making ditsy dilettante jokes.
Mind you, laughs continue throughout the two-plus hours of this Jack O'Brien-directed opus; and good old Mr. Lane is omnipresent, always working to entertain us. (He is the odds-on favorite for this year's "Best Featured Eyebrows" Award.) Mr. McNally provides jolly stretches of hilarity, here and there, but most of the evening consists of a group of talented comic actors trying to inflate an often-flat farce. Some jokes land, some land big, and others just sit there.
The nature of the piece is illustrated in the latter part of the first act by the appearance of two stage veterans. F. Murray Abraham--who initially came to prominence, before his Oscar-winning turn in Amadeus, in McNally's 1975 play The Ritz--turns up as drama critic Ira Drew. (While McNally's play drops names by the dozens--there are wicked jabs at Faye Dunaway, Liza, Barbra--his skewering of John Simon is so severe that he changes the name to protect the not-so-innocent.) Abraham crashes the opening night party of this play-within-a-play--and how many centuries have passed since theatre critics attended Broadway openings, wearing tuxedos?--and breathes some life back into the thing, laughing at his own jokes with a St. Vitus-like frenzy. (As an inside joke, I guess, they have given him a deliciously poor hairpiece which looks suspiciously like the piece worn by one of today's most successful Broadway composers.)
The play builds to the entrance of Matthew Broderick, in full black tie & tails, as the author of the lousy new play at the center of the plot. We can easily believe, from the performance, that "The Golden Egg" is lame. Broderick's performance is restrained, I suppose you can say, but I'd place the blame on the material and leave it at that.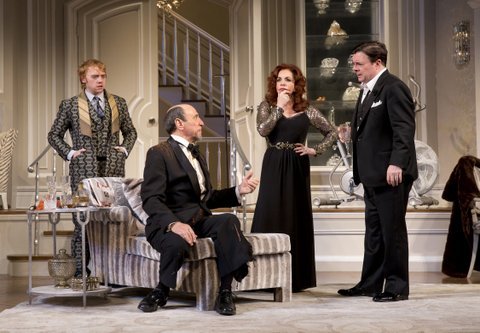 Rupert Grint, F. Murray Abraham, Stockard Channing and Nathan Lane in It's Only a Play. Photo: Joan Marcus
The play is loosely based on the real-life friendship of McNally and the late James Coco, who became an overnight sensation as a middle-aged sad sack mistakenly called before the Vietnam draft board in McNally's 1969 one-act, Next. Coco immediately moved on, leaving within months to star in the new Neil Simon comedy (The Last of the Red Hot Lovers). McNally didn't hit it big until The Ritz, after which he wrote a play about a major star returning for the opening night of a play--which he had turned down--written by his former best friend. Coco himself played the role, opposite Geraldine Page as a dilettante producer (drawn apparently from The Ritz producer Adela Holzer, perhaps mixed with Gladys Rackmil).
Broadway, Broadway was roughly rude but uproariously--and memorably--funny. Five days before the scheduled move into the Eugene O'Neill, the 22-year-old producer's father came to see it at the Forrest in Philadelphia and pulled the plug; not without reason, as Broadway audiences of 1978 were not used to profanity-laden inside joke-filled romps, but a pity as the thing was quite a treat. (Father and son were both named Edgar Bronfman.) Rewritten versions, under the title It's Only a Play, appeared off Broadway in 1982 and 1986, with a prominent revision in Los Angeles in 1992. While many of the celebrity names have now been updated for 2014, sections of the writing seem incongruously rooted in the 1970s.
The Messrs. Lane and Broderick created a box office cataclysm when they joined together for The Producers in 2001. (The evolution of Broadway's "premium seat" prices can be traced directly to the demand to see the two comedians in that Mel Brooks epic.) They commanded an equally strong box office when they paired up for a revival of The Odd Couple in 2005, although the production itself was poorly received.
It's Only a Play has already demonstrated similar appeal to premium ticket buyers, and will likely do exceptionally well during the limited engagement (through January 4.) Theatergoers will get their money's worth, if you can calculate worth by belly laffs, but it turns out that McNally's It's Only a Play is not all that much better than the play-within-a-play that the characters spend the night lamenting. "It's Only Nathan Lane," though, is a boffo bonanza.
It's Only a Play, a play by Terrence McNally, opened October 9, 2014 at the Gerald Schoenfeld Theatre
REAL LIFE. REAL NEWS. REAL VOICES.
Help us tell more of the stories that matter from voices that too often remain unheard.