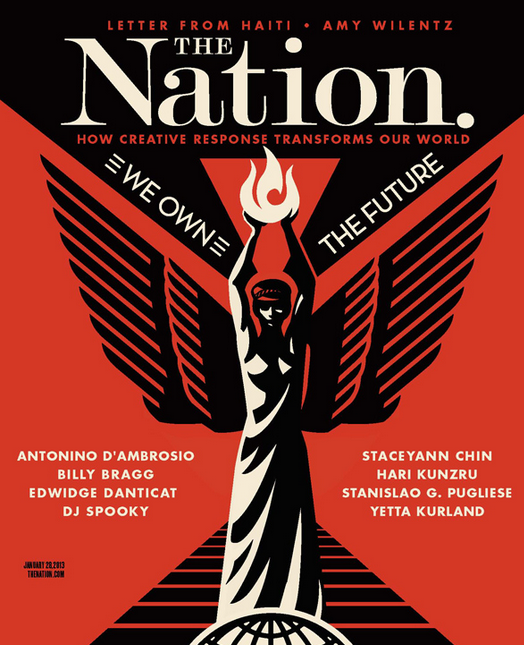 Here's a persuasive argument to join a union at work: You might wind up getting a decent amount of paid parental leave. Oh, and a raise.
The progressive magazine The Nation announced Wednesday that it would be offering workers four months of paid parental leave and 25 percent raises over the next six years. 
These kinds of benefits may be par for the course at tech companies like Google and Facebook and Netflix, but are pretty much unheard of in the media world -- or any other industry in the U.S., for that matter. We are the only developed country that doesn't offer citizens paid maternity leave.
But as more digital media outlets unionize, perhaps things are poised to change.
The 150-year-old Nation has long been unionized, but this year an increasing number of writers at digital outlets sought unionization. Al Jazeera America and The Guardian US joined The Nation's union, the NewsGuild of New York, earlier this year. The Huffington Post, Gawker, Salon and Vice Media all voted to unionize with the Writers Guild of America, East in 2015.
The Nation used to offer its employees (both men and women) two months of paid parental leave. It's still extremely rare for men to be offered the same amount of leave as women. Facebook recently upgraded its policy so that all employees have the opportunity to take four months off after the arrival of a new baby.
"Parental leave is a critical benefit for both women and men at our growing company, and will be offered on a gender-neutral basis," Emily Douglas, a senior editor at The Nation, said in a statement.
She said that the leave can be taken in stages during the first year after the arrival of the child.
The NewsGuild said it would be fighting for better leave at all the outlets it represents.
The U.S. does offer up to 12 weeks of unpaid leave to workers at larger companies, but largely leaves paid leave up to employers to offer as a "perk." This is despite the fact that research has shown that babies who are allowed to bond with their mothers (or other primary caregiver) when they're infants wind up healthier. Maternity leave may actually decrease infant mortality rates. 
This year, many companies have extended the amount of leave they offer workers, including Spotify, Netflix, Amazon, Microsoft, Accenture, Adobe and others. Still, most of the workers getting the improved benefits are typically well-paid white collar workers. Those who need this the most -- hourly, lower-income people -- have largely been left out of the new progressive movement.
All the Democratic candidates for president support paid parental leave, while only one Republican supports a leave policy that would offer businesses tax credits for offering this "perk."
Calling all HuffPost superfans!
Sign up for membership to become a founding member and help shape HuffPost's next chapter