Question: Who doesn't like Gershwin? Answer: Nobody! Sadly I've heard people complain about JS Bach (too cerebral), Beethoven (too intense), Wagner (too, well, Wagnerian) but no one, I repeat, no one doesn't like that American in Paris, the man who got rhythm, the man who built a stairway to paradise, George Gershwin.
The sold-out audience at last Friday's All Gershwin Concert at Geffen Hall concurred as they rose to their feet cheering the perennially hot "Rhapsody In Blue" performed by Maestro Everett McCorvey, Pianist Michael Fennelly, The National Chorale Orchestra, and especially the remarkable National Chorale. What? I hear you saying. Did the editors at the Huff Post not catch that musical gaffe? Everyone knows there's no chorus in the "Rhapsody."
It seems that George was mostly finished arranging his piece for orchestra and chorus right before he died. It took almost a hundred years and the dazzling pianist/arranger Michael Fennelly for his vision to be realized and it was delightful.
The moment the chorus started their "oohs," along with the statement of the first theme, I was honestly taken aback. That's not how it should be done. But it took me only four measures to reconsider. Why not? (or Who Cares?) The choir added a heavenly accompaniment to an already glorious piece. Plus, I remembered that the "official" orchestral version of "R in B" is also an arrangement itself, the original having been written for Paul Whiteman's jazz ensemble.
Hearing the chorus added to the orchestra, I was instantly transported to my childhood (an aural Madeline, if you will) and the harmonic vocabulary of the American Cantatas I so loved: Gorden Jenkins's "Manhattan Towers," and Mark Blitzein's much-neglected "Airborne Symphony." I felt I was listening to an undiscovered Gershwin Cantata, although, of course it had been discovered many times. Gershwin himself (not Ira) wrote the lyrics:
This is the day when we will say, "I do"
Finding a way to keep our love new
All of my life, I've dreamt of you as my wife
So when that day comes along, I'll be here singing our song...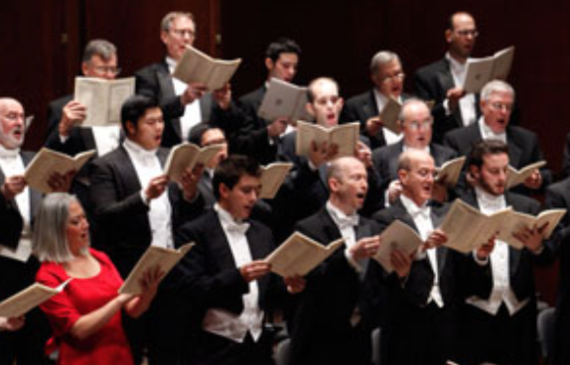 I truly believe, even in this day of international conductors jetting around from one orchestra to another, that orchestras do have a nationalistic sound. American orchestras (especially those in New York) can play Gershwin better than anyone. Maybe it's the water? Maybe it's the bagels? But his sound (along with Bernstein's, and Copeland's) is buried deep in the hearts and consciousness of American musicians. The thrill in hearing Americans play Gershwin is analogous to the thrill I experience when I hear an English orchestra play Britten or the Vienna Philharmonic play Strauss and Mahler.
Everyone knows "R in B" opens with that famous clarinet line. Quoting from Fennelly's program notes, "Synthesizing three centuries of music history into a single bar, the clarinet begins with a simmering trill styled after a Mozart cadenza, ascends through a diatonic scale as in a Weber concerto, suddenly accelerates with a chromatic flourish like a Strauss tone poem, and then burst forth with a glaringly sliding glissando-unlike anything previously heard in a concert hall." Fennelly writes as well as he plays. Let me add: thus was born American classical music.
I have heard many pianists capture the fervor, the noise, the power of the Jazz Age, but Fennelly, in addition to the pounding chords brought out the warmth and singular beauty of the softer passages. The inner voices seemed to float over the orchestra, landing gently on our ears. Even in the dead acoustics of Geffen Hall (soon to be gutted, praise the Lord) Fennelly's delicate touch caressed the audience and made his returns to the boisterous sections all the more stunning.
His cadenzas were simply astonishing. I heard interpolated riffs that Bernstein created, as well as some others by jazz legend Dick Hyman, but a few were improvised and composed by Fennelly himself. They hit me like a lightening bolt. He catapulted the audience 2,000 feet in the air, taking them on a rocket-ride around the Chrysler building as he riffed on the Gershwin melody.
Of course, there's not going to be an "R in B" without a virtuoso clarinet player and Pavel Vinitsky didn't disappoint. With lead trumpet Kevin Cobb and the wonderful Jorge Avila, first violin, Maestro McCorvey conducted a pitch perfect performance and the National Chorale was a wonderful. I'm sure this new version will have a very long life.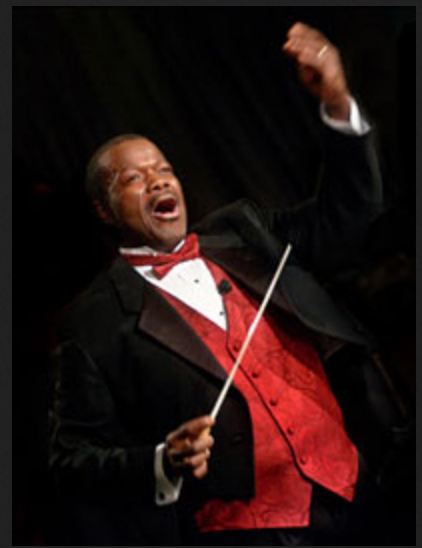 McCorvey really got to shine, though, in the second half of the program. He is the newly appointed Musical Director of the Chorale and they couldn't be in better hands, given their performance of "Porgy & Bess, A Celebration of Songs" (arr. By Robert Russell Bennett). McCorvey has conducted Porgy all over the world and his attention to detail was astonishing. Given the economics of the times, I'm sure he only had minimal rehearsal time. Yet, the orchestra played with the precision of a band that's rehearsed and played together for years. The most important thing about Porgy is that in addition to sounding like a traditional opera, it has to swing, 'cause Porgy don't mean a thing if it ain't got that you-know-what. McCorvey found the perfect balance between the grand opera house monumentality and the Catfish Row juke joint.
The four seasoned soloists, Janinah Burnett, Karen Slack, Robert Mack and Kenneth Overton performed multiple characters in this show-stopping performance. All the favorites were there: Burnett singing a sensuous "Summertime," and joining Overton in a soul-searing "Bess, You Is My Woman Now." Ms. Slack stopped the show with "My Man's Gone Now," and Mack brought down the house with "It Ain't Necessarily So."
The even began with five Gershwin songs performed by The Professional Performing Arts High School Choir, who sang rather standard arrangements. The men had to compete with a women's choir three times their size but did so admirably. Although they started off tentatively, they soon found their groove, and gave a lovely start to this sumptuous evening. If these young professionals are any indication, there will be a new pool of accomplished choristers ready to sing with the National Chorale very shortly.
The Chorale also got to shine with their performance of "A Tribute to Gershwin," arranged by Jack Jarrett. This demonstrated their perfect intonation, their crisp diction and, most important, their joy in singing with this whole medley. My favorites were "Someone to Watch Over me," with a luscious jazz infused introduction, and "Fascinating Rhythm" with its, well, fascinating rhythms and sensational syncopations. This choir rocks!
But, despite the first-rate music making, this evening belonged to three great artists: Everett McCorvey, Michael Fennelly and, of course, George Gershwin.
REAL LIFE. REAL NEWS. REAL VOICES.
Help us tell more of the stories that matter from voices that too often remain unheard.