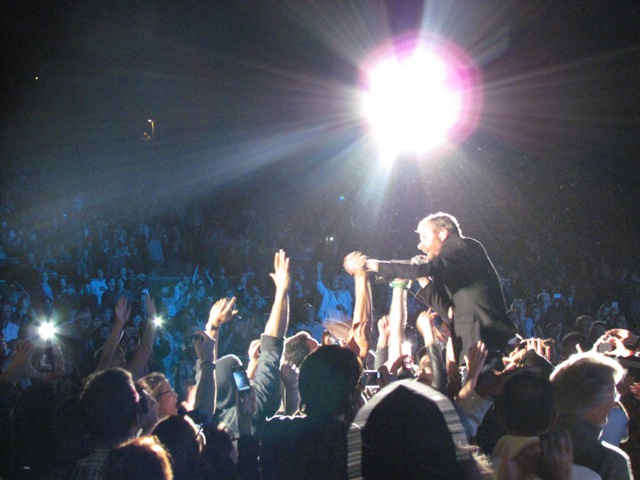 Photos by Karin Lindberg Freda Used with Permission
The National played a set at the Hollywood Bowl on the tenth anniversary of 9/11 that made their signature subjects -- self-reproach, uncertainty, despair -- turn sublime. The Brooklyn-based band made themselves at home headlining the Bowl, where they once opened for R.E.M. Their performance style is both intense and unpretentious. Their music is a thoughtful onslaught of guitars, percussion, keyboards, strings, horns, ideas and confessions. Lead singer Matt Berninger's deep voice drives fires through oceans of sound. They added lighting effects and a compelling background screen of images, including some evocations of 9/11. But the catharsis provided by The National occurs in the audio, even more than the visuals.
The 10 hard years since the 9/11 attacks have permitted this band's slow ascent. The National's success counterpoints the world economy's decline over the past decade. Matt Berninger appears born to enunciate the depths of America's downturn.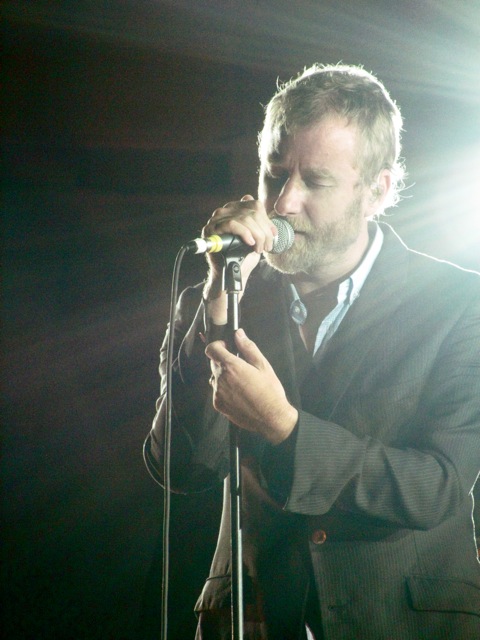 Matt Berninger of The National
He offers thrilling rants of frustration, well-placed profanities and mordant comedy and pairs these with other lyrics that appear oblique, fragmented and idiosyncratic. His words are all the more powerful for their refusal to be tidy or conventional. He'll set disparate thoughts side by side and let their estrangement speak the heartbreak of the song. Decency shows up in his writing, too. Berninger's lyrics sketch a decent American man whose hope, and lack of hope, keep making him complicit in tragedies big and tiny that he never intended, and can't often correct.
By opening the 9/11/11 show with the hard-won resolve of "Runaway," a song built around a promise not to run from the realities of relationship, and by allowing that promise to stay studded with more questions than answers, the band burnishes the louche hypotheses of its fine second album, Sad Songs for Dirty Lovers, into a rocky respectability. The slings and arrows of commitment to a partner, to anything, shock, overwhelm or even soothe as the song delivers amazing musical grace. This is the mature achievement of High Violet and its predecessor Boxer, too: doubt, absurdity, even menace, are allowed to stand, but a crescendo of terrified resilience pours through the songs.
Resilience depends, ironically, on an ability to cop to everything that jeopardizes it. The National's irony is anguished, not arch. When their chamber-music expertise adds the jewel tones of horns and strings, an exquisite art school aesthetic adds dignity to The National's oeuvre of songs about screwing up. The dignity never becomes sedate, however, because it is under constant assault from one of rock's finest drummers, Bryan Devendorf, who plays like the love child of John Bonham and David Foster Wallace. Resilience never loses mystery or power because Scott Devendorf, Bryce Dessner and Aaron Dessner play inspired, brainy guitars/bass and direct the Calder Quartet to play innovative horns.
"Runaway" was followed by "Anyone's Ghost," then "Slow Show," "Squalor Victoria," "Afraid of Everyone," with special guest St. Vincent, "Conversation 16," "Available," Cardinal Song," "Sorrow," which included a St. Vincent solo, "Abel," "England," Thirsty," "Fake Empire," Think You Can Wait," with Sharon Van Etten, "Mr. November," "Terrible Love," and "About Today."
Berninger's low voice has prompted comparisons with the usual suspects: Johnny Cash, Tom Waits, Leonard Cohen. Eddie Vedder, too. But try mixing in the David Bowie of the first notes of "Space Oddity" and all of "Heroes" as well as the Lou Reed of "Perfect Day" and "Satellite of Love" to really get Berninger's drift. Throw in baritone Bing Crosby's old Depression-era "Melancholy Baby." Baritone voices like Josh Turner or Idol winner Scotty McCreary often find a welcome home in country music and its conventions. That Berninger's baritone gives voice to a passionate, peculiar mind through various songs that style its owner as "a delicate man" with "girly arms" in "beloved white sleeves" marks him as a true original. He is sweet and sinister apple pie. He is all the wine.
Arcade Fire gets an audience on its feet with huge ecstatic sounds designed to be transporting. Redemptive. The National offers, by way of contrast, standing room in an existential lounge and pie shop where Mitch Hedberg is reading The Myth of Sisyphus and a familiar Negative Creep keeps chanting, "my mind's not right, my mind's not right," while hot horns and dire drums and cagey words twist the night away into something impossibly beneficial.
Where will The National grow to after the success of High Violet? Through five albums, additional EPs and a new track "Exile Vilify" http://www.americanmary.com/from the game Portal 2, they have stayed down-to-earth, desperate, ambitious, wistful, tasteful, furious, sad, and funny. They managed the opportunities of the Hollywood Bowl well but they are masters at creating a closer conversation with fans that a smaller venue provides, where Berninger can throw himself into his work and into the crowd all evening, not just once, as he did Saturday night during "Terrible Love."
The National welcomed three outstanding female artists to their Hollywood Bowl show. Sharon Van Etten warmed up, followed by Neko Case (with her guest T-Bone Burnett). St. Vincent joined The National during their set.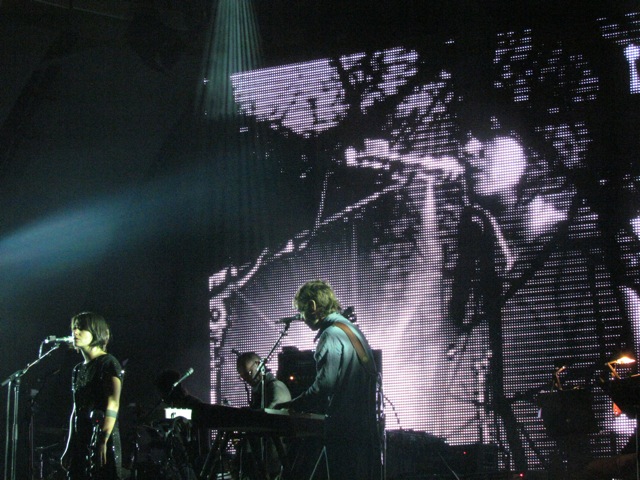 Sharon Van Etten performs with The National
Related
Popular in the Community