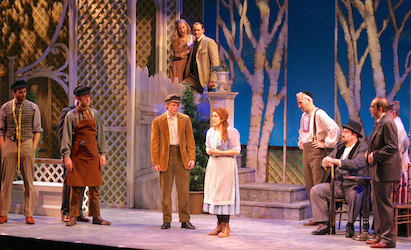 You wouldn't believe what's going on at the 101-year-young National Yiddish Theater-Folksbiene! First, they've found a home for the first time in 40 years at The Museum of Jewish Heritage in Battery Park! Not just a home. A HOME! with a view of every immigrant's favorite sight--The Statue of Liberty. Also, with God's help and contributions from lovers of mamaloshen - the Yiddish vernacular -- NYTF continues to present heartening works in a lively language that's mistakenly been declared deceased.
NYTF's current production, The Golden Bride, performed in Yiddish with English and Russian subtitles, looks like a tri-lingual hit with glowing plaudits on theatrical and Jewish websites, even The New Yorker, plus a rave review and a starred listing in the Friday Arts section of The New York Times from Laura Collins-Hughes. Although not one of her three names appears in the Old Testament, her appreciation of recent Yiddish productions -- The Golden Bride and Death of a Salesman - convince me that some of her DNA arrived at Ellis Island in steerage. In addition, in mid-December at Carnegie Hall, the 44 year-old Moscow-born piano virtuoso Evgeny Kissim, who learned Yiddish from his grandmother, starred in a two-night program of works by lesser-known Russian-Jewish composers in which he also recited a dozen Yiddish poems by literary giant I. L. Peretz on the first night, closed the event with "Credo," a Yiddish poem he'd written himself.
All right already! Back to 1923 on Second Avenue where The Golden Bride is packing a 2000 seat theater for 18 weeks and embarking on an international tour. And then? A brief 1948 revival before lying dormant until 1984 when Michael Ochs, Harvard's Loeb Music Librarian, was looking for an exhibit for an upcoming music conference, when, lo and behold, a substantial but incomplete manuscript of the vocal score to Joseph Rumshinsky's Golden Bride popped into his hands. Rumshinsky? Rumshinsky? How come Ochs had never heard of the Jewish Victor Herbert? A composer of 100 operettas? Ochs's hoity-toity German-Jewish family considered Yiddish lowbrow and kept him away from it. Ochs was intrigued enough to make a copy of the manuscript and 18 years later, when he retired, he asked the American Musicological Association if they'd consider publishing a paper about it in their Music of the United States series. Their enthusiastic Yes! started Ochs off on additional research.
At YIVO, New York's Institute for Jewish Research, Ochs found a typescript of Frieda Freiman's libretto and Louis Gilrod's lyrics among documents placed there by Freiman's grandchildren, David and Lisa Roth. He also met Yiddish music Doyenne/archivist, the late Chana Mlotek, there, who told him to immediately call her son Zalman, Artistic Director of the NYTF. It was a match made in heaven.
Mlotek, familiar with the show's hit song, "Mayn Goldele," joined Ochs's research which yielded a major find at UCLA, where Murray Rumshinsky and Betty Rumshinsky Fox had deposited their father's original orchestrations. Ochs compiled and edited the full score. Mlotek unveiled it in 2014 at a NYTF concert with piano accompaniment, followed by full orchestral performance at Rutgers University in August 2015. Both Ochs and Mlotek understood the contemporary appeal of its universal themes: seeking a better life, pursuing your dreams and making them come true.
The plot is typical Yiddish soap opera, like those broadcast on Sunday afternoon c. 1930-1940 on ethnic radio stations. A beautiful orphan girl... raised in poverty...unexpectedly inherits a fortune...from the father she never knew...and leaves for America...to claim her estate...with proposals from three no and one goodnick...the medical student who's loved her since childhood...and vice versa...promising to marry...whoever reunites her with the mother...who vanished when she was an infant. Do I have to tell you the ending?
Foremost among the many joys of this production is the exuberant 14-piece orchestra under the jubilant baton of Zalman Mlotek filling the theater with melodies that must have had Second Avenue matrons dancing in the aisles. Equally enthralling were the glorious operatically trained voices of Rachel Policar as Goldele and Paul Muni-lookalike Cameron Johnson as Misha, who despite their unfamiliarity with Yiddish, in three weeks spoke and sung the language as if they'd grown up in Berdychiv. Adorable in comic roles were Jillian Gottlieb as would be actress Khanele and Glenn Seven Allen's Jerome, her dopey vaudevillian boyfriend. Adam B. Shapiro as Kalman, the matchmaking male yenta, was irresistibly resplendent in a three-piece suit, designed by Izzy Fields, made from fabric snatched from a Little Italy restaurant tabletop. Kudos also to John Dinning's stetl-to-mansion convertible set, three cheers for the entire energetic and talented cast and last but hardly least, heartfelt gratitude to co-directors Bryna Wasserman (NYTF Executor Director) and Motl Didner (BYTF Associate Artistic Director} for transforming an old-fashioned operetta into a modern masterpiece.

You don't have to be Jewish to love The Golden Bride. You just have to appreciate melody and charm.
Until January 3, 2016
Museum of Jewish Heritage
26 Battery Place, NY 10280
Popular in the Community