This is the happiest Matt Berninger has ever been. Sitting backstage in his dressing room at the Brooklyn Academy of Music on Saturday night, about to play a sold-out concert and begin a year-long tour around the world, the baritone frontman is enjoying fatherhood and the fact that The National, after ten years of producing records on their own meticulous terms, are finally teetering on mainstream recognition.
The National's fifth and latest album, High Violet, which they played Saturday night at an unforgettable, high-energy concert streamed live on YouTube, is just as haunting, soothingly melancholic, and addicting as past efforts. (Melancholy and high-energy seem contradictory? The National are known to pull it off).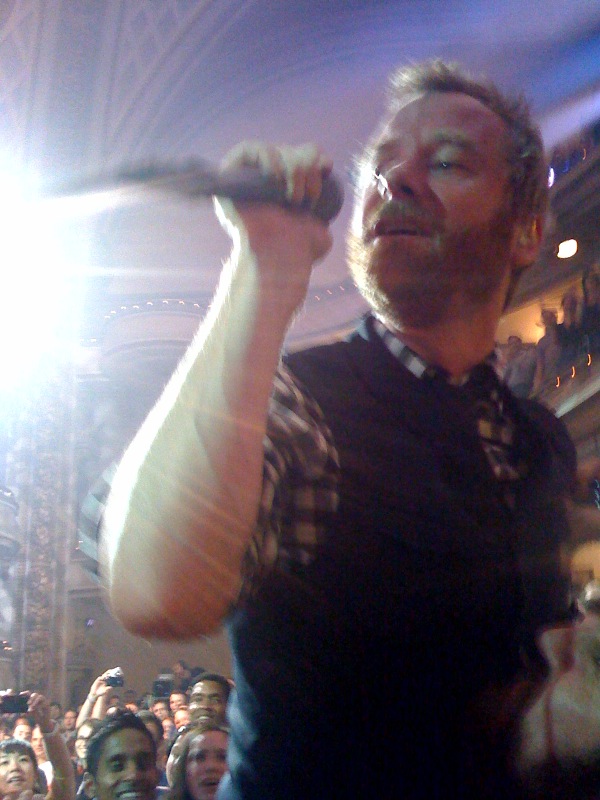 Matt Berninger climbing through the audience at BAM. Photo courtesy of my iPhone
Their 2007 album Boxer--repeatedly ranked one of the best, must-have of the decade--can go into a time capsule for the dark cloud of the Bush years. Lyrics like "we're half-awake in a fake empire" capture the apathy and longing for meaning of that dark time. It's no wonder that Berninger's rock-out song "Mr. November" became the musical equivalent to Shepard Fairey's Obama poster in the 2008 election. The Obama campaign featured it in video montages played at many campaign events.
"As bad as it was for eight years, in the long run it got a lot of people off their butts and to put their muscle into things that need help," says Berninger. "Seeing the consequences of apathy and being passive was very clear to everyone when Bush won twice. This is what happens if you're not constantly pushing for the things you believe in."
How does he think the candidate he stumped and raised money for is doing now as President?
"For everyone who thought he was going to change things quickly... Just the unbelievable scale of resistance to progressive change. The GOP not only in Washington, but Americans in general have gone to these extreme perspectives where they just want to beat the other team." He adds, "It's really gross... Nobody can get anything done because of this bitter, bitter battle."
Though liberals play into it, this mentality, says Berninger, is mostly force fed by conservatives. "Extremists are going to eat the Republican party alive....They're losing their moderate people."
Just look at health care reform, he says, "Compared to what we really need, it's pretty weak. Shame we have to fight so hard for these small changes. [But] I'm optimistic that increasingly significant changes will go through."
He should be so patient and understanding. After a decade marked by juggling day jobs and collaborating in an artistically-driven band that includes not one but two sets of brothers, Berninger is still nostalgic for his days of writing songs for dirty lovers, but not for the lovers themselves.
"The idea of romance and sex and the desire to be free and irresponsible, it's not just from a sexual perspective, but that's been a part of my songwriting for a long time, wanting to go off and be a total screw up," he says. While he acknowledges that balancing all the things that matter in life--work and family--takes "your heart and mind and a lot of effort" this is the most fun he's ever had and the happiest he's ever been. He's got a young daughter, and his wife, Carin Besser, who edits fiction at the New Yorker, has written songs with him, including one of my personal favorites, "Brainy," on Boxer.
As for which of the notoriously driven twin brothers, Aaron or Bryce Dessner, has the greater case of OCD, Berninger says, "I don't know if I'd call it OCD. They are both intelligent and very driven. They are obsessed with looking for greatness...They provide a counter balance to me and the Davendorfs. We can all be described as a little OCD."
To get away from the demands of his intensely discerning bandmates and producing process, Berninger likes to watch The West Wing, all seven seasons, from beginning to end. He does this every couple years, a "deep indulgence" that lets him check out. "That's one of those things, I have one of those weird obsessions," he says about the show.
As for his advice to bands coming up today, "Just focus on writing songs you love and work hard and be patient."
Related
Popular in the Community