Why it's on all of us to ensure access to healthy, clean-label food in schools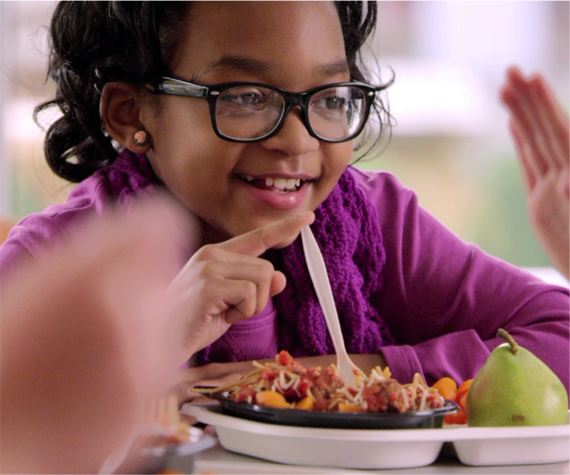 As the co-founder of Revolution Foods and a mom to three growing young girls, I want to share my thoughts and dispel two common misperceptions about the current state of school food: 1) that kids won't eat healthy food, and 2) that clean-label school food is an impossible goal. There has been a lot of discourse recently on these topics in the blogosphere, in school communities and in the popular press, and as someone who has been working for the past decade to change the landscape of the food system, I wanted to share my insight.
Eighty percent of kids who eat Revolution Foods freshly prepared, clean-label meals and snacks at school qualify for free- and reduced-priced meals, so we've ensured that our offerings are reimbursable under federal guidelines. We work in some of the nation's most food insecure communities where students rely on school meals as a reliable source of daily nourishment. One such program that provided access to affordable, nutritious food where it didn't previously exist resulted in a double-digit decrease in food insecurity. The key here is not just alleviating hunger with overly processed food, but instead, setting kids up for success with access to healthy food.
At the same time, we realize we will only have an impact if kids actually eat the food we serve. To ensure our healthy meals are consumed, we build partnerships across the school community; we partner with foodservice directors who care deeply about operating an effective school meal program. We partner with students throughout the entire culinary development process. We have always asked kids what they want to see on the menu and respect the cultural and regional preferences of each school we serve. Kids eat our food because we partner with them to create it - it's their creation as much as it is ours. If the economics of clean and healthy food don't work for fiscally strapped school systems serving food insecure kids, we can't have the impact we want to have.

Let's start with the first: kids and healthy food.

Often, the first time a student is presented with a healthier or clean-label school meal, it looks different from what they may be accustomed to. Where once sat a high fructose corn syrup-laden cup of canned peaches, now balanced on the lunch tray is a fresh, whole piece of fruit. Where once there was a pile of deep fried tater tots, their lunch tray now holds a side of sautéed collard greens. Yes, of course sometimes kids are hesitant to try new things, but you know what? Kids are scared of many things that are new. It is our job as parents, as educators and as community leaders to responsibly introduce kids to new things in a respectful way that honors their opinions and expands their horizons. I will never forget the student who looked at her meal and asked "what is this hot mango doing on my plate?" She had never seen (or tasted) butternut squash before, and after talking her through what fresh vegetables are and their importance, she took her mother to the grocery store that weekend to buy butternut squash to cook at home.

There is sound science that supports this approach as well. A recent study out of Yale demonstrated that students served healthier foods ate nearly 20 percent more of their entrees and 40 percent more of the vegetables they chose, according to a Yale study published in the journal Childhood Obesity. This means they threw away less food. The study also showed that more than 20 percent more children chose fruit.

Now, the second topic: clean-label school food.

I'll start with the area we can all agree on: sourcing clean-label food to build federally reimbursable meals isn't simple. To solve this, we rolled our sleeves up and built a clean-label supply chain. This involves working with vendors to bring new products to school food -- all free of artificial colors, flavors and preservatives -- that are traditionally made from poor quality ingredients. Where there weren't existing solutions, we partnered with supply chain partners to design new food items. We have scoured the food industry to find partners who are eager to make a dent in food insecurity. For example, when we were looking for a source of brown rice as a more nutrient-dense alternative to white rice, we found a farmer, Greg Massa, who worked with us to find a way to grow this rice at scale, allowing us to access his high-quality product at an affordable cost.
Yes, building a clean-label supply chain takes time -- any effort to bring a new approach to an existing system does -- but it pushes the entire food system forward, which everyone benefits from. School food is not just a health issue, but also a critical tool to closing the achievement gap in our communities. We know that providing access to healthy food plays an important role in student academic achievement and that the eating habits children develop in childhood typically last into adulthood. Poor diet is a contributing factor in more than 80 percent of adult diseases, such as diabetes, heart disease and some cancers.
With a focus on providing clean-label food which tastes great, we have seen dramatic year over year growth in our impact. We started out nearly a decade ago serving 500 meals a day, and we now serve nearly 1.5 million meals each week. We have expanded our offerings from just lunch to now include snack, supper and breakfast -- in one recent case increasing breakfast participation in an urban school district by 29 percent. To date we have served over 150 million healthy meals in schools. This means 150 million instances of students enthusiastically biting into a fresh, naturally nutrient-dense piece of fruit instead of slurping canned, nutrient-poor fruit products. This means 150 million meals that have been designed in a way that leads to them being lower in sodium, saturated fat and added sugars than a typical American diet. It's over 150 million instances of meals that contain no artificial colors, flavors or preservatives in an environment where school food advocates are calling clean-label school food a "pipe dream".

We are on a mission to ensure that real, clean-label, nutritious food is accessible to schools and students across America. All students deserve the opportunity to live healthy and successful lives. After all, today's students are our nation's future leaders, and they rely on us -- educators, parents and business leaders -- to provide the best we can offer them, regardless of socioeconomic status. We are moms, and like foodservice directors, educators and school leaders across the nation, we want the best for our own children and every other child in the nation. Let's work together to nourish the next generation.
REAL LIFE. REAL NEWS. REAL VOICES.
Help us tell more of the stories that matter from voices that too often remain unheard.