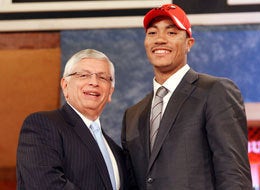 Pardon the George Bush 41-inspired wordplay, but what can one think of the National Basketball Association's attempt to get at least a P.R. handle on the refereeing scandal in the league? Some background: Stern, the lawyer-turned NBA Commissioner, has one ref who's tainted, and who suggests he's not the only one:
Stern defended his officials last month during the NBA finals after Donaghy's accusations of misconduct, including helping the league manipulate playoff results in 2002 and '05. The former referee is scheduled to be sentenced later this month for betting on games he officiated and taking cash payoffs from gambling associates.
So, if you're Stern, you bring in someone cleaner than a hound's tooth to supervise your officials and wipe away, in the public's mind, any hint of further taint. Enter Major General Ron Johnson, just retired from the Army:
I'm thrilled," (Dallas Mavericks owner Mark) Cuban said Tuesday. "I think it's the perfect hire.... He has experience managing professionals in high stress situations
General Johnson's experience? Recently, commanding general of the US Army Corps of Engineers, Gulf Region division, responsible for overseeing $18 billion of reconstruction in Iraq. Army Corps? Iraq reconstruction? Ring a bell? To regular readers of these posts (there's a big assumption), it should. Here's a Washington Post report from a little more than two years ago, linked to here when it first ran, that gives you some idea of the Army Corps' can-do approach in Iraq. The gist: the Corps got into a contract with Parsons for 142 primary health clinics, and
Parsons, according to the Corps, will walk away from more than 120 clinics that on average are two-thirds finished. Auditors say the project serves as a warning for other U.S. reconstruction efforts.
One can only be grateful the NBA didn't hire the General to design and construct some levees.
Calling all HuffPost superfans!
Sign up for membership to become a founding member and help shape HuffPost's next chapter