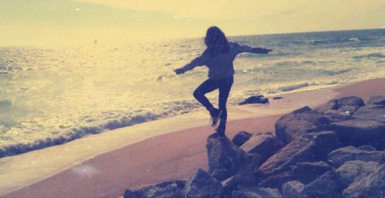 Our generation is obsessed with setting goals. Not only that, but we set our goals in organized and tangible ways. We write lists, draw maps and make Pinterest boards. If there's any possible way for us to get a visual on where we see ourselves in the future, we'll do it.
This isn't necessarily a bad thing; in fact, I admire the drive and the passion Gen-Y has been exhibiting lately. We realize that we have the potential to create an immensely bright future, and most of us are hoping to take advantage of that. But I feel our bucket lists are making us greedy.
We're always chasing gratification. We always want to experience the next best thing. We want to set foot on as many continents as we can. We want to be able to say we had the greatest life we possible could've had. What we're failing to see, is that we have the potential to do this without crossing anything off our bucket lists.
We need to reflect on the good things that have come to us in our lives. Even if you don't feel like you've done anything huge with your life just yet, I guarantee you can find something to look back on and be proud of.
That's why I'm suggesting we all make what I like to call a Nectar List. It's a lot like a Bucket List, but instead of listing the things we want to do before we kick the bucket, we list the things that have been the nectar of our existence so far. It's cheesy, I know, but urbandictionary told me sweet nectar was slang for "to live" like kick the bucket is slang for "to die." So deal with it.
It may seem difficult at first, but once you get going it's actually a lot of fun. Plus, some of them are pretty funny to read if you're lacking context.
Without further ado, here is my current and growing Nectar List:
1. I've watched the fireworks over the Brooklyn Bridge in New York City
2. I've spit out a piece of gum from the top of the Eiffel Tower
3. I've cheesily danced around in the ocean at sunset while listening to Lana Del Rey
4. I've cried from happiness when I held hands with Taylor Swift when I was 13
5. I've bought something from Sak's Fifth Avenue (just so I could say I did)
6. I went to a rock concert at 7 o'clock in the morning
7. I got drunk and danced with Alan Cumming at a Tony Awards party
8. I became instant friends with complete strangers at a music festival
9. I've been to the national championship with my college rugby team
10. I've high-fived Jimmy Fallon
11. I've been in the same room as Justin Timberlake
12. I waited in a back alley to get a picture with Sierra Boggess
13. I've seen a parade of naked men riding bicycles
14. I've taken a shower with baby wipes and a water bottle
15. I've very publicly taken a nap
16. I've sat in a titanium pyramid while a man with dreads played gongs all around me
17. I've flobongo-ed in the forests of Michigan
18. I've seen (and have been disappointed by) the Mona Lisa in person
19. I've found the greatest Mac 'n Cheese of my life
20. I've played with a Victoria's Secret model's dog
21. I've said exactly three words to Michael Kors
22. I carried a drunken stranger back to her apartment after she got lost
23. I've stood in the same spot for 9 hours to see my favorite band
24. I've kissed Michael Jackson's star on the streets of Hollywood
25. I've shot-gunned beers in the shower of a hotel room with my teammates
26. I've danced on the bars at Coyote Ugly
27. I've watched the sunset over the ocean while riding a ferry boat
28. I've taken the perfect jumping on the beach photograph
29. I've eaten Turkish food while sitting on the floor
30. I've been to a stereotypical frat party
31. I've taken a selfie with a giraffe
32. I've boat raced
33. I've eaten from a chocolate fountain
34. I've gotten two black eyes in total succession of each other
35. I've been completely showered in beer
36. I've become the ultimate master of Black Friday
37. I've rallied in my pajamas
38. I've puked out the window of a moving vehicle. Not exactly proud of that, but seems like an accomplishment
39. I've been stranded for three days with my best friend in a snowpocalypse
40. I've been in the same room as Meryl Streep
41. I've built the perfect indoor fort
42. I've jumped off the quarry from Breaking Away in Bloomington
43. I've gone kayaking in the lakes of northern Michigan
44. I've chased roosters around the streets of Key West in Florida
45. I've been puked on by my friend's mom when we drank too much during our excursion in Grand Turk
46. I've been picked up by a random, but hot, Dominican man named Tito
47. I've jumped in a pool with my clothes on during a deck party in the middle of the Pacific
48. I've hugged a dolphin in Nassau
49. I've drank a cup of French coffee in France
50. I've knocked on the front gates of the Versailles Palace
51. I've swallowed so much salt water that I puked while surfing in Huntington beach
52. I've skipped school to go to an art museum
53. I've loved something so much that I cried when I had to say goodbye to it
54. I've cried while singing during sunset at the 9/11 memorial
55. I've paid my respects to Elvis at Graceland
56. I've been skiing in Flagstaff - and didn't fall on my ass
57. I've stayed up all night to watch the sunrise over the mountains in Phoenix
58. I've gotten a tattoo in my living room
59. I've snuck into rehab
60. I've been skinny dipping at 3 a.m. because my leg hurt
Not everything has to be a huge life accomplishment or a meditative-induced realization. Take the time to reflect on the little things that keep you going. It will make you feel even better than dreaming about what's ahead.
Support HuffPost
The Stakes Have Never Been Higher
Related
Popular in the Community