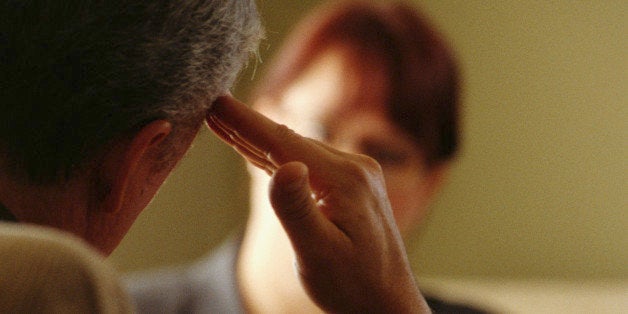 Mental health is still seriously considered taboo in Lao PDR and is thought to be caused by the possession of evil spirits. Not much attention is given to it as compared to general physical health and it is also an underfunded and under resourced health area. There are only two psychiatrists serving the entire country of approximately six million inhabitants. There are no psychiatric nurses, clinical psychologists, social workers or occupational therapists working in the country at all. There is also no mental health legislation in Lao PDR.
Less than 10 percent of those experiencing mental health problems have access to mental health care since few services are available outside Vientiane Capital. With no access to adequate treatment, mentally ill people face discrimination in all aspects of their lives and are denied employment due to stigma and prejudices prevalent in society. They are excluded from the labor market, from housing, from schooling and other health services and are ever faced with social exclusion within their family and their community.
BasicNeeds began its work in Lao PDR by implementing the BasicNeeds Model for Mental Health and Development in 2007. Building on the success of a pilot project in nine districts of the Vientiane Capital, the project expanded into the three poorest districts of Borikhamxay Province in 2010, to reach more people with mental health and epilepsy who live outside the capital city. Having built local mental health capacity in the Borikhamxay Province and set up systems which continue to run effectively, they are now independently running mental health work in their respective district and provincial hospitals.
In March 2013 a National Mental Health Strategy to be implemented by 2020 was approved by the Ministry of Health. As a key partner in national mental health care delivery BasicNeeds Lao PDR is seeking to support the implementation of this new strategy to build capacity and expand the benefits of community mental health care on a national scale. In order to do this, it collaborates closely with the Ministry of Health, with government hospitals and with other agencies interested in mental health and development.
BasicNeeds Lao PDR has through its own pilot programmes already proven that this is possible. It has trained 22 doctors, eight medical assistants, 25 nurses and 13 pharmacists in mental health/illness and treatment; they are now equipped to ensure the sustainability of mental health care services in their respective districts. Psychotropic drugs revolving funds have been established enabling people with mental illness or epilepsy to gain access to regular treatment at the monthly mental health clinics at district hospitals. The majority of people with mental illness or epilepsy who are stabilised can do productive work (for example, household chores, growing vegetables) and earn income to improve their family's economic situation. So far 1,520 people with mental illness and/or epilepsy have been reached (980 in Vientiane Capital; 540 in Borikhamxay). Each patient has his/her own clinical file with records kept by doctors or medical assistants in mental health, trained in record keeping and data collection.
Despite these successes, one of the major challenges we still face is having a limited work force which is largely concentrated at two mental health units in Vientiane Capital. The quality of the work force is also very low due to lack of investment in training.
Within the framework of the new National Mental Health Strategy, making this investment in the workforce may finally become possible. A curriculum is currently under development for delivery through a post-graduate psychiatry training programme. For the first time, the country may be able to say it has more than two psychiatrists for the whole country!
We believe that building a strong workforce in mental health will create real possibilities to expand mental health care nationwide thereby providing access to mental health services from central, provincial to community level. In order to overcome this challenge, it is crucial to train medical staff in psychiatry at the post-graduate level who will then be able to take on multiple roles such as a clinical expert, a health advocator, an academician, a professional collaborator, a mental health leader, a communicator and a mental health professional. They will become future leaders in mental health research, teaching, service and building a proper mental health system in the country.
We are seeking both financial and technical partners to support the development of this curriculum. With access to proper and adequate treatment, people with mental illness will be given the chance to live with dignity and respect in their community.
-- Chantharavady Choulamany, BasicNeeds Lao PDR Programme Manager
Calling all HuffPost superfans!
Sign up for membership to become a founding member and help shape HuffPost's next chapter