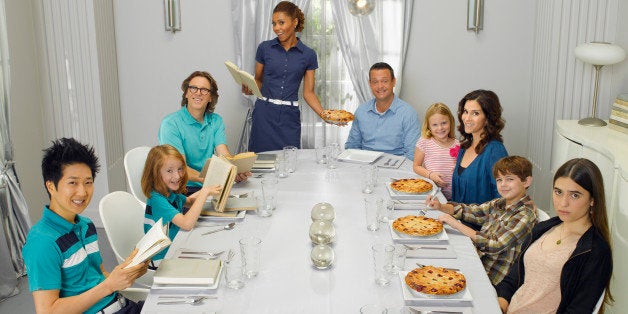 But they still haven't won all of us over. If you're like me, once you gave up on the show (for me, it was after the pilot), you never went back -- but is there reason to return in Season 2? I caught up with Fogelman who, of course, strongly believes that there is.
"Watch the musical episode, and then watch the season finale," Fogelman said. "Watch those two, and hand to God, if you don't turn around on it, I 100 percent understand, but I think you will. I know you will, so I don't have to say more that that. That is my challenge to you: Watch those two episodes and be not charmed."
Keep reading for more about why he thinks the show is special, how they're making sure you can dive in, sight unseen, this season (premieres Fri., Sept. 20, 8:30 p.m. ET) and why a human-alien hybrid baby isn't out of the question for a family sitcom.
Congrats on the Emmy love. Did you expect that?
Isn't that great? I did -- when we got Alan [Menken, the composer] , I knew we had a shot, and then he wrote a great song. I don't know if you saw it, but that episode was actually very special. I think it's actually very special television, so I'm glad they got it, because they worked really hard.
It's very sneaky though -- you are now "Emmy-nominated 'The Neighbors.'"
Yeah. From where we started, it's a very cool thing.
I didn't want to be the one to bring up where you started, but ... how much are you sitting back and enjoying watching people change their minds about this show after the awful early reviews?
I'm happy. I think people are really enjoying the show. I always suspected that it would come, and we just kind of kept our heads down and kept doing our thing and hoped that people would find it. I think the show is really old-fashioned and sweet and fun and funny, and I'm glad people are kind of turning around on it now. We have really good stuff coming, and I think by the end of this season, people can officially not be embarrassed to like the show.
What do you say to someone who didn't watch the first season? Can and should they pick up with Season 2?
They should, and we're going to make it really easy for them, too. We're conscious of the fact that we built an audience and we're moving to a new timeslot. In the first five, ten episodes back, we're going to make it really easy for people to jump into the show and kind of understand what's going on. If you like the sitcoms that I grew up on -- the "Family Ties," the "Cosby" shows, with a little sprinkle of absurdist humor and commentary -- I think you'll like it. I mean, I like it, and I have pretty middle-of-the-road taste. I like the old-fashioned, fun, funny stuff that has heart. I like the great family sitcom, and that's what we're trying to do here: Simple storylines with this absurdist premise.
About the absurdist premise, are you stepping back from that alien fish-out-of-water stuff now? There's no more spaceship ...
No more spaceship -- yeah, we're pulling back from alien, but still doing the alien stuff. We really focus on these two very different type of families and how they interact. And now they have two kids dating. We have our alien teenager dating our human teenager, and so when we jump back into the second season, that's where a lot of our stories are coming from. How are these two sets of parents dealing with this inter-species romance?
I know it's a family show, but it's not unheard of for a family show to tackle teen pregnancy. Might there be a human-alien hybrid baby in the cards?
You never know! [Laughs.] But in our show it would be Reggie Jackson who gets pregnant [because alien men carry the babies]. Right now they're very chaste -- they're barely holding hands, and when she comments on it, she says, "He doesn't even know how to hold hands." And he says, "It just seems like a weird thing to hold."
Tell us: Did you like Season 1 of "The Neighbors"? Will you give it a shot this season?
Season 2 of "The Neighbors" premieres Fri., Sept. 20 at 8:30 p.m. ET on ABC.
PHOTO GALLERY
2013 Renewal Index: Canceled, Renewed & On The Bubble Shows
REAL LIFE. REAL NEWS. REAL VOICES.
Help us tell more of the stories that matter from voices that too often remain unheard.
BEFORE YOU GO