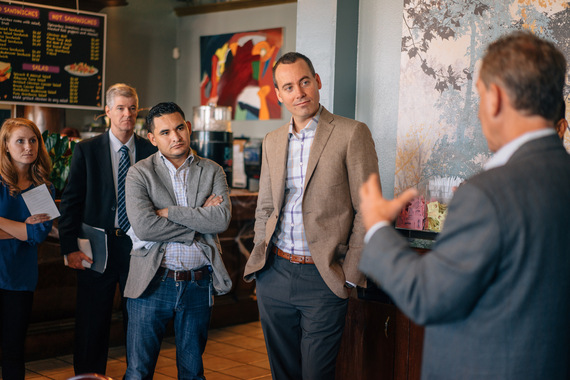 Credit: Creative Commons Internet Association by Fremont, CA Small Business Crawl (Irvington District). Protected under the CC BY license.
Freelance work is the fastest growing sector of the labor market, and by 2020, over 50% of Americans will be freelancing in some shape or form. The rise of freelancing use in major businesses, however, is a component of a larger phenomenon: The Uber-ification (so to speak) of the economy. It is typified by modes of capitalizing on small inefficiencies and opportunity for growth--empty rooms, empty spaces in your car, and, in the case of freelancing, proven experts willing to work for extra money on demand. As freelancing becomes increasingly common at every stage of business development, it is worth investigating the reasons why a business might choose freelancing over alternatives. Freelancing offers obvious benefits: it allows for flexibility, agility, and leveraging the talents of multiple experts for lower than the cost of one full-timer. Having five specialists give 1/5 of their time to your project, may be more congenial to producing high quality product than having one generalist try and do it all. Conventional wisdom pegs freelancing as a quick and dirty solution--a short cut. However, unlike five years ago, the freelancer market is now stacked with true experts, and reliable metrics for identifying high performers that can step in and give your business an edge in a meaningful way. If done the right way, using freelancers can help firms quickly attack challenging projects without completely having to restructure themselves, while expanding the tools at their disposal to stimulate future growth and innovation.
1. There are a few reasons that the old stigma about freelancers is outdated. The most common concerns about reliability and inconvenience have largely melted away in the freelancing universe. Part of this is just a consequence of time: the longer that online freelancing options persist, the more reputation signaling is backed by bigger data, and the most-skilled people naturally float to the top of the pile. Also, a greater number of players in the market have pushed a flight to specialization, as people to seek to carve out their micro-economic niches. Freelancers are increasingly professionals--and some of the best people at what they do--some of whom simply prefer the flexibility of self-employment. These are people with legitimate post-secondary degrees, years of work experience, and odds are, they have already helped solve a problem similar to the one you and your company are facing.
2. Some managers express concern about the friction created by adding a number of external people to projects, who have little understanding of the big picture. At the outset, there is an investment period in finding the right set of freelancers for your projects, but once you find them, and integrate them into your workflow, freelancing often alleviates friction by allowing core team members to focus on doing business, rather than formatting documents, designing materials, or marketing.
3. The innovation economy favors freelancing. It is not always clear what technical or research skills will be interesting from a business standpoint in a month, six months, or twelve months from now, so it makes more sense to hire technical knowledge and skills on an as-needed basis. This ultimately, will push many companies to rely heavily on freelancers, because they offer the flexibility needed to compete in such a volatile work environment.
So, When Does It Make Sense to Seek Out a Freelancer?
1. It is important to remember that freelancing makes more sense in some business contexts than others. Elance, one of the major players in professional freelancing, has cited the following areas as trending towards highest growth:
• Mobile app development
• Graphic Design
• Formatting & Research
• Web Design and programming
• Consulting & Evaluation
• Online Marketing
• SEO Content Writing

Using freelancing for business tasks like graphic design, writing, marketing and programming are even more attractive, because by their nature, they select for (a) specialization, (b) talent, and (c) deliverables. Companies including Bloomberg L.P, Time Warner Cable, and Hewlett-Packard are actively hiring and using freelancers to their advantage. Freelancing is not a gimmick anymore! The economics of freelancing ensure that you are paying for a specific task completed by a pre-selected person who has proven worthy and can deliver to your exact specifications.
2. The start-up space is an area where freelancing can have a massive impact. Freelancers are often the first people that start-up entrepreneurs turn to when bootstrapping the first phase of their business. Alternatively, companies looking to expand and immerse themselves in different niches often turn to freelancers to get the ball rolling, almost always with little financial commitment and risk.
3. Corporations will increasingly find freelancing attractive. It cannot replace core business teams, but for experimental projects (research branches, online publications, experimental product development) it could begin to become more important for corporations. Key: Freelancers lower the cost of innovation and allow for more experimental approaches in corporations, without forcing them to completely reengineer their footprint.
4. Freelancers are multidimensional, and the number of ways they can improve efficiency and contribute in the workplace are limitless. For a given project or business report, they can build the foundation - doing all the leg work and research - allowing you and your team to modify and further build off that foundation with ease and in less time (all in order to hit your intended target). Likewise, relying on freelancers to add their expertise and insight to an already established project - thus turning out more unique and valuable components - would be just as productive.
Freelancing is not for every business in every situation. But as the workforce is trending towards more flexibility and online work, it should be on the radar and kept in mind when being deployed as an alternative.
Calling all HuffPost superfans!
Sign up for membership to become a founding member and help shape HuffPost's next chapter