Back in the 1970s, when Tom Wolfe started referring to Baby Boomers as the "Me Generation," he could not have imagined how his words would be applied to future generations. Thanks to smartphones, digital technology and social media, it has become nearly impossible for anyone who is online to avoid the tidal waves of narcissism coursing through cyberspace. As a diarist on Daily Kos astutely noted while referring to the brouhaha surrounding Kentucky's Kim Davis:
In the United States today, believers have become spoiled teens who were never disciplined or even told that the world does not revolve around them. They do not have the personal conviction of their faith, have become entitled, and feel that the world must accommodate itself to whatever they claim to believe at the moment so that they are never inconvenienced. Courage? That's for suckers. These spoiled brats and cowards are the opposite of believers. They are spoiled whiners.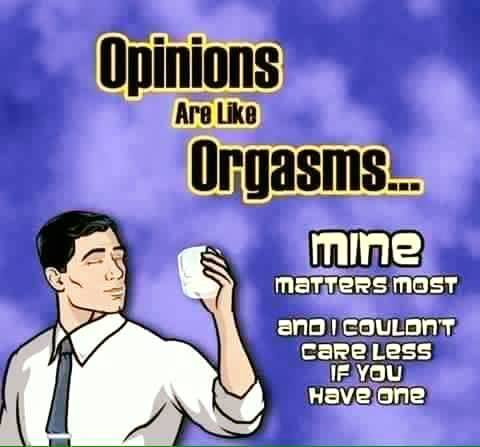 Members of recent generations have been so pampered by their parents (who told them that they were "the most wonderful children in the world") that they took to selfies and vlogs like the proverbial duck to water. From workout tips to interviews with fellow vloggers, from self-produced film shorts to titillating confessionals, thousands of aspiring online celebrities and entrepreneurs have used YouTube as a means of building their personal brands.
Once someone has become addicted to posting selfies on Facebook, Instagram and Pinterest, it's a short leap from a gateway device like a smartphone to working with a GoPro video camera mounted on a drone. Two new products (named Lily and Nixie) push the envelope even further.
Why would someone want to invest in such tools? Because those who manage to generate substantial income from posting videos to their YouTube channels can earn millions of dollars in advertising revenue. Felix Arvid Ulf Kjellberg (a.k.a PewDiePie) currently has more than 39 million subscribers to his YouTube channel. According to one Swedish tabloid (Expressen), PewDie Productions earned approximately $7.5 million in 2014.
Unfortunately, people with wounded egos can spend years nurturing the insults they've endured from friends, family, co-workers, and other acquaintances. In the bone chilling "Rose's Turn," Gypsy Rose Lee's ferociously needy stage mother insists that "Everything's coming up roses this time for me. For Me! For ME! FOR ME! FOR ME!!!!"
Many fans of musical theatre regard Gypsy as Broadway's equivalent to King Lear. The character of Momma Rose is a maternal monster, a raging narcissist whose complex bundle of raw nerves never fails to bring down the house with her riveting 11:00 o'clock number. For many actresses, the opportunity to bring new coloration and phrasing to "Rose's Turn" has become as tempting as the chance for an operatic soprano to bring her musicianship and personal magic to arias like Lady Macbeth's sleepwalking scene ("Una macchia è qui tuttora!"), Lucia di Lammermoor's mad scene ("Il dolce suono"), Olympia's Act I aria ("Les oiseaux dans la charmille") from The Tales of Hoffman, and Cleopatra's "Da tempeste il legno infranto" from Giulio Cesare.
Among the greats who followed in Ethel Merman's footsteps as Momma Rose are Rosalind Russell, Angela Lansbury, Tyne Daly, Betty Buckley, Bette Midler, Bernadette Peters, Tovah Feldshuh, Patti LuPone, Leslie Uggams, and Imelda Staunton. The following four interpretations (featuring Heather Orth, Dolores Gray, Linda Lavin, and Elaine Stritch) hold a perverse fascination for aficionados of musical theatre.
Gypsy rests at the top of the heap of stories about narcissists in show business. From Anton In Show Business, Kiss Me, Kate, and The Entertainer to Enter Laughing, The Royal Family, and Lend Me A Tenor; from The Dresser, The Actor's Nightmare, and Noises Off to Shows For Days, A Chorus Line, and Golden Age, the spotlight has no problem zeroing in on an actor who hungers for its warmth.
One play, however, has spawned numerous adaptations. Written by Anton Chekhov in 1895, The Seagull (1895) has paved the way for:
1974's operatic adaptation (by Thomas Pasatieri and Kenward Elmslie).
1981's The Notebook of Trigorin (by Tennessee Williams).
John Neumeier's 2002 ballet (which premiered at the Hamburg Ballet).
Claude Miller's 2003 film entitled La Petite Lili.
Regina Taylor's 2004 adaptation entitled Drowning Crow.
Emily Mann's 2008 adaptation entitled A Seagull in the Hamptons.
Aaron Posner's 2013 adaptation entitled Stupid Fucking Bird.
Down at the Mountain View Center for the Performing Arts, TheatreWorks Silicon Valley recently presented the regional premiere of The Country House by Donald Margulies on a handsome unit set (featuring a magnificent backdrop) designed by Andrea Bechert with some excellent sound design by Brendan Aanes. As the company's artistic director, Robert Kelley, explains in his program note:
I'm a fan of Pulitzer Prize winner Donald Margulies, one of our most prolific and profound contemporary playwrights. His grasp of the tragicomedy of life inspires me and his plays define the fine line between comedy and drama. He sees life as bittersweet, a word that bespeaks contradiction.

His is a Chekhovian vision, grasping the interplay of love and loss, the conundrum of fame, the promise of romance intertwined with the agony of rejection. He understands the inherent frustration in dreams both failed and fulfilled.

In The Country House Margulies set out to write a comedy and achieved much more: a reflection on life, art, and relationships seen through the eyes of a family blessed with success but conflicted by grief, ready for change but uncertain how and when it may be found.

If it is a spectacularly theatrical family, it's a family all the same, one we recognize as essentially our own.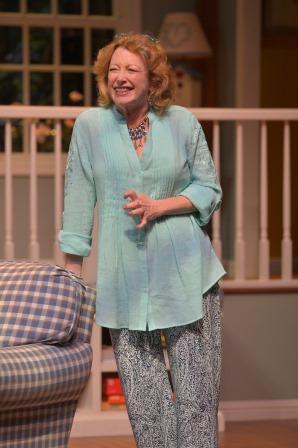 Kimberly King portrays Anna Patterson, an aging
actress in The Country House (Photo by: Kevin Berne)
The play has a curious history. Originally commissioned by the Manhattan Theatre Club, it was to be written about the Williamstown Theatre Festival, an annual summer event based in The Berkshires. Although Margulies was heavily influenced by two of Chekhov's most famous plays (The Seagull and Uncle Vanya), it should be noted that Williamstown (which is located in the northwestern corner of Massachusetts) is much too far inland for anyone to worry about seagulls laden down with symbolism dropping from the sky.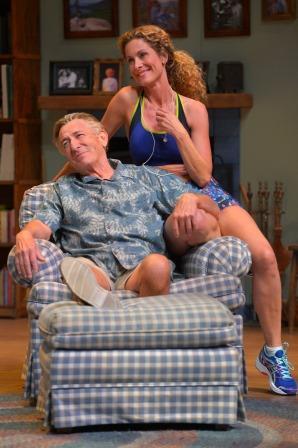 Walter Keegan (Gary S. Martinez) and his girlfriend,
Nell McNally (Marcia Pizzo), in a scene from
The Country House (Photo by: Kevin Berne)
The locals are easily recognizable figures from The Seagull:
Anna Patterson (Kimberly King) is an aging actress who has returned to town to act during the Williamstown Festival.
Susie Keegan (Rosie Hallett) is Anna's slightly priggish granddaughter who has grown up surrounded by actors and other show business types who were always in the spotlight.
Elliot Cooper (Stephen Muterspaugh) is Susie's moody, frustrated uncle. A failed actor who is still mourning the death of his wife, Elliot is filled with resentment about the success of the "artistic" members of his family and the fact that he has never achieved any artistic success of his own.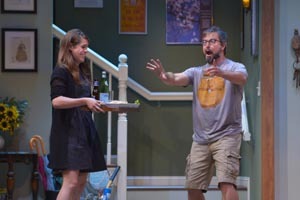 Susie Keegan (Rosie Hallett) and Elliot Cooper
(Stephen Muterspaugh) in a scene from
The Country House (Photo by: Kevin Berne)
Walter Keegan (Gary S. Martinez), Susie's uncle who has made a fortune producing and directing blockbuster movies of questionable artistic merit.
Nell McNally (Marcia Pizzo), Walter's sexy new girlfriend and bride-to-be who, years ago, had a fling with Elliot from which he has never recovered.
Michael Astor (Jason Kuykendall), Anna's former co-star in a production of Candida at the Williamstown Theatre Festival who has gone on to become a major hunk in the entertainment industry. Not only does every woman fall head over heels in love with Michael, Susie has had a crush on him since he babysat for her. Meanwhile, her grandmother (who ran into Michael in the local supermarket and invited him to stay at her house) still fosters hope of making up for the sexual fling she never had with Michael.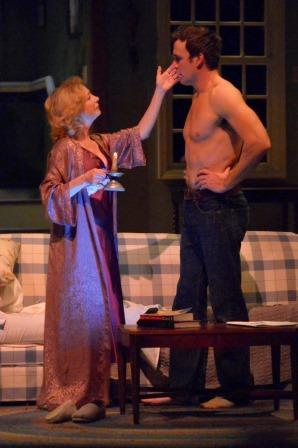 Anna Patterson (Kimberly King) checks up on her house
guest, Michael Astor (Jason Kuykendall), in a scene from
The Country House (Photo by: Kevin Berne)
Seemingly cursed by his physical beauty (in which he does not place much value), Michael is frequently on the run from adoring females. Though he may have imagined Anna's house would be a safe haven, he soon finds himself caught in the crossfire of a lusty cougar, an impressionable teenager who has nursed a life-long crush on him, and a failed actress who is about to become Walter's second wife.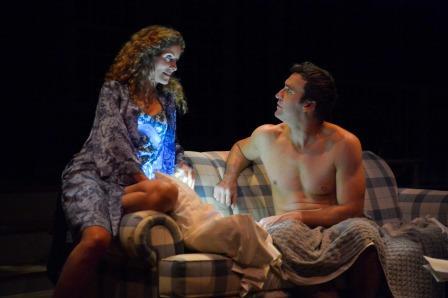 Nell McNally (Marcia Pizzo) and Michael Astor (Jason Kuykendall)
in a scene from The Country House (Photo by: Kevin Berne)
For the Act I finale, a storm-related power failure that reveals two characters in a compromising position sends the other characters into whirlpools of petty jealousy and tempests of needless anxiety. Meanwhile, things are not going so well for the men in the house.
In his vain attempt to prove to everyone that he does have a talent worthy of recognition, Elliot proudly announces that he has finished writing a play and insists on having the family perform a reading. Michael's futile attempt to stage a graceful exit is foiled when Elliott insists that he stay and fulfill his promise to read the newly-finished script.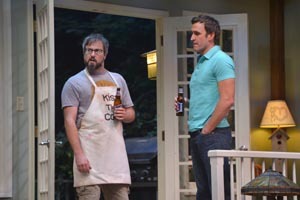 Elliot Cooper (Stephen Muterspaugh) and Michael Astor
(Jason Kuykendall) fail to bond in a scene from
The Country House (Photo by: Kevin Berne)
By the time the reading is over, the professional theatre people are painfully aware that it's one of the worst pieces of writing they have ever encountered. When no one will tell him what's wrong with his script, Elliot pushes harder and harder until Walter finally confronts Elliot with the fact that he has no talent.
Acting like a middle-aged brat, Elliot promptly turns on his mother, accusing Anna of never having encouraged him or supported his dreams. As with many Chekhovian dramas, no one is truly happy by the end of the play.
That's not to say that The Country House lacks laughs. Margulies is a slick writer who knows how to set up his characters for a fall. Whether he's focusing on a narcissistic grandmother whose every gesture signals a fluttering theatrical entrance or a self-absorbed loser experiencing a major emotional meltdown, The Country House rests on a solid foundation of human frailty.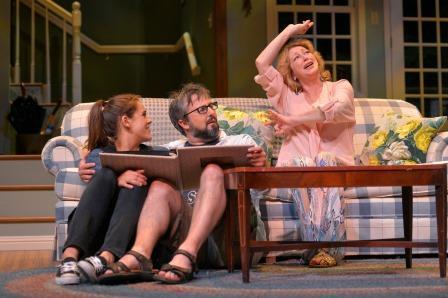 Susie Keegan (Rosie Hallett), Elliot Cooper (Stephen Muterspaugh),
and Anna Patterson (Kimberly King) reminisce about old times in
the final scene of The Country House (Photo by: Kevin Berne)
Robert Kelley assembled a formidable ensemble for this production. I was particularly impressed by Marcia Pizzo's Nell, Rosie Hallet's Susie, and Stephen Muterspaugh's brooding Elliot. Kimberly King, Jason Kuykendall, and Gary S. Martinez provided a delicate sense of balance as the true adults in the room.
Calling all HuffPost superfans!
Sign up for membership to become a founding member and help shape HuffPost's next chapter