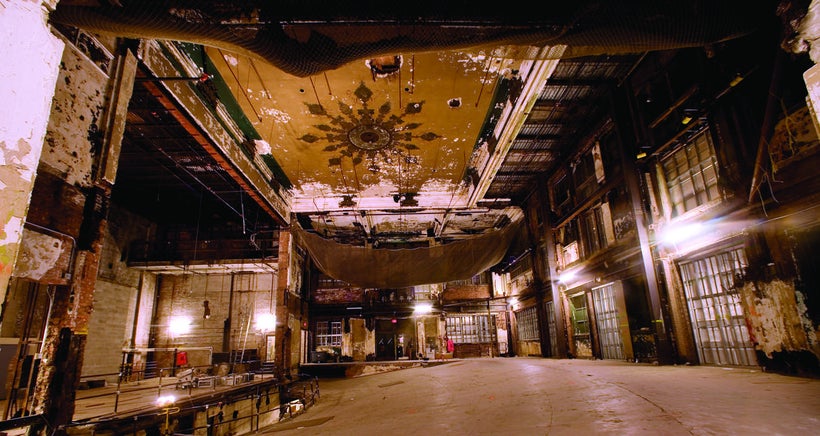 Here is a story of delight on the cusp of catastrophe. The roots of this story go back a ways in several directions before terminating, as fate would have it, quite delightfully but about three hours short of the polls closing on November 8. By setting down the details, I'm hoping to push back the darkness and share some delight with you. Just a taste.
I have been fascinated with the New Amsterdam Theatre since I was kid. Let's start with that non sequitur. I'm sure it all had something to do with Stephen Sondheim's Follies and the romance of crumbling old theaters but, ultimately, my obsession was my own.
Built in 1903 with luminous art nouveau excess, the New Amsterdam was Florenz Ziegfeld's home base. Beginning in 1913, he presented his Follies there for fourteen extravagant years. I could give you a lengthy dissertation but I won't. The Ziegfeld Follies are remembered today for larger-than-life stars, especially W.C. Fields, Fanny Brice, Eddie Cantor, Will Rogers and Bert Williams; lavish sets and ravishing costumes; distinguished composers in their youth, led by Irving Berlin; and, above all else, for the pulchritude and fatal mystique of the Ziegfeld Girls.
At the age of 14 or so, I simply could not get over that such glamour had transpired inside this criminally rundown old movie house near Broadway on 42nd Street. That's what the New Amsterdam was when I was young. No vestige of allure was left, except an eye-popping marquee that blinked with tawdry electricity. Then in 1985, the joint closed altogether and was left to collapse and die.
I joined a theater historical society around this time just to get into the New Amsterdam. I remember making a contribution and receiving a membership card in the mail, along with some fantastic photo-rich pamphlets focused on the New Amsterdam that I slathered over. The biggest membership feature, however, was an ilicit tour that involved climbing into the abandoned New Amsterdam and wandering around the decomposing auditorium, beneath the disappearing proscenium and imagining the never-to-return grandeur of the place.
On this tour, we also climbed up to the top floor. A roof-garden had been added to the New Amsterdam Theatre in 1904 by its architects, Henry Herz and Hugh Tallant. Ziegfeld, with his architect and set designer, Joseph Urban, turned the space into the most glamorous nightclub in the world in 1915, the New Amsterdam Roof, with a "Midnight Frolic" staged there nightly after the curtain came down on the Follies below.
Here's what I learned and loved about "The Midnight Frolic" and the New Amsterdam Roof:
~That the proscenium upstairs was exactly the same width as the proscenium in the main theater, so that Ziegfeld could try out new numbers on the Roof (and audition new performers) and then move them downstairs when ready.
~That the showgirls entered on a glass runway constructed so that audiences could look up at the girls as they passed overhead (yes, and at their undergarments – or lack thereof).
~That there were also glass table-to-table telephones. You could phone a neighbor and introduce yourself.
In the 1950s, the New Amsterdam Roof, long since abandoned as a nightclub, became the go-to rehearsal hall for new Broadway musicals, including My Fair Lady and Gypsy. By the time I made it up there, the roof had sprung leaks sufficient to cause whatever was left of it to wash away. The space looked like an Egyptian ruin. I gaped at it then and knew that this theater was done for.
In 1995, Walt Disney Theatrical Productions shocked the theatrical world by announcing its intention to restore the abandoned New Amsterdam Theatre completely, signing what amounted to a 99-year lease on the building as part of the 42nd Street Redevelopment Project. Two years later, the New Amsterdam was ready, exactly as Disney had promised. I visited it as a reporter for the New York Times in May 1997, to interview Alan Menken and Tim Rice (in the magnificently refurbished "Men's Smoking Lounge") about their new piece for Disney, an oratorio called King David, that was about to reopen the theater officially. Afterwards, standing alone in the empty auditorium, I communed silently with the recovered majesty of everything around me. My wildest fantasies about the place could not match the intricate, vivid, reality of the restoration. Two months later, I attended the opening night of The Lion King there and the circle of life was complete.
Less than a year after that, in the summer of 1998, my theater editor at the New York Times Arts & Leisure section, Andrea Stevens, asked me to write a story about Peter Schneider and Thomas Schumacher, the two guys running Disney Theatrical Productions. I scoffed (inwardly) at this assignment. The New Amsterdam Theatre (and Julie Taymor) aside, Disney was the devil incarnate to me – Broadway's encroaching corporate corruptor. I looked forward to thanking Disney for saving my favorite theater and then skewering those guys but good.
I spent the ensuing weeks following Schneider and Schumacher around – both here in New York and out in Los Angeles. "The Boys," as they were known on both coasts, were then President and Executive Vice President, respectively, of both Disney Animation in Hollywood and Disney Theatrical on Broadway. I watched them supervise work on new animated features at the Disney Animation Studios in Burbank, including Tarzan, as I recall, and I watched them workshop their next Broadway musical, Aida, in New York and, later, down in Atlanta.
Whatever I thought of their various projects, qualitatively, I came to be convinced that these boys knew their stuff. Both of them loved the theater and had been making theater for a long time before their Disney days. This love and this hands-on experience trumped most of the dilettante investment types who called themselves producers on Broadway then (and now). I enjoyed observing Peter and Tom at work and I particularly enjoyed my conversations with them, which were both free-wheeling and wary. They knew why I was there; I knew why I was there. We had to be careful.
Ultimately, I wrote a piece that I believe balanced my bipolar perspectives – my generally negative take on Disney's cultural imperialism, and my generally positive take on the two gentlemen entrusted with making that empire go. In those days, the Arts & Leisure section was printed on the Wednesday before the Sunday paper came out. Industry insiders traditionally got their hands on it then. On the Wednesday before my story hit, I came home to find two dozen long-stemmed roses waiting for me at my apartment building with a card: "Thanks," from "The Boys." My immediate thought was: How the hell did they get my home address?
Shortly thereafter, I received emails from both Peter and Tom simply asking, "Is it okay now to be friends?"
It was, and we are, to this day; Tom particularly. Peter eventually left Disney Theatrical to run Disney Studios before going out on his own as a producer and a director. Tom took over Disney Theatrical and has never stopped running it. I got married and had two children. Tom got married too, to his longtime companion, Matt. Tom and I still dine together and go to the theater together whenever we can, but his travels running Disney Theatrical's enterprises worldwide are…well, worldwide.
Right from the beginning of its restoration, the question hanging over the New Amsterdam had been what to do with the Roof. Many answers were considered and discarded; from a small theater to a big restaurant to, even briefly, a television studio purpose-built for Who Wants to be a Millionaire?. Finally it was decided to simply move Disney Theatrical's multi-tentacled operation into the space. Self-evident, seemingly, but the results were visionary.
Work began in 2006 and was completed in just under two years. The architects, Keith Hanadel and John Mack, designed a spectacularly open, airy, contemporary office that floated the usual desks and kiosks and computers, conference rooms and an executive suite for the boss, into the Roof's vast 20,400 square feet of space without burying the room's inherent history. The first time I visited, I was overwhelmed to discover that the remains of the New Amsterdam Roof's original proscenium had been unearthed and preserved, with original ornamental elements peeking through and eloquently framing the space. Moreover, Tom had directed his architect to reconstruct the Roof's long-gone glass runway. Visitors like me now entered as Ziegfeld Girls of old had. The experience was simultaneously eerie, amusing and utterly breathtaking.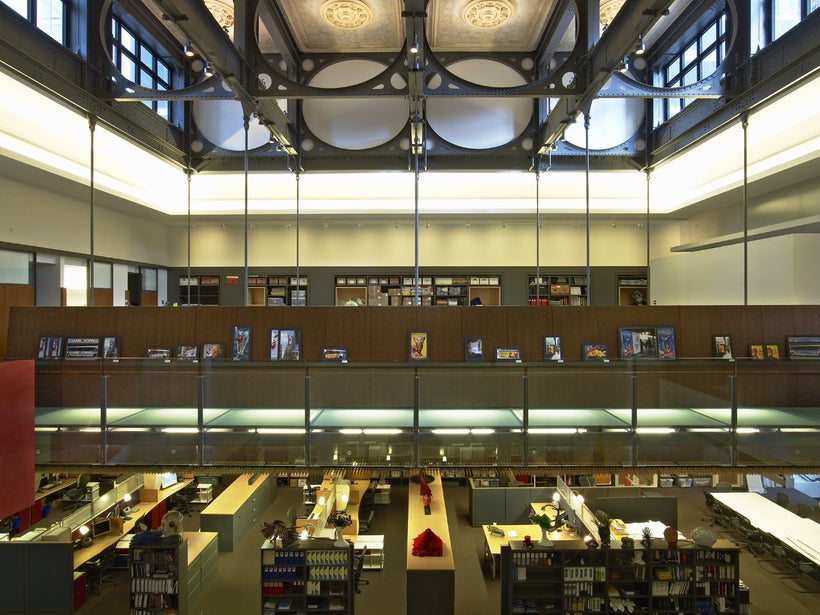 I wanted my daughters to see this place. I wanted them to connect to its history, and to my own history with it. My daughters, on the other hand, just wanted to see The Lion King and Aladdin. Tom made all our wishes come true. On his dime, we attended The Lion King, which held up surprisingly well, I thought, in the theater it has transferred to from the New Amsterdam, the antiseptic, 1970s-vintage Minskoff, which, suffice to say, qualifies in every way as the anti-New Amsterdam. Lea and Sara received the show with rapt wonderment. I found myself particularly gripped by the animating Africanate universality of Garth Fagan's choreography and Lebo M's vocal arrangements, so easy to overlook in the first flush of Julie Taymor's puppet wizardry. Virtually no one in the audience seemed to speak English. The polyglot of languages in the lobby was extraordinary. Lion King, I marveled, speaks to everyone.
Aladdin was next. The show impressed me as an enormous, elaborate concatenation of stagecraft – Ziegfeld-like in its exuberant lavishness. My kids loved it because it was big, bright and funny. It filled the New Amsterdam Theatre, which is saying plenty. The sublime Jonathan Freeman, as Japhar, seemed to center the whole kaleidoscopic enterprise, anchoring it as I imagine Fanny Brice or Eddie Cantor once anchored the Follies, with impeccable comic timing and a trouper's spot-on character-vocalizing.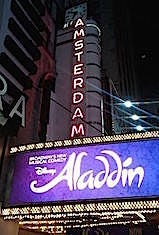 Because of Tom's schedule, we'd set a date far, far in advance for the girls to visit his New Amsterdam Roof offices. When the day finally arrived, it proved to be Election Day, 2016. Police cruisers and tank-like mobile units sealed off the 54th Street stretch where my parking lot sits, between 6th and 7th Avenues. Turns out Donald Trump's campaign headquarters occupied the Hilton hotel directly opposite my lot entrance. I wound up weaving our little Honda down into a teeming Times Square at 4:00 PM. Ditching the car, we made a mad dash through milling crowds laced with camera crews and television trucks. Nothing about the experience felt celebratory. Ominous would be a better word, though we still hadn't a clue what was truly in store.
A lobby elevator at the New Amsterdam lifted us into a zone of equanimity. The Roof today bustles with activity but the energy feels elegantly contained. Tom waved to us from within a scrum of huddling Disney Theatricals, before separating to greet my daughters, Lea, age 13, and Sara, age 11, whom he hadn't seen since they were small. He then led us out onto the glass runway. Yawning below was a grand canyon buzzing with Disney activity. To our left, the trompe l'oeil proscenium dominated the room like a phantom.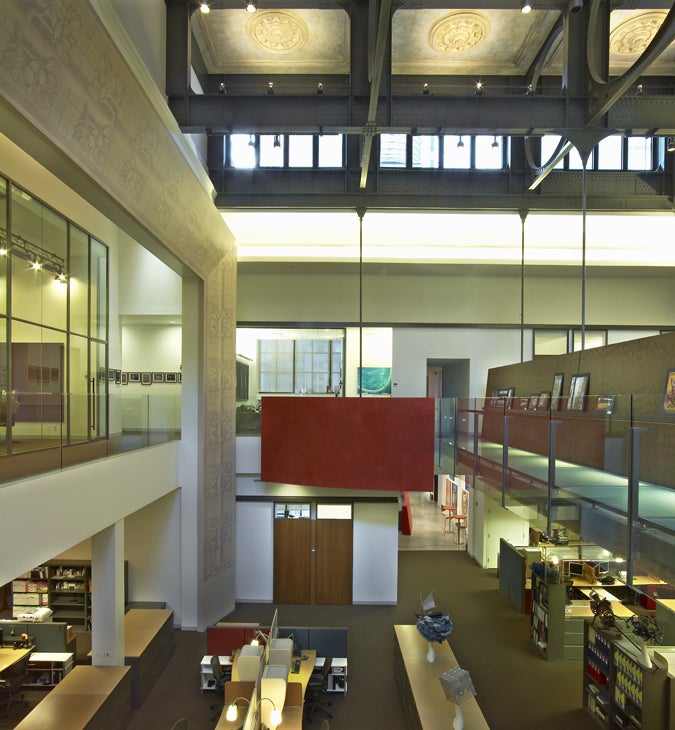 Tom explained everything. This is his home now. He pointed out stuff he was proud of and performed magic tricks for the girls. He guided us down into the nerve center and let Lea and Sara handle miniature stage models and set designs from Mary Poppins, Beauty and the Beast and other Disney shows. He unlocked a vast prop stockroom on a lower floor, where Sara tried on original costumes from every imaginable Disney production and Lea snapped selfies with her. We roamed the corridors and caverns of the New Amsterdam Theatre with Tom as if it was our natural habitat. Finally, Tom walked us onto the stage. I gazed out at the stratospheric, tiered balconies of seats, the heart-stopping architecture that I once could only imagine. I watched my daughters mug and dance on the stage of the New Amsterdam Theatre, calling out, "Hey Mr. Ziegfeld!" like Barbara Streisand as Fanny Brice.
It was getting late. The polls would soon be closing. A long night lay ahead. Tom escorted us to the bank of twin elevators that would take us back to the lobby. He hugged the girls and we spoke of Hillary Clinton before embracing each other.
Years ago, I wrote a biography of the great and neglected African American lyricist, Andy Razaf, entitled Black and Blue. One of the things I learned about Razaf was that, just before he broke through with his young songwriting partner, Thomas "Fats" Waller, in the 1920s, he worked, beginning in December 1919, as an elevator operator at the New Amsterdam Theatre, ferrying aristocratic white passengers to and from the New Amsterdam Roof for The Midnight Frolic following the Follies. I mentioned this to my children as we rode down in the elevator.
"I actually told Tom he should put a plaque in one of these elevators," I added ruefully.
"I know, Papa," Sara said, pointing. "He did. Look."
REAL LIFE. REAL NEWS. REAL VOICES.
Help us tell more of the stories that matter from voices that too often remain unheard.
This post was published on the now-closed HuffPost Contributor platform. Contributors control their own work and posted freely to our site. If you need to flag this entry as abusive,
send us an email
.