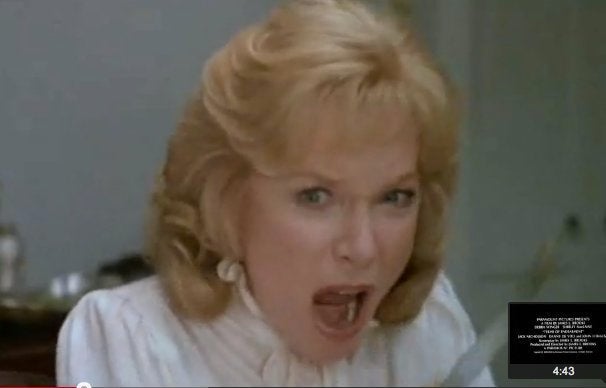 "Why should I be happy about being a grandmother?" Shirley MacLaine howled in the 1983 film, Terms of Endearment.
If you are old enough to recall the scene, you'll probably remember that for her it was mostly about the loss of vanity. Playing the role of the narcissistic mom to daughter Debra Winger, she was just not ready for this additional blow to her self-esteem.
Today, for millions of women who are reaching that stage of life, reluctance about being called grandma is about more than just vanity. It raises other complicated feelings less common among women from previous generations. For better or for worse, grandmas are just not what they used to be.
I was recently reminded of how much things have changed while watching an episode of AMC's Mad Men, which featured Joan's mother and Betty's mother-in-law. When we first got a glimpse of these 'Mad Grannies,' they appeared to have no life of their own; no jobs, no husbands, no friends and nowhere to go. They helped with the grandkids, stayed out of people's way and took a backseat to the needs of the younger generation.
It's not that these women were shrinking violets. Joan's mom, Martha, is of the opinionated "We did it better" type, who makes no bones about which mother knows best. Pauline is a no-nonsense woman -- who knows what frustrations lie behind her hardened exterior -- who softens only as she shares a fleeting intimate moment (and half of her Seconal) with 12-year-old Sally when both are unable to fall asleep. These grandmas are not portrayed as weak or passive women.

No, sadly they appear to have few choices, resigned to passing time until their lives are over, finding ways to make themselves useful until then. The TV series -- reflecting that reality -- seems to be moving forward with their roles disappearing, as if they are no longer even needed for the story to be told.
Compare that with a video that recently went viral showing women in their 60s, 70s and 80s competing at a Granny Beauty Pageant. Being judged not only on their appearance and style, but their athleticism, flexibility and vitality, these women clearly have a very different idea about how to pass time at their age. And "disappearing" is not how one would describe 90-year-old fashionista Iris Apfel, who was recently chosen to be the face of MAC cosmetics, while continuing to work on her own jewelry collection for HSN. According to designer Joanna Mastroianni, Apfel and other trend-setting "seniors" served as inspiration for her 2012 fashion show in N.Y.C.
While these women may lie on the other extreme of the "classic grandma" spectrum, they represent a very different perspective on this stage of life. New expectations? New ones that we have of ourselves and that others have of us? As Goldie Hawn said when her daughter began having children, "Glam- Ma" was a more accurate description of her new role in the family, replacing the moniker that once held "connotations of old age and decrepitude."
We know that grandmothers today are doing a lot outside of babysitting. And those that choose to help out often describe the experience with mixed feelings. No doubt when sons and daughters announce a baby is on the way, most parents welcome the news with enthusiasm. They even embrace the idea of potentially spending time helping with these new family arrivals. But, it's not long before more complicated sentiments surface -- often unspoken -- when it comes to actually doing so.
In the privacy of my psychotherapy office, I hear expressions of ambivalence: "My grand kids light up my life -- but I'm exhausted after I baby sit" and "I look forward to spending time with them -- only if their babysitter is available to help." Sometimes there are no mixed feelings at all. "I've done my share of babysitting," some say. "It's my turn to take care of myself." "I just don't have time or money to spend on another set of kids." Almost always these midlife grandparents are surprised (and not just a little guilty) that their feelings about it all are more complicated than they expected they would be.
Sometimes I hear disappointment and frustration from the younger set -- the new parents who feel shortchanged by this unexpected family dynamic. These couples had envisioned their moms and dads stopping everything -- their work, their travel, their tennis and golf -- to help out the way their own grandparents did. Once reminded that they too may feel ambivalent as they reach middle age -- about changing diapers, losing sleep and caring for little kids again -- they get it. This is not the parenting landscape of years past.

While there once were few options for grandparents whose children asked for help -- who else was there to turn to, and what else were aging women to do? -- now, midlife men and women recognize they have a choice. In fact, there are lots of choices, not only about whether to be involved with grandkids, but how to make the most of the next thirty or forty years that lie ahead. Very few are willing to turn it all in. Nor are they eager to compromise their own security and future to help secure those of their kids and grandkids.
Remember, life expectancy has risen from age 48 to 78 in a relatively short period of time, which means for the first time in history there are now decades between middle age and the end of life. Many of us thought we would retire by 65, but can't. And those who are fortunate to have that option often choose to work. Even if we're comfortably retired, we want to remain vital and healthy enough to enjoy the years we have left -- and that takes effort, time and money. Bottom line, if we choose to help out with grand kids, we expect that they will fit into our busy lives -- not the other way around.
Being a grandmother myself, who babysat my granddaughter a full day, once a week from the time she was 3 months to 3 years old, I can say that I admire women my age who do that on any regular basis. It was both a gratifying and draining experience; after a couple of years, I knew I couldn't continue the routine. I had cut back my private practice to make time for her, but found I had too many other things I still wanted -- and needed -- to do to maintain my own personal and professional life. And while there is nothing that can compare to the closeness I felt -- and still feel -- with this little girl, shorter visits with my husband by my side make more sense to me now. It's likely the way I'll be spending time with her younger brother and any other grandkids that come along in the future.
But you'll never hear me ask, "Why should I be happy about being a grandmother?" In fact, I look forward to the years ahead, as my next three children start their families. Fortunately, I know I have choices and I expect I'll exercise them so I can enjoy my role as the kind of grandmother I choose to be.

Vivian Diller, Ph.D. is a psychologist in private practice in New York City. She serves as a media expert on various psychological topics and as a consultant to companies promoting health, beauty and cosmetic products. Her book, "Face It: What Women Really Feel As Their Looks Change" (2010), edited by Michele Willens, is a psychological guide to help women deal with the emotions brought on by their changing appearances.
For more information, please visit my website at www.VivianDiller.com and continue the conversation on Twitter at DrVDiller.
REAL LIFE. REAL NEWS. REAL VOICES.
Help us tell more of the stories that matter from voices that too often remain unheard.