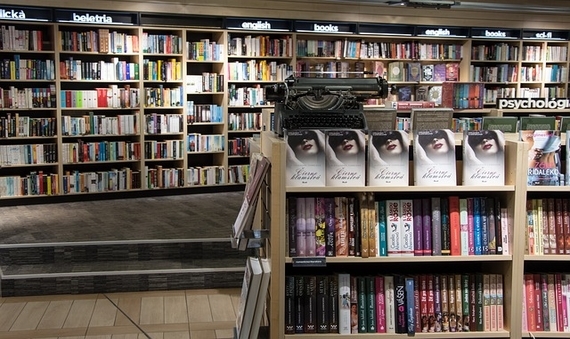 Barnes & Noble. It is the last, major physical bookstore left. With Amazon physical bookstores, many people are wondering if Barnes & Noble will be able to stay afloat. I am not a fan of Barnes & Noble. For customers, it is great. Many of them use Barnes & Noble as the new hangout place to read books with their latte.

For most indie authors, Barnes & Noble can be their worst enemy. Why? Well, there are not very friendly. I only got a book signing there because of my publisher (Morgan James Publishing). Although, it was not worth my time there at all.

If I remember correctly, I sold 10 books during the book signing. Furthermore, you will be competing with the big name authors like Robert Kiyosaki, Jack Canfield, Stephen King, and J.K. Rowling.
I personally do not like competition, especially when they favor the big names over the indie authors. Often, these big name authors are getting their own shelf, which usually sit at the end of the aisle. With such a great placement, their book significantly stands out from the rest of the books.
As a business, you cannot really blame them for doing such a thing. They are trying to make enough money to stay in business.
Barnes & Noble is slowly dying. It has been declining in sales since 2012. Since the decline, they have diversified their approach by adding coffee shops within their stores.
I think this approach may have attracted more people to their stores. It invites readers to hang out at the biggest bookstore to read books and drink lattes.
Fortunately, there is still hope for the indie author crowd. Although, you can almost count on Barnes & Noble to not have your book stocked on their shelves. People can still buy it via special order if your publisher is Ingram or a publisher that has a distribution agreement with Ingram.
What if your publisher is not Ingram? What if your publisher does not work with Ingram?
As an indie author, it is in your best interest to befriend indie bookstores because they will be your best partners in moving books off of the shelves.
Well, you may say, "No one is not really buying print books anymore. That market is dying. eBooks are on the rise."
Perception is not always reality. The Association of American Publishers has found that eBook sales declined last year. Adult books declined by 9%, while children and young adult books declined by 43%.
Indie bookstores can do wonders for you. They will be more open to granting you more book signings than Barnes & Noble. They will give you better shelf placement than Barnes & Noble. Some of them will even buy your books on a non-returnable basis.
If you focus on working with at least a half dozen of indie bookstores located far away from the big bookstores, you will definitely sell more books! It is these bookstores that will be your strongest allies!