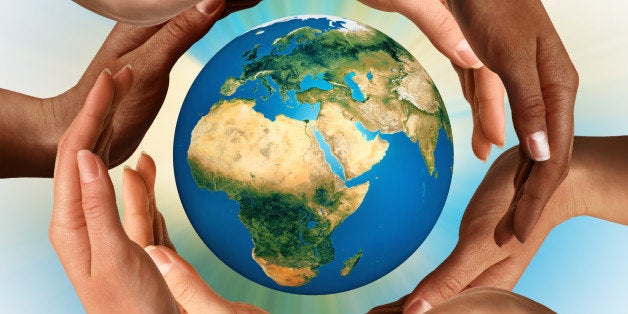 In the coming decades, five billion people -- the majority of humanity -- will come online for the first time, mostly in parts of the world ridden with conflict, instability and repression.
We've spent much of the last year traveling to those parts of the world to witness the new digital age firsthand. And we've seen many things:
In Tunisia, we met with former revolutionaries. After ousting longtime dictator Ben Ali, they decided to channel their energy toward becoming Android developers.
In Afghanistan, we learned of an entire village that revolted against the Taliban when the extremist group tried to seize their phones.
In Kenya, we've seen Maasai nomads without home electricity or running water nonetheless pay for items with their mobile devices.
In North Korea, citizens risk their lives and harsh punishment in order to obtain smuggled phones and tablets and take an even greater risk to venture close to the Chinese border so they can capture a signal.
In Ciudad Juarez in Mexico, we saw that while police hide their identities with masks, citizens are sometimes willing to take out their mobile phones and share warnings on social media.
In Iraq, following the return of looted artifacts, we were able to put the entire museum online so the world could experience the country's rich history.
In Chad -- the poorest country on earth with less than 1 percent of the population able to access electricity -- we met activists who were using the Internet to add a layer of transparency to the oil and gas sector.
In Myanmar, a country that until 18 months ago had been under military dictatorship for half a century, we met a transitional government using Gmail as its email service and even found a former Google employee who had returned home to do a Burmese startup.
In Pakistan, we met a group of women who were attacked by the Taliban with acid. Their physical scars carry an unfair stigma that makes it hard for them to find work, but the Internet allows them to run businesses and interact with the world despite these challenges.
In Israel, one of the only things that the Israelis and the Palestinians seemed to agree on was that they love using the Internet.
The world is not perfect, and with more connectivity we have greater visibility into the challenges that exist in every corner of the globe. There's room for optimism and there's room for pessimism, but above all we must start with understanding. So we're publishing a book, The New Digital Age: Reshaping the Future of People, Nations and Business. It looks at the good and the bad that awaits us, and describes some ways we might navigate these challenges.

As you think about the next five billion to come online, what makes you excited and afraid? What stories do you have of surprising twists on the front lines of this new digital age? Leave a comment; on Monday, April 29 we're giving signed copies of our book to the 15 most insightful comments chosen by The Huffington Post, and we'd love to hear from you!
Related