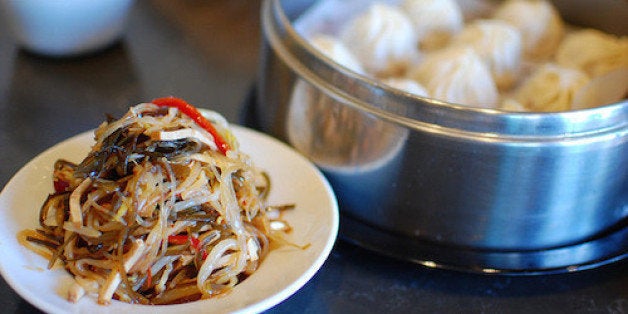 For 160 years, Chinese food in the United States was molded by local Chinatowns and Chinese-American communities. In restaurants serving authentic food to the local Chinese-American clientele and non-Chinese wanting to experience true Chinese cuisine, the food was prepared by immigrants and their progeny with established roots in the United States. While many of the earliest Chinese immigrants arrived as sojourners, intending to return home to China after a relatively brief period of time in America, most stayed, and as a group became a continuous part of the American fabric.

But in the past five years or so, Chinese dining in the United States has been impacted on an accelerating basis by Chinese nationals who are only transitorily in the United States. I have noted this effect briefly in previous articles, but this is a significant trend in Chinese dining requiring further exploration, as the Chinese food we are eating here in the United States is being affected as we speak.

As previously discussed, many tourists from China are afflicted with the "Chinese stomach," or the preference of any quality of Chinese food in favor of even the best host country food. This certainly is not a new phenomenon; even thirty years ago I would be dining at one of my favorite Chinese restaurants in Los Angeles's Chinatown when in marched a busload of Chinese tourists who took scarcely more than a half hour to come in, eat their meal, and leave. This scene repeated many times at some of my not-so-favorite Chinese restaurants too, demonstrating the "any port in a storm" mentality of these travelers.

While my Chinese stomach article noted a couple of Chinese restaurants operated exclusively for tourists, these were isolated instances in geographically remote locations. More typically, restaurants serving authentic Chinese food in the United States have been operated to serve the resident Chinese community, and were therefore always located in and near Chinese population centers. For example, in the Los Angeles area most authentic Chinese restaurants are concentrated in the San Gabriel Valley and a few other neighborhoods, with wide swaths of the metropolitan area devoid of good Chinese food.


But now, Chinese tourists have spoken up and have begun to make an indelible mark on Chinese dining in the United States. This conspicuous change is attributable to the new mix of wealthy Chinese tourists, coming from familiar locations like Hong Kong, Taipei, Shanghai, or Beijing, but also increasingly from the interior provinces of mainland China. The first indication that something was afoot? Upscale shopping centers in the Los Angeles area began to cater to this class of tourist, with each designer store hiring at least one Chinese employee. At the trendy South Coast Plaza in Costa Mesa, perhaps the top shopping destination in the Los Angeles area for Chinese tourists, visitors complained loudly about the lack of Chinese food options. Because these tourists were choosing to dine off-premises, South Coast Plaza acted quickly, landing in 2014 a rare US branch of the famous Din Tai Fung dumpling chain. Ironically, to make way for Din Tai Fung, McDonald's was booted out of the mall. Likewise, another Din Tai Fung location opened in 2014 in the upscale Americana in Glendale. Neither Costa Mesa nor Glendale had any authentic Chinese restaurants within their city limits prior to the arrival of Din Tai Fung, and now each city has one of the best.

The Chinese tourist influence on Chinese restaurants has also hit me personally. Living between the Hollywood sign and the Griffith Observatory (a Chinese food wasteland), the closest Chinese restaurant was previously a horrid Americanized eatery down the hill from the observatory. But with the recent busloads of Chinese tourists, the restaurant began serving authentic Sichuan-style food in addition to its Americanized fare. Meanwhile, nearby Universal Studios keeps its Chinese tourists in the park by offering Chinese food options at park restaurants. While Los Angeles is in front of the curve as it is one of the top destinations for tourists from mainland China, rest assured that the effect is rolling across the country. CBS News reported on the influx of Chinese tourists into Bar Harbor, Maine, and how local restaurants are producing Chinese language menus. One of them, China Joy, is doing quite well these days.

But Chinese tourists were not the first Chinese passing through the United States to impact Chinese dining in this country. In my recent article on authentic Chinese food in college towns, I mentioned how in the past five years college students from mainland China, particularly from Sichuan and other interior provinces, have triggered the introduction of authentic Chinese restaurants in college towns that had never before seen authentic Chinese food. These Chinese university students differ from their college brethren from Hong Kong and Taiwan in one significant respect. In previous decades, a good portion of overseas Chinese students came to study in the United States with the intention of staying here after completing their studies. In contrast, today's mainland Chinese students generally plan to return to China upon graduation. Indeed, many of them are attending school on Chinese government scholarships that require their return. So from Ames, Iowa and Charlottesville, Virginia to East Lansing, Michigan, communities are getting a taste of authentic Chinese food thanks to the new breed of international Chinese students who will soon be heading home.


And indeed, the impact of Chinese temporarily in the United States extends beyond tourist stops and universities. In the downtown area of Los Angeles, which includes the heavily Cantonese Chinatown area, there is exactly one place to find Sichuan-style food: Cutting Board Deli, a sandwich shop located in the Los Angeles World Trade Center, a moribund near ghost town of a facility frequented only by international businessmen and workers at nearby skyscrapers who use the center's economical parking garage. Still, there are enough Chinese businessmen passing through, Chinese tourists staying at the Chinese-owned hotel across the street, and Chinese students at a boarding high school located within the hotel, to give downtown Los Angeles its first taste of Sichuan food, which you order from a separate window at the restaurant.

So who knows where the next unexpected outpost for authentic Chinese food will be? We'll have to wait and see.
David R. Chan is a third-generation American who has eaten at 6,297 Chinese restaurants and counting. He maintains a spreadsheet of each of his culinary conquests -- a document he began in the early 90s, when he bought his first home computer. "When I entered the workforce in the 1970s, that coincided with the rise of what we think of as authentic Chinese food in North America," Chan told the LA Weekly Squid Ink blog. "As such, my goal was to try every authentic Chinese restaurant in the Los Angeles area at least once." He has extended his list to New York, San Francisco, and thousands of restaurants beyond. Still, Chan admits, he can't use chopsticks.