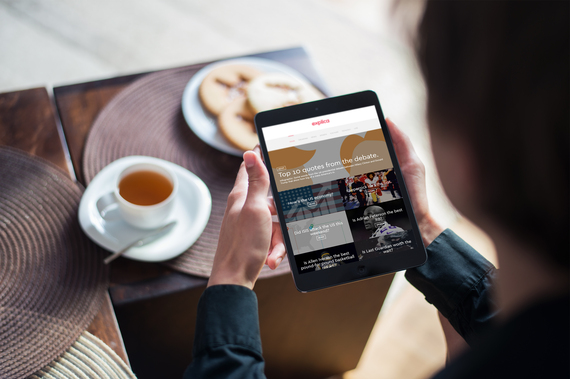 The hottest ticket in media isn't to the busy streets of New York or the bright lights of Los Angeles. It's an invitation to the entrance of a relatively non-descript downtown high-rise building in Austin, TX, known as the Austin Centre.
A 16-floor elevator trip later and the doors reveal the open floors of Capital Factory, the prominent coworking space from which billions of dollars in startup ideas have been launched in recent years. Inside the glass offices, many are surprised to meet the new face of media: two young men, donning--in the place of suits and watches--muted hoodies, complemented with a black snapback, emblazoned with "MVII8" in orange.
Meet Vip Sitaraman and Nando Luna, the incredibly young masterminds behind Explica, perhaps the world's fastest growing millennial news/entertainment site. Having reached over 6.5 million users since their launch just a few months ago, in July 2016, the startup team now announced they closed a $450,000 seed funding round this November.
The round was led by MVII8, private venture capital out of Austin, Texas. Many were surprised to see a tech disruption startup receive funding from a firm known for investing in highly-profitable business models ranging from real estate to consumer packaged goods. Lorin Radtke, co-founder of the MVII8 explained,

We associate the often quoted founder phrase "managing our burn rate" with tech startups that are living in their parents basement... Vip and Nando spoke to profitability.

Though the terms of the investment were undisclosed, the company's announcement clearly points at a multi-million-dollar valuation. And with good reason: Explica's target audience is mostly millennials and Gen Z (18 - 34 years olds). In fact, they beat other millennial news sites by an incredible margin: Mic is in 2nd place at 50 percent, but Explica's got a whopping 82.
Currently, they exclusively create & publish visual content, in the form of animations and infographics, covering controversial topics in fields ranging from politics to sports. With the new funding, the team has tasked themselves with automating the entire content creation process. In their announcement, they explain the product:

We're creating 'narrow AI' that can extract meaning from blocks of human-written, readable text, then visualize that information differently.

What does that mean? Well for us, it means our news/media looks less like a textbook and more like a picture book. And by the looks of Explica's stats, seems like everybody loves it.
The idea was really born in the Seed Sumo accelerator, where the company rebranded and pivoted from the infographic consultancy, then-named Draw Science, to today's infographic news site, Explica. At Demo Day, the site posted impressive statistics for its first month launch: over 400 thousand native unique views, another 1.5 million off-site, and over 10,000 social followers just on Facebook.
Now, just a few months later, the company's valuation and traffic has multiplied several-fold. With this strong traction, a weathered & scrappy team, and new growth capital, Explica is poised to build unimaginable tools under an imaginative brand.
Related
Popular in the Community