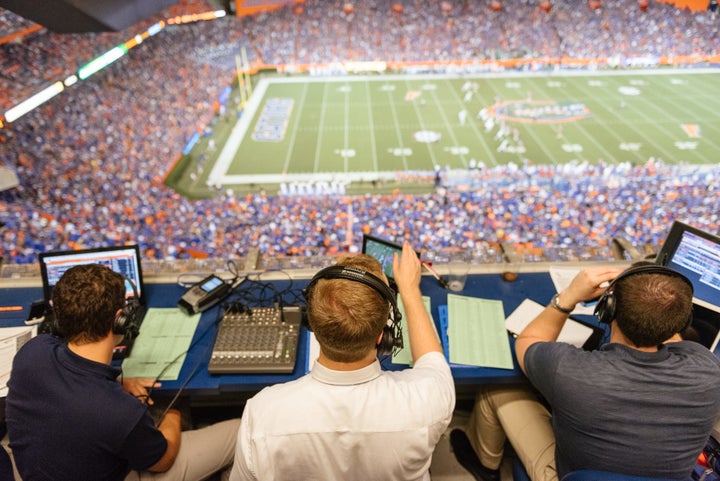 Over the last decade, journalism and reporting have experienced significant changes. One industry that has been deeply impacted by these changes is the sports world. Projected to reach a net worth of $73.5 billion by 2019, the sports industry is one of the largest industries in the world (Heitner). Due to its massive scope, the sports industry has magnified these changes in journalism and reporting. Technology is the major reason for these changes, and it is often said that technology-enabled social media has altered the traditional sense of journalism. As a result, the industry has seen the emergence of a new trend that has come to represent the new face of sports media - athlete driven media. Athlete driven media continues to grow rapidly, perhaps facilitated by the appearance of numerous athlete driven media companies.
As technology and social media continues to advance and take control of sports journalism and reporting, athlete driven media is here to stay. This article traces the history, importance, key players, predictions, statistics, conclusions, and implications of athlete driven media and athlete driven media companies.
Before the 1990s, newspapers and printed magazines were the main sources of sports journalism and reporting, and the main ways that fans got their sports related news and articles ("Social Media & Sports Journalism"). By 1991, the first credited sports weblogs were created, and by 2004, newspaper became the least preferred news source among sports fans ("Social Media & Sports Journalism"). Check out the infographic below:

Traditional, printed news was replaced by the various social media outlets and online sports websites, such as ESPN.com. Besides changes in technology, something else was going on in the sports industry around this time that heightened the desire for athlete driven media; the athletes themselves were growing increasingly sick and tired of the lack of control they had with reporters and what they would publish on traditional sports media outlets. This hotbed of distrust between athletes and traditional media is what spurred this new wave of sports content that was driven and controlled by the athletes themselves (Berger). In his article, Ken Berger quotes NBA star Blake Griffin's response to the shift from traditional reporting to athlete driven media: "I think the cool thing is, I can just take a moment, say exactly what I want to say and be done with it -- instead of maybe getting my words mixed around a little bit and not getting exactly what I want out there." As evidenced, athletes have grown to prefer their own controllable content over that released by reporters and traditional reporting outlets. Resistance to the possibility of "getting lost in translation" has motivated players to embrace the ever-expanding media platforms out there to communicate and interact with fans directly.
Importance to Sports Media Industry:
Athlete driven media is immensely important to the sports media industry, as it represents the present and the future of how consumers get their sports related reporting. Athlete driven media refers to sports related content that is created and posted directly by the athlete. This can be on social media, blogs, or other outlets that engage fans. The growth of social media outlets, such as Facebook and Twitter, have already changed the way fans get their sports related news, statistics, highlights, and overall content. According to a study conducted by the University of Florida, Twitter has most impacted sports journalism, with over 54% of all sports journalists using Twitter regularly ("Social Media & Sports Journalism"). Sports fans generally use social media outlets, such as Twitter, to follow professional athletes and see their current and past happenings (Brown). All of this reflects an ever-growing trend that fans want to hear directly from the athletes; in other words, they want their sports related content coming directly from the athletes, without a "middleman" (Brown). The authenticity of this "direct touch" allows fans to get closer to the people they follow religiously and perhaps even idolize.
According to an article written on CBS Sports by journalist Ken Berger, athlete driven media allows athletes to connect with their fans on a more personal level, and vice versa. Since both the fans and the athletes prefer this form of journalism rather than the traditional forms, it is imperative that the sports media industry continues to leverage this. Media companies, and even sports teams and leagues, that can successfully drive and promote athlete created content are set to do extremely well and keep fans pleased. Besides retaining existing fans, it can help sports properties to grow their audience and target different demographics. For example, women prefer more authentic "storytelling" and "human interest stories" when following sports (Spain). By promoting athlete driven media, where athletes can tell their own story and be more authentic than in traditional journalism, sports properties can significantly grow the female fan base. Furthermore, for teams or leagues that are struggling, investing more time and resources into athlete driven media content can be a savior, as athletes, who play in these leagues, can connect directly with the potential fan base and establish an interest in such struggling leagues.
The rapid emergence of athlete driven media content has already established some key players in this space, such as The Players' Tribune, UNINTERRUPTED, Athlete Content and Entertainment (ACE) Media, and UNSCRIPTD. The Players' Tribune was launched on October 1st, 2014 by former MLB superstar Derek Jeter, and provides first-person stories directly from the athletes as well as daily conversations about sports. Content on The Players' Tribune includes written pieces (called "features"), podcasts, videos, and player polls. The mission of The Players' Tribune is "to provide athletes with a platform to connect directly with their fans, in their own words" (ThePlayersTribune.com). Since the launch, close to 500 athletes from 24 sports have contributed first-person stories to the website (Mullen). UNINTERRUPTED is a multimedia platform for athletes created by NBA superstar LeBron James, and is essentially a way for athletes to record short video clips on their smartphones about any topic. They are focused on video content, documentaries, and entertainment. James created this platform with longtime friend and business partner Maverick Carter. UNINTERRUPTED is "the kind of behind-the-scenes access that sports fans gobble up like candy" (Wagner). UNINTERRUPTED is partnered with Bleacher Report, which provides the audience with professional athlete authored videos from UNINTERRUPTED. Athlete Content and Entertainment Media, or ACE Media for short, was created in September 2015 by the NFL Players Association. ACE Media delivers "original sports-lifestyle content across all genres and platforms" using the NFLPA's media rights, and leveraging over 1,500 active NFL players (AceMediaCo.com). However, ACE Media is not just focused on NFL players; in its first year, it produced or facilitated over 750 pieces of unique content featuring over 350 athletes from the NFL, NBA, NHL, U.S. Soccer, etc. (AceMediaCo.com). Lastly, UNSCRIPTD was first launched in 2013 as a content aggregator that had sports video clips from across the web in one place, but is now focused on using software to provide fans with "an unfiltered view from athletes, told entirely through videos that show the real side of athletes, and the real view into their world" (Roberts). The company was launched by former tennis star Andre Agassi, former Nike executives Brent Scrimshaw and Ben Crowe, and former BuzzFeed CRO Andy Wiedlin. UNSCRIPTD has differentiated itself from the likes of UNINTERRUPTED, which also provides similar video content, by being completely unfiltered. In other words, UNSCRIPTD has no editors who check and approve videos before they are uploaded online; UNINTERRUPTED has editors who check content before it's posted. Additionally, UNSCRIPTD has launched globally, unlike The Players' Tribune and UNINTERRUPTED, and therefore has the potential for a larger reach than any other athlete driven media company.
It is interesting to note that three out of these four key players in athlete driven media companies space were started by current or former professional athletes. While four are described in detail, there are other athlete driven media companies that exist. As this trend continues to become more popular and rampant in the sports industry, expect to see new athlete driven media companies pop-up. It is unclear if they will be successful, as these four (and particularly The Players' Tribune) have established themselves as the most respected and trusted athlete driven media outlets by both athletes and fans.
Likely to Happen in Athlete Driven Media and Implications for the Future: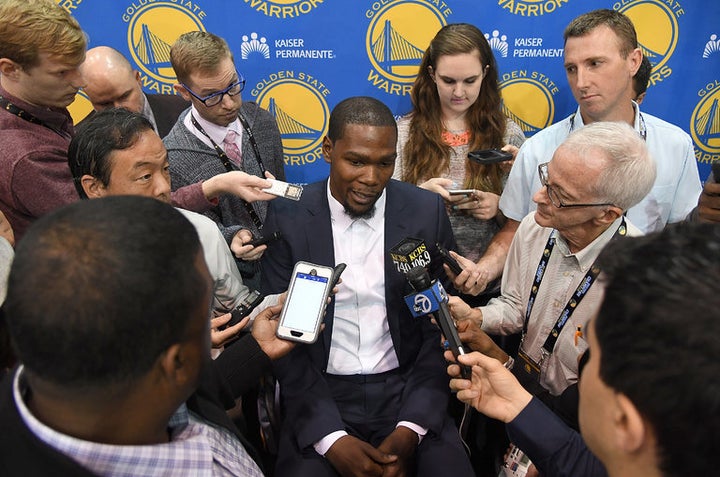 As the demand for athlete driven media has grown, sports properties have been pressed to deliver it. Athletes don't need any convincing, but simply need appropriate platforms to deliver the content. The Players' Tribune was the real pioneer in this space, and companies like UNINTERRUPTED, ACE Media, and UNSCRIPTD followed suit. NBA superstar Kevin Durant told CBS Sports reporter Ken Berger that "I feel like when you read a Players' Tribune story, you can almost read it in the player's voice -- that it's 100 percent them, 100 percent their words and their insights and thoughts about the game or whatever the topic is…You get total control over every single part of the article and what comes out, and I think players are gravitating towards that because it's 100 percent your voice" (Berger). As Durant states, athletes love this level of control and authenticity that athlete driven media provides. It makes the athletes seem more honest, which is great for the sports industry. If the athletes appear honest and genuine, then fans can relate to them better. It is this "relatability" that will help the sports industry grow and prosper. If fans can relate to athletes more, they are more likely to purchase items related to that athlete (jersey, shoes, etc.), and more likely to come see the team that athlete plays for. Sports properties can experience significant economic advantages by investing in athlete driven media and athlete driven media companies.
In January of 2017, The Players' Tribune announced that it had raised $40 million in a new round of funding, bringing its total funding to $58 million (Lev-Ram). Additionally, Warner Brothers Entertainment and Turner Sports have invested roughly $16 million into UNINTERRUPTED, which is being used to expand the platform and grow its reach (Reel). Clearly, the new athlete driven media companies are already worth a lot of money in a short period of time, vying with Silicon Valley technology startups for investor's mindshare and wallet-share. Since investors are clamoring to invest large sums of money in such companies, the future looks bright for athlete driven media. As long as the money keeps rolling in, athlete driven media is here to stay. And the money will definitely continue to roll in; if these athlete driven media companies can no longer find institutional investors, they can turn to the athletes themselves, who are often worth hundreds of millions of dollars. It's a win-win situation for this sports media trend.
Besides the present and future economic implications of athlete driven media and athlete driven media companies, this trend also possesses the power to positively impact sports and perhaps enact real societal change. In October of 2014, Blake Griffin published a telling essay on The Players' Tribune about his relationship with Donald Sterling, the former owner of the Los Angeles Clippers, who had been banned from the NBA for life (for making racist comments) just a few months before Griffin published his piece. In his vivid and eye-opening essay, Griffin shed light on just how bad of a man Sterling was based on their encounters and interactions since he was drafted to the team in 2009 (Berger). This essay was one of the most read pieces in The Players' Tribune's history and was extremely impactful in the ongoing conversation about race relations, as it went above and beyond what was reported about Sterling in the news or on traditional media platforms (Berger). Although Griffin published this piece after Sterling had already been exposed and handed his penalties, this showcases the true power that athlete driven media has. Athletes can expose abusive coaches, exploitive agents or managers, unlawful team front offices, etc. by using athlete driven media. In general, such below the surface facts are not reported by the traditional media, unless an athlete decides to engage in an exposé. However, many athletes are uncertain about exposing such controversy through second hand reporters where they cannot control the end-message. Instead, if they can write it themselves and publish it to the world themselves, they will feel more comfortable in pursuing the direct path. As a result, they can positively impact sports and even help to enact societal change more so than before. Such direct contact will also invoke the activist in athletes. In the future, we can expect to see more unethical and negative people and practices within the sports industry be exposed by athletes using such athlete driven media outlets. Blake Griffin set a precedent, and perhaps other athletes will follow. The only difference will be that athletes will break the news first, not after someone like Donald Sterling has already been exposed and handed a punishment.
Athlete driven media and athlete driven media companies have already seen immense success in a short period of time. With continual improvements in technology and the growing power of social media, the future looks bright for athlete driven media. The "breaking news" side of reporting, such as NBA legend Kobe Bryant's retirement letter on The Players' Tribune in 2015, or Kevin Durant's article on The Players' Tribune about his decision to join the Golden State Warriors in free agency last summer, is already being released on athlete driven media outlets rather than being released as exclusive news on traditional, "old school" outlets like ESPN. Gone are the days when ESPN is the first to announce that a player is retiring or that a player has signed with a new team before it is released anywhere else. Athlete driven media is already a powerful tool, and will only get more powerful as it continues to become more prevalent in the sports industry. By eliminating the friction of "middle men," athlete driven media is going to convert "prime time" into "real time." In the process, it is going to bring out the activist in athletes and provide them a direct opportunity to be agents of change, not just tools of entertainment. The whole idea of a role-model will transform with the advent of athlete driven media outlets.
______________________________________
Berger, Ken. "How Players Are Controlling Their Own Media and What It Means for the NBA." CBSSports.com, CBS Sports, 1 Feb. 2016, www.cbssports.com/nba/news/how-players-are-controlling-their-own-media-and-what-it-means-for-the-nba/. Accessed 26 Mar. 2017.
Brown, Jamaal. "The Impact of Social Media Use on Sports Fans' Relationships with Professional Athletes: An Analysis of Parasocial Relationships." THE ROCHESTER INSTITUTE OF TECHNOLOGY DEPARTMENT OF COMMUNICATION, 3 May 2013, www.rit.edu/cla/communication/sites/rit.edu.cla.communication/files/images/Jamaal%20Brown.pdf. Accessed 26 Mar. 2017.
Heitner, Darren. "Sports Industry To Reach $73.5 Billion By 2019." Forbes, Forbes Magazine, 28 Mar. 2016, www.forbes.com/sites/darrenheitner/2015/10/19/sports-industry-to-reach-73-5-billion-by-2019/#7abf90b21b4b. Accessed 26 Mar. 2017.
Lev-Ram, Michal. "Exclusive: Derek Jeter's Star-Studded Startup Just Raised Another $40 Million." Fortune, Time Inc., 19 Jan. 2017, fortune.com/2017/01/19/derek-jeter-players-tribune-funding/. Accessed 26 Mar. 2017.
Mullen, Liz. "Jeter's Vision Overcomes Skeptics." SportsBusiness Journal, American City Business Journals, 4 Jan. 2016, www.sportsbusinessdaily.com/Journal/Issues/2016/01/04/Media/Players-Tribune.aspx. Accessed 26 Mar. 2017.
Reel, Mars. "Uninterrupted." Crunchbase, Crunchbase, www.crunchbase.com/organization/uninterrupted#/entity. Accessed 27 Mar. 2017.
Roberts, Daniel. "Why Andre Agassi and Former Nike, BuzzFeed Execs Launched a Sports Video Site." Yahoo! News, Yahoo!, 25 Jan. 2016, finance.yahoo.com/news/andre-agassi-nike-buzzfeed-execs-launch-sports-video-site-unscriptd-165605590.html. Accessed 26 Mar. 2017.
"Social Media & Sports Journalism." UF Online, University of Florida, 10 Mar. 2015, ufonline.ufl.edu/infographics/social-media-sports-journalism/. Accessed 26 Mar. 2017.
Spain, Sarah. "EspnW -- Highlights, Questions from the EspnW Women + Sports Summit." ESPN, ESPN Internet Ventures, 4 Oct. 2012, www.espn.com/espnw/news-commentary/article/8460566/espnw-highlights-questions-espnw-women-+-sports-summit. Accessed 26 Mar. 2017.
Wagner, Kurt. "LeBron James Is Giving Athletes the Last Word With Video Project 'Uninterrupted'." Recode, Vox Media, 9 June 2015, www.recode.net/2015/6/9/11563380/lebron-james-is-giving-athletes-the-last-word-with-video-project. Accessed 26 Mar. 2017.
Related
Popular in the Community