Remember when Fort Lauderdale was crowned the ultimate party town for rowdy frat boys on spring break? Times have changed. Gone are the throngs of adolescent revelers (they're in Cancun). Gone are the hippy swimwear boutiques that used to line Fort Lauderdale Blvd, aka Route A1A, the shoreline drive. Adults have taken over and now high-quality hotels are strung along the main beach blvd.
100 Years Later, Fort Lauderdale Gets It Right.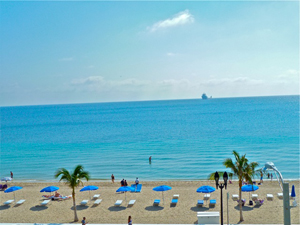 2011 marks the centennial anniversary of Fort Lauderdale, and what an evolution it has been. First inhabited by the Tequesta Native Americas, 2500 years ago, then Seminoles in the early 1800s and white settlers thereafter, Fort Lauderdale was named after a Major William Lauderdale, who was the commander of the detachment of soldiers who built the region's first fort. The vicinity remained largely isolated until the Florida East Coast Railway was completed in 1896. More settlers came, including African American pioneers; some who had helped build the railway. The village was incorporated in 1911. A scheme to dredge the everglades failed but left the city with 165 miles of canals, more waterways than those in Venice, Italy.
The beach in Fort Lauderdale runs seven miles up the coast. Unlike the crowded shores of South Beach, the taupe-colored sands here are populated by beachgoers, but not inundated - especially on the north end. Mornings and evenings joggers run up and down the sidewalk. The locals carry a mellow, unhurried vibe. Vacationers who flock to the hotels seem bent on relaxing, taking in the sun, swimming and chilling. No parade of six-pack abs and model-thin bikini bodies. Everyone seems normal, natural and calm, almost in a Floridian trance. Ocean waves ebb and flow in a hypnotizing rhythm. Just find a lounge chair, a beach umbrella and commune with nature.
If you take a stroll down trendy Las Olas Blvd., you will encounter sweet shops (Galleo Belgian Chocolate), spas (918 Day Spa), and clothing boutiques (Tommy Bahama). Galleries too, and the most impressive is New River Gallery (914 East Las Olas Blvd.) run by Wissam Elghoul who sells Picasso, Chagall and Dali art. At night the local gentry and tourists promenade up and down the street hitting the clubs. Even on a Saturday night, when the boulevard is crowded with Range Rovers, the crowds aren't nearly as dense as those on Lincoln Rd. (South Beach) or as young as the herds on Ocean Drive.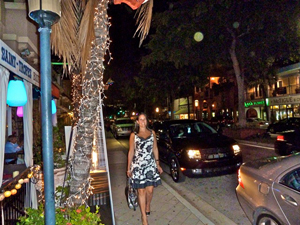 If you're itching for a game of tennis, head to the Jimmy Evert Tennis Center in Holiday Park. Call ahead for a lesson with the gregarious Jovica, who will regale you with all the famous people he has coached, or hangout and don't be surprised if someone asks you to play doubles on one of the 18 Har-Tru or three hard courts, which are surrounded by palm trees.
Taking a ride down the canals on the yellow water taxis is a blast. The chatty stewards point out the lush canal-side mansions of the famous (Jay Leno -- he has a big, blue and white yacht) and the infamous (O.J. Simpson). There are nostalgic homes that once belonged to Lucille Ball, Johnny Weissmuller and Sonny and Cher. Bring the camera and expect to spend around two and a half hours on a fascinating trip ($20 all day pass) - or even longer if you take the trip to South Beach ($38). And for serious yachtsmen, the 52nd Fort Lauderdale International Boat Show (October 27-October 31, 2011) exhibits huge luxury boats worth millions!
Fine Dining - Bring Your Appetite.
The il Lugano Luxury Suite Hotel (3333 NE 32nd Avenue) hosts the gem of a restaurant da Campo Osteria, which sits just above the Intracoastal Waterway. As you view the open kitchen or the canal at sunset, start with the Zuppa di Mussels (with tomato, caper berries, kalamata) and then a half order of the Tagliatelle Bolognese pasta will set you up for the Veal Chop Caprese Bone -In (with roasted pesto fingerlings). But leave room for the Mascarpone Di Frutta (tropical sorbet and mascarpone torta) for dessert and don't be surprised if you run into Jeb Bush and his entourage.
SoLita "South of Little Italy" (1032 East Las Olas Boulevard) has homey Italian cuisine. Grab a chair at an outdoor table and watch the pedestrian parade. Dine on Shrimp SoLita (crispy shrimp tossed with roasted peppers), and then feast on the Snapper a la Angela (pan roasted with mushrooms, mussels and clams). After 12a.m., Solita becomes a very friendly lounge with a DJ - sneak in for a drink and dessert (go for the bread pudding drowned in Bourbon sauce).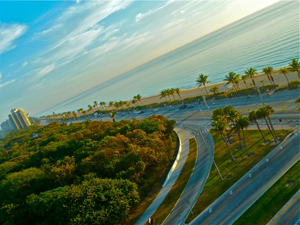 SAIA (999 North Fort Lauderdale Beach Boulevard), helmed by Master Chef Chenkorsom, formerly of the Delano in South Beach, serves the city's best sushi. As you sip on sake or Sapporo beer, chow down on the Fire Dragon Shrimp Tempura (avocado, snow crab topped with spicy tuna and masago) and follow it with Wagyu Beef (with shitake and shimija mushrooms and schichitou peppers).
If you have a sugar craving, head around the corner to Pops Corn (901 Sunrise Lane), for tasty caramel and cheese popcorn (mix the two, trust me) and homemade ice cream. It's on a quiet street with other small shops and lounges, the kind that used to line A1A until the hotels took over. It still has that small, friendly beach town vibe.
W Fort Lauderdale (401 North Fort Lauderdale Beach Boulevard) with its 517-rooms and suites, is in an architecturally distinct building designed as an abstract sailboat in full sail. Ask for one of the corner rooms with the wrap-around terrace over-looking the pool area and the beach. Look down at the pool and you will notice that the entrance from the lobby floor ascends up a flight of stairs with glass walls that are inside the swimming pool. You walk upstairs and bodies swim by. It's uncanny.
The newly remodeled and renovated 240-room B Ocean Fort Lauderdale (999 North Fort Lauderdale Beach Blvd) easily has the best view of all the beachfront hotels. It's cozy, boutiquish, and personable. Yes vacationing here is pleasurable. But marrying here, on the penthouse floor with its dramatic 180-degree panoramic views, is spectacular. You gaze over Hugh Taylor Birch State Park and a shoreline that goes on forever. It's at the junction of Sunrise Blvd and A1A, a perfect place to start your day, or end it.
Forget the past. Forget the rowdy reputation that doesn't fit anymore. Fort Lauderdale is an authentic, adult-friendly beach town. After 100 years in the making, this charming refuge has a lot of reasons to celebrate.
Popular in the Community