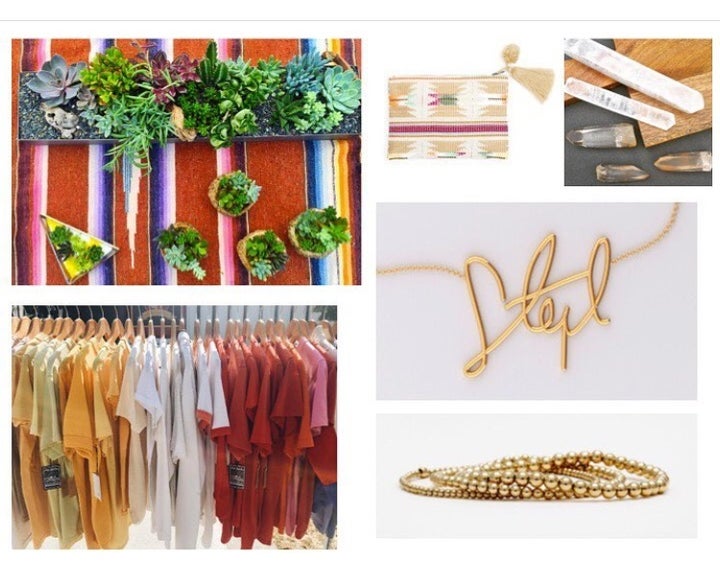 I remember going to Wet Seal or Contempo Casuals after school with my friends (totally aging myself here). Anyways, it was a "thing," and I really enjoyed it. There was something both fun and bonding about it. And I miss it... I don't know when the last time I made a date to go shopping with a friend was!
But that's about to change, thanks to two L.A. locals who thought it was about time women not only get together again to shop, but to do it in a way that also supports local women vendors. Dina Litt and Janie Schwartz, big players in the world of branding, marketing, and merchandising, created Local Mercato as a passion project. Mercato means "marketplace" in Italian, and Local Mercato is just that - a marketplace filled with fashion, jewelry, accessories, and home décor from local businesses. By offering a marketplace where women can browse merchandise together, all while enjoying craft cocktails (it's probably best there weren't any of those around while I was looking for my prom dress at Judy's!) and small bites, Local Mercato cultivates the shared experience of discovering new fashion and jewelry, with the added bonus of supporting the local economy. And, on top of that, they pick one charity per event to donate a portion of the proceeds to; the next one is Mattel Children's Hospital UCLA.
Their first pop-up event in October at the former Fred Segal in Santa Monica hosted 15 vendors and proved to be very successful. With over two hundred people turning out, the majority of that number were girlfriends there to enjoy a GNO (translation: Girls Night Out).
Local Mercato will be hosting its holiday pop-up at HD Buttercup in Culver City on Tuesday, Dec 6. Vendors include: Wild Precious Life and their new fragrance inspired by a spiritual journey and awakening of the soul, Twist Your Spirits, a fun collection of do-it-yourself artisanal cocktails, Melinda Maria's timelessly glamorous (and sparkly) jewelry, very cool KIN/K hats, ZenBunni biodynamic chocolate bars (yummy and healing!), and other high-end local accessory, furniture, clothing, and jewelry retailers. I, for one, will be there with both a girlfriend of mine and holiday gift list in tow, happily supporting women business owners, charity, and the local L.A. economy. For more info of this event, visit www.localmercato.com/events/.
Related
Popular in the Community