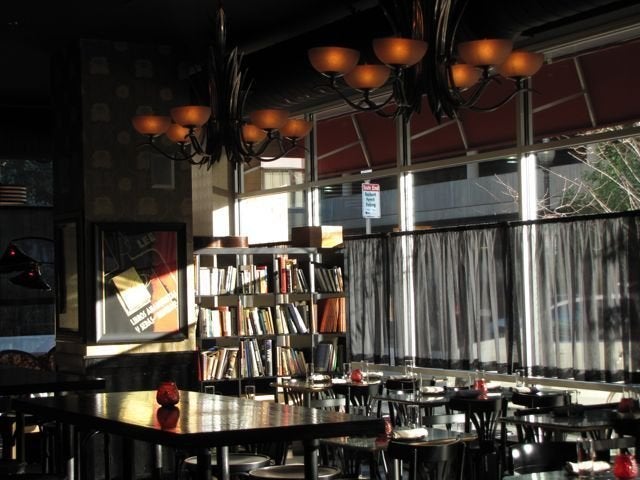 When chef Gordon Hamersley opened his French bistro-style restaurant in Boston's South End, there was little more choice for dining in the neighborhood than pizza joints and take-out Chinese. Twenty-five years later, this now-chic area -- the largest district of Victorian row houses listed on the National Register of Historic Places in the United States -- has become a magnet for upscale, chef-owned and independently run restaurants. Some say there's more cooking talent along these streets than in the rest of the city combined. It's the place where young professionals, retired executives, paint-splattered artists and gay and straight married couples all rub elbows and sip martinis while waiting for a chance to eat something really good.
Here are some not-to-be-missed places to dine on your next trip to Boston.
Hamersley's Bistro serves innovative contemporary cuisine with an emphasis on simplicity and fresh ingredients.
After training in various French restaurants in Boston and a stint at the famed Ma Maison in Los Angeles where he worked with Wolfgang Puck, Gordon Hamersley and his wife Fiona moved to Nice, France, where they fell under the spell of simple family-owned bistros. Hamersley's intention, radical at the time but common today, was to "give Bostonians an alternative to the nonsense trappings of fancy restaurants." The menu changes with the seasons, though the roast chicken with garlic, lemon, and parsley is a crowd-pleasing staple.
At Toro, Chef Ken Oringer offers tasty and authentic Barcelona-style tapas in a festive environment. As executive chef and co-owner of two of Boston's most acclaimed restaurants, Clio and Uni, Oringer is at the top of the kitchen totem pole and at the top of his game. But for some chefs, running an award-winning modern American restaurant and sashimi bar isn't enough.
After traveling through Spain, Oringer, seduced by the rich culinary traditions and flavors of the country, decided on a new challenge: to create an authentic tapas restaurant in Boston. Since opening in the fall of 2005, Toro has been filled to standing-room only capacity. Don't miss the house specialty: grilled corn with aioli, lime, espelette pepper and aged cheese.
If you're lucky enough to get a seat at the white marble bar at B & G Oysters, you can choose from more than 12 varieties of East and West Coast oysters, as well as clam shack classics like a lobster BLT or fried oysters. But don't imagine the place is anything like your local seafood dive along the shore. Although the atmosphere is spirited and casual, the subterranean interior, formerly a creperie, has been transformed by Boton's uber-chef Barbara Lynch, into a stylish urban setting with minimalist lines and cool blue and grey colors.
Another Barbara Lynch enterprise, The Butcher Shop is both a neighborhood wine bar and a full-service butcher shop. Located across the street from B & G Oysters, these two establishments function as a kind of culinary yin and yang: one a dark space that's like a European boucherie, the other brighter with a focus on seafood.
There's always a lively scene at the Butcher Shop, where patrons squeeze along the black soapstone bar or stand around a butcher-block table for tasty small plates of handmade charcuterie, antipasti and gnocchi with spicy sausage ragu. A refrigerated case at the back is stocked with items to take out, like home made sausage, terrines, fresh rabbit, hot dogs, foie gras and specialty cheeses.
On the go? Patrons line up for goodies (and a seat) at Flour Bakery and Café on Washington Street. Owned and run by baker-extraordinaire Joanne Chang, Flour serves all manner of scrumptious sweets, sandwiches, quiches, soup, pizza and even dog biscuits for hungry pooches. (To make new friends, sit at the large community table.)
At the other end of Washington Street, Joanne Chang and her partner Christopher Myers have opened Myers + Chang, serving personal interpretations of Chinese, Taiwanese, Thai and Vietnamese specialties in what they call a "funky indie diner setting." Dim sum specialties include grilled razor clams, crispy artic char rolls and sweet potato fritters. Not to be missed: Cantonese BBQ pork with kimchee rice cake.
At Orinoco on Shawmut Avenue, Venezuelan owner Andres Branger does more creatively with 830 square feet than many would with ten times the space. Nab a cozy table in the rustic interior and try pernil galipan, a slow-cooked pork and salsa pressed sandwich and an order of maracuchitos, queso paisa (cheese) wrapped in sweet plantains. Other specialties include arepas (traditional Venezuelan corn pocket sandwiches), empanadas and pabellon criollo, a shredded beef dish served with white rice and black beans.
Stella offers affordable and approachable Italian cuisine in a chic environment. Chef Evan Deluty creates inspired pastas, pizzas, roasts and braises representing virtually every region of Italy: fried artichoke hearts, pork Milanese, spaghetti and meatballs, Sicilian swordfish and tagliatelle Bolognese. Stella is also a popular Sunday brunch destination; try the frittata with chorizo, sweet corn and herbed ricotta.
Stroll along Harrison Avenue to find Estragon, a stylish tapas bar run by Madrid-born chef Julio de Haro and his partner Lara Gavigan. Sit at the café tables or at the white marble bar -- under the cheerful gaze of the owners' old-time family photos -- and sample a wide selection of tasty tapas. Favorites include Serrano ham croquettes, toast topped with tomato, white anchovies and Manchego cheese and coca de bitifana, a pizza-like offering topping with white sausage, arugula and caramelized onions.
Tremont 647 has been winning "Best Of" awards in Boston for over a decade for its adventurous American cuisine with inventive global influences. Chef-owner Andy Husband's commitment to locally grown and sustainable ingredients is reflected in the restaurant's menu that changes frequently. The signature pork "momos" with Sriracha and the lobster mac 'n' cheese might make you swoon.