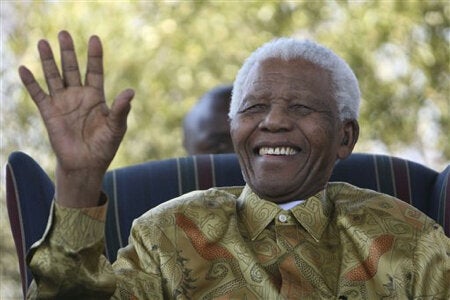 She was only 5 years old when she woke up one morning at the sound of gunshots coming from the garden. It was hard to overcome the fear but she and her brothers did, eventually. It was February 24, 1966, the military coup that changed the history of Ghana for ever. On that day her mother told her to pray and immediately after insisted that "if they fire at you, nothing will happen to you".
This is just one of the many incredible memories of Samia Nkrumah, the 48 year old daughter of Dr. Kwame Nkrumah, the first president of the Republic of Ghana, the man who in 1957 declared his country's independence, founded the Organization of African Unity, the precursor of the African Union of now and today is venerated like a saint by many in Ghana.
Samia is now back in her country and at the end of last year was elected to Parliament, in Ghana's 5th multi-party elections since 1992. "It took many years and much experience of living and working in Ghana, Egypt, the United Kingdom and lastly in Italy, to come full circle and realize that the Pan-African project as articulated by my father, Kwame Nkrumah, offers the best response to our ongoing challenges", says Samia with a deep smile. Nkrumah's vision, as outlined in his books, are guidelines for Ghana and Africa and they remain as relevant today as they were in the 50s and 60s. "Achieving political and economic liberation, social justice and national and continental unity including the African Diaspora are yet to be realized" continues Samia. "It is our task today to continue from where Nkrumah left, while remaining flexible as we adapt to changing circumstances".
Till the moment she moved back to Ghana in early 2008, Samia lead a "normal" life. She lived in Italy for the last 10 years with her Italian husband and their 12 years old son Kwame, and she did not think about going back to her country of birth till the moment she met her father's literary executrix (her name is June Milne; she is now 90 years old and living in England). This meeting opened up her heart. "This woman told me the most unbelievable stories about my father and she especially made me understand what an incredible spirit he had. He lived all his life for his cause and his people and while she was telling me these stories I felt that sooner or later, I would have to revisit his lifework". Samia really believes this, as one can note traveling with her through Ghana. People recognize her in the streets when she stops to buy some bananas for the trip. "You will be our President, you are our Mother", say some young people to her. And she always smiles while transmitting an incredible compassion. She has a deep capacity to relate to people. She came back to her country deeply convinced that only by respecting the rules and starting from the poorest part of her country, the Jomoro district -- which is where her grandfather's hometown is located and where she was elected -- could she make a difference.
In a few months she has become the hope of an entire nation and her popularity is as high as the newly elected President John Atta Mills. She made big news in Ghana's last election by snatching the Jomoro Constituency for the CPP (Convention People's Party, founded by her father) from a strong candidate of the ruling National Democratic Congress (NDC), Lee Ocran. This event was extremely important for the Ghanaian political scene and people really started to believe that "Kwame Nkrumah's spirit has come back and is shining on Ghana."
Today the two major political parties fight to get her votes in Parliament and have both tried to reach an alliance with the CPP. "For now we will stay independent" affirms Samia, "We always keep in mind our principal goal which is meeting the social needs of our people. There is a lot to do in my country, and our objective, as our father's, is to bring about a descent standard of living for our people. In the Jomoro district, many communities have no electricity, no running or portable water, and inadequate school facilities. If we want to improve our country, we must start from these issues. Especially we must start from education, because without a proper education there will be no development. Our father's idea of Pan-africanism was not restricted to a political project but his vision also embraced the economic as well as the cultural aspects of our development. It envisioned a large cultural movement concerning all of Africa and Africans everywhere, as well as all who believe that unity, freedom and justice are the basis for real change. "For this reason I have decided to enter active politics in Ghana to promote the enduring vision of my father, Osagyefo Dr Kwame Nkrumah, for Ghana and Africa's socio-economic and cultural emancipation. I have come to understand that being Nkrumah's daughter means being a daughter of Ghana and Africa and having a responsibility to Africans everywhere". Her modesty comes through as she admits: "I was not always so sure of the way forward as I am today. The dangers of political life were brought home to me early on in life. However, Kwame Nkrumah's presence in my life, as it is in that of many other Africans, has been constant, powerful and lasting. In fact, his ideas have resonance with many of us irrespective of our political persuasions and affiliations. So while I am affiliated with a particular political party, I am embracing all Ghanaians in my thoughts".
She also thinks that being a women makes a difference: "We give our best when we do retain our "feminine" qualities of love, gentleness, patience, joy, humility, dignity, prudence and above all grace. These qualities are indeed as present in men as in women. So here I will refer to the feminine qualities in us all irrespective of our gender. As it happens, these qualities seem to be more obvious in women due to our upbringing and cultural education. So in a sense, when we say we want stronger female participation in politics or in any other sector, we mean we also want to see more of those feminine qualities visible in parliament, in politics, in community work, and at all levels of decision-making. We want politics with another flavour. We want to see the politics of humanity, of dignity, of dialogue, of wisdom, of grace. I have found many of these qualities are exemplified in the vision and political thought of Kwame Nkrumah".
Samia explains that Nkrumaism has at its centre three main guiding principles: liberation, justice and unity. At the heart of it is the objective of reversing the consequences of colonialism and slavery by realizing dignity, socio-political and economic emancipation. The main instrument in achieving this aim is unity. "We shall be proud of who we are" continues Samia, "of our food and the way we eat, of our languages, of our tradition, of our costume and so on. We shall move towards economic self-reliance by improving our manufacturing sector and investing heavily in human resources. We shall strive to achieve social justice, social equality, social security, and genuine democracy that includes education and equality between men and women, and human rights."
Support HuffPost
The Stakes Have Never Been Higher
Related
Popular in the Community