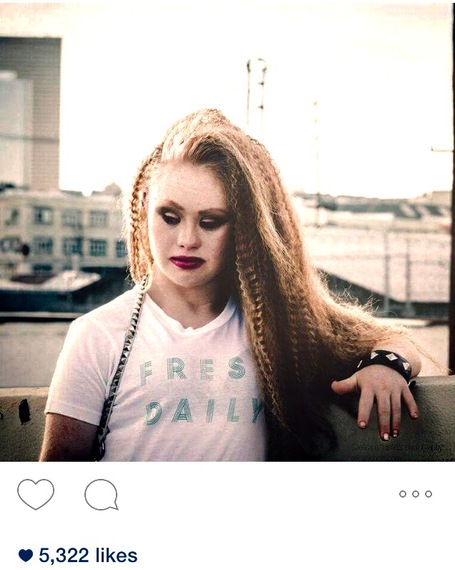 As the world cheers on Madeline Stuart, the Australian model with Down syndrome who just announced she'll walk the runway at New York Fashion Week, I'm cheering too. Yet I'm also feeling uneasy, because negative perceptions of people with disability are rearing their heads.
Like other parents of kids with special needs (my son, Max, has cerebral palsy), I find Madeline's success heartening and hope-inducing. It's another step toward inclusion of people with disability. It's another step toward raising awareness that yes, people with Down syndrome are just as worthy of modeling as any other pretty face -- and acing it. As Madeline notes in her Facebook bio, "I hope through modeling I can change society's view of people with disabilities, exposure is creating awareness, acceptance and inclusion."
And then I read stuff like this tidbit from Us Weekly: "Such an inspiration! Despite having Down syndrome and other health problems... Stuart remains completely positive and driven toward her goal." And it's clear to me that some people are floored that anyone with Down syndrome could ever accomplish what Madeline has, as if people with DS can't be talented or capable. And that they are surprised that a teen with special needs could have career aspirations. Also: WTF about the mention of her remaining "completely positive" given that she has Down syndrome? As if having DS is a tragedy.
And then there's this, from PopSugar's list of why they can't wait to see Madeline walk the runway: "#4) She loves her job. Seeing Maddie in action is seriously inspiring." Um, what exactly is so inspiring about a model liking her job? Is it so unusual for models to enjoy the work they do or revel in newfound fame they worked hard to score? Or is it that some people feel inspired by Madeline mostly owing to her disabilities? As in: WHOA! A person with (gasp!) DOWN SYNDROME pulled this off! HOW MIND-BLOWING IS THAT?! They have low (or no) expectations for people with disability because they can only see their disability.
Yes, yes, in the end what's happening is great. Amazing, to be sure. Madeline is raising a whole lot of awareness. But as the parent of a kid with special needs, I am acutely aware of how people view him and others like him, and certain reactions to Madeline's story make me yearn for more progressive mindsets. My son's biggest challenges aren't just his own physical and cognitive ones, but the formidable kind posed by a society who largely believes that people with disability lack competence and potential.

I can't wait for the day when success stories like Madeline's won't be news-making because they'll be the norm.
Madeline Stuart is beautiful. She has a gorgeous smile and a captivating personality. She can reflect different moods on camera, she's got The Pout down pat and she makes clothing look good -- you know, like models do. Even as people cheer her on for breaking barriers, they should be giving the girl props for achievements she's earned not in spite of her disabilities but because of her abilities.
This post originally appeared on Love That Max. Read more from Ellen Seidman:
Photo of Madeline Stuart: Instagram