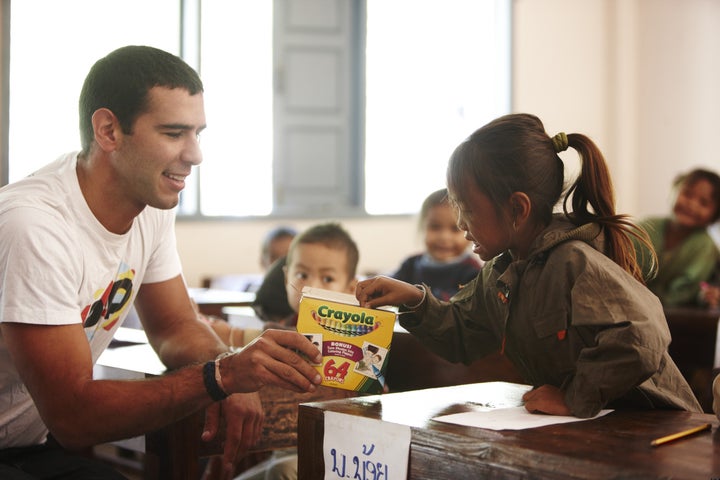 Adam Braun is one of those people that everyone knows. I first heard his name through an old friend of mine who went to Brown with him. He came up again with my college roommate who had been on his Semester at Sea voyage. I ran into a friend from high school at a dinner last summer and she started talking about this amazing guy she met and how not only was he world-traveled and charismatic, but also the founder and creator of a successful nonprofit. "It's Adam Braun, right?" I said. She didn't even ask how I knew.
In a way this is Braun's signature-- connection. In particular, youthful connection. His nonprofit, Pencils of Promise, is founded on this mantra: "A generation empowered, will empower the world," and it's one Braun lives by.
Everything--from the people he employs, to his company's catchy acronym: "PoP"-- is centered around youth. "Youth is our lifeblood," Braun tells me, "Youth is Pencils of Promise. It's one and the same."
Braun's story begins with a single child and a single pencil. During a backpacking trip around the world he had taken up a simple ritual: asking children if they could have one thing, what would it be?
"I couldn't give out candy," Braun explains, "my parents are dentists, I had to figure out something else." He came across one child in Northern India who asked for a pencil. "It was simple but it triggered all these deeper thoughts. What does a pencil transform into? Opportunity."
Braun started carrying around pencils and passing them out wherever he went. "I traveled to over fifty countries," Braun says, "and the one cardinal rule was to try to learn the language. Learning the language, even if it's just a word, immediately fosters trust. The pencils started to facilitate these conversations. They became the tools of dialogue."
If you think Braun is just a naive kid with a big dream, think again. If he's one part backpacker then he's four parts businessman, and in fact he's very aware of the stigma surrounding youthful nonprofits. It's one of the reasons, he tells me, he decided to work at one of the world's leading consulting firms, Bain & Company, before leaping out on his own.
"There are really two different kinds of nonprofit founders," Braun informs me. "The first are passion people, people who just have the drive. They don't have a formal business background, though, and it affects their vision. Then there are the founders who have done really well in the for-profit space and they use their network and social contacts to create something around a cause they care about. I wanted to be a hybrid of the two," Braun says, "I wanted to capture youthful energy but run things like a top-notch industry leader."
And capture he did. In a few weeks PoP will break ground on their 15th school, a success story that seems to be moving at the speed of light. They built their first school in Pha Theung, Laos just two years ago and now have over 60,000 worldwide supporters. It's a grassroots campaign in action: 90 percent of PoP's individual donations have been $100 or smaller.
"We're about creating a movement," Braun says. "Connecting people here to what's going on over there."
One thing Braun stresses is that PoP's progress has been nothing if not organic. "I just share what I believe in," he tells me. "If it resonates with people who want to get involved, then they do."
There is a palpable energy to PoP's offices. Big, unframed photographs of the PoP schoolchildren hang on the walls and whiteboards pepper the office with brightly colored catchphrases. Happiness, for lack of a better term, seems to be everywhere. One thing I notice is a $25 deposit slip framed on the wall. I ask Braun about it and he smiles broadly. "That's the $25 we started with," he says.
The message is clear: if a dream is big enough, no amount is too small.
Braun talks about his company with a mix of older-brother jest and deep grandfather respect, but when I ask what he thinks the most important aspect of education is, he pauses. "There are those who are providing and those who are receiving," he says. "I never use the word 'service' for what we do because I believe we are all on the same level. It's really about the creation of opportunity. Our goal is never to say 'you should do this or that.' We want to open doors. Creation of opportunity is the most important aspect of education."
Opportunity, along with connection, is a word you hear Braun use all the time. When he talks about his own life, the life of the PoP students, it's all about opportunity. It's clear he sees his organization not just in terms of what it does for the people it affects, but what it does for him.
"The night I came up with our name -- Pencils of Promise-- I went to the NY Philharmonic for the first time and this guy got up to play a thundering Rachmaninoff concerto. I remember thinking: 'I just want to be as passionate about one thing as this man is about his piano.'" I ask Braun if he's succeeded and he smiles. "All I ever wanted to do was to build that first school," he says. "Success was opening that first school. Everything on top of that is icing on the cake. But we're young, we're just getting started."
To get involved in the Season of 1,000 Promises holiday campaign, visit www.pencilsofpromise.org or e-mail info@pencilsofpromise.org.

Related
Popular in the Community