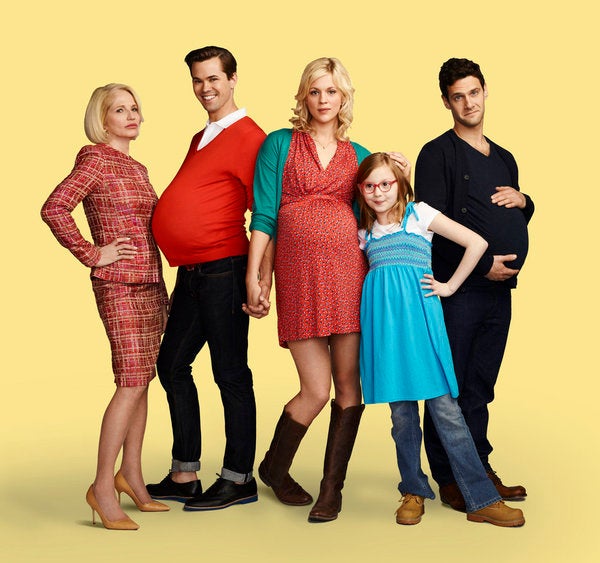 There are a lot of personalities that make up NBC's new comedy "The New Normal" (premieres Tues., Sept. 11, 9:30 p.m. ET on NBC).
Bryan (Andrew Rannells) and David (Justin Bartha) are a committed gay couple making the decision to have a baby, and Goldie (Georgia King) is the single mom -- her precocious daughter Shania is played by Bebe Wood -- who wants to help them start their family. And then there's the opposite ends of the sass spectrum in their respective lives, with a saucy personal assistant named Rocky (NeNe Leakes) and a very vocally conservative grandma (Ellen Barkin), who doesn't want her granddaughter mixed up in this kind of liberal mess.
Reining it all in is showrunner Ali Adler, who's best known for working on shows like "Chuck" and, most recently, "Glee," the show that teamed her up with her "New Normal" co-creator Ryan Murphy.
Now that they've started production on Season 1 (anyone who follows Ryan Murphy's newly christened Twitter account has seen plenty of evidence), Adler shared her vision for this first season, and clarified what the show is really about.
"We're not intending to be political," Adler said. "We intend to be an emotional and character-driven show, and these are very personal stories that are very relatable regardless of gender or sexual orientation. It's about your humor, I think, and your ability to be self-aware."
Adler also dished about the joy of having nothing be off-limits and the woman playing the show's most controversial character, Ellen Barkin: "She's like opposite Nana ... she's a brilliant woman. Truly. And it's very satisfying to see her in like a $30 suit." Then she talked dream guest stars and her own reality TV obsessions, one of which hits very close to home these days. Find out more from Adler below.
I feel like having Ryan on Twitter now could be the best-slash-worst thing for you.
It's dangerous and exciting. [Laughs.] He is so cute with it too -- he really loves it. He's come to have a really true appreciation for the fans, that they're so passionate.
What took him so damn long?
Well, we talked about how social media is now ... you don't carry a VCR around in your back pocket, you carry an iPhone. At some point, you have to move forward and join the masses. I think that he has actually shown us all how it's done in his weeks-long tenure in Twitterhood.
"The New Normal" had a ton of promos running on NBC during the Olympics. Did you get a lot of reactions from those?
Well my kids were excited -- they're 7 and 5. They were like, "You're relevant, mommy! Look, you're right there after Michael Phelps!" [Laughs.] It was exciting.
With that excitement comes the balance of people who already hate this show before even seeing it.
What's exciting about this -- and there are a lot of polarized viewpoints in this show -- is that we hope to present a very inclusive platform. To me, we do a lot of point-counterpoint, and Ellen's character in particular represents a lot of people's, in many ways, valid opinions, aside from the racism. Her conservative beliefs are something that a lot of people feel, so we feel proud to be able to represent that. Forget about the racism -- that's just her own character quirk. [Laughs.] But we do like to be able to show everyone's opinion. This is not a show about gay people. It's just a show about people, and hopefully everyone can look in and admire something or see something familiar to them. Regardless of what their own experience is, it's familiar because it's really just a family that cares about each other.
I actually don't mind that Ellen's character is such a racist to start -- I feel like it's just your way of laying groundwork for a NeNe Leakes/Ellen Barkin shopping montage in an upcoming episode.
Well it is interesting to see sort of a liberal person's bias against a more conservative person's slant -- in some ways, they're both extremities, so they meet at some occasions, and it's interesting to watch. We've noticed it in the show already.
For you, what's different about working on this show?
I've written on sitcoms before, I've written on animated shows before and one-hour shows like "Glee" ... our boundaries here are so gray. No one has, at any point, said, "You can't touch this content. You may not say these kinds of words." We've just been authorized to tell it and show it and do it, and it's not like any half-hour show I've ever been associated with ... it's crazy the things that we're saying that people have said we're allowed to say on national television. So kudos to the people that normally slap hands.
Is there an episode that you're most excited about? Or something you really want to tackle in Season 1?
Think about the things that are hot topics in the country: The election and gay marriage, both very important. All these things we're hopefully addressing in this first season. It exists in reality, this show -- this isn't like a fictional world. It really lives in America.
Which is rare on TV, especially with sitcoms.
Totally! It's just very important for Ryan and myself to have things feel really authentic -- that this could happen to you, it could happen to me and it does happen to many people across the world. Hopefully we just get to reflect their experience.
We've only heard the negative so far, but have you all gotten feedback from adoption or surrogacy agencies or gay rights groups? Anything beyond the boycott from conservative group One Million Moms?
The six moms. [Laughs.] We're not really tapping into that ... truly. We're trying not to read things or do things that came before us.
It's hard, especially for a Ryan Murphy show, not to jump ahead and start thinking about the guest star possibilities. Do you have a dream guest star for "The New Normal"?
Listen, I was a big fan of "Glee" before I had the privilege of working on it, and some of my favorite stories on "Glee" were times where Gwyneth Paltrow came to visit, or whoever. We are talking about big people coming to visit us, but not specific actors yet, just characters. We're talking about David's mother coming, but we haven't really talked about the magical list where Meryl Streep plays David's mom. But, you know, if she's reading this, please would you consider us? She's incredible. I haven't spoken to Ryan yet, but I think on behalf of the two of us, she's welcome to come visit our set. Truly the best, most talented actor is the one we'll cast and that, I think, is true of all of the Ryan Murphy shows.
When you're not busy making TV, what do you watch on TV?
Well, when I'm hanging out with my kids it's all "Dora the Explorer," and my son likes to watch "How It's Made." But I'm a fan of the "Real Housewives" stuff, I'm a fan of "Bethenny [Ever After]," I love that reality stuff. I'm also a big "Breaking Bad" person, and "Homeland" -- those are really incredible, special shows. And "Horror Story" and "Glee," not to be self-referential to Ryan. But I think what they all share is a very specific voice and a very strong point of view.
I love the "Housewives" shout-out.
Oh yeah ... there's a general Bravo discussion in the room everyday. The "Million Dollar Listing: New York" is fascinating. For "Housewives," I don't watch Orange County -- I definitely watch Atlanta, New York I used to watch more fervently when Bethenny was on, but now I've switched to "Bethenny [Ever After]." And Jersey, I just ... it's like crack. That's just an amazing show.
And now you've got NeNe on your show for your daily "Housewives" fix.
Oh my god, I love her. It's sick. I met Greg yesterday and I was like starstruck. [Laughs.]
Greg was at the Television Critics Association Summer Press Tour with NeNe too, and I kept asking what was up with them. Her response was classic: "We're mature adults, and THIS is the new normal."
It is! It is the new normal in that relationship. If you just look at my cast as representative, they all have a new normal. And maybe America does too -- married, divorced, gay, straight, we're brought together by the word family, or love, or anything as treacly as that. It's really true.
and all of NBC's new shows, here.
"The New Normal" premieres Tues., Sept. 11, 9:30 p.m. ET on NBC.
Tell us: Are you excited for "The New Normal"?
Check out photos from NBC's new 2012-2013 shows here and check out the trailers: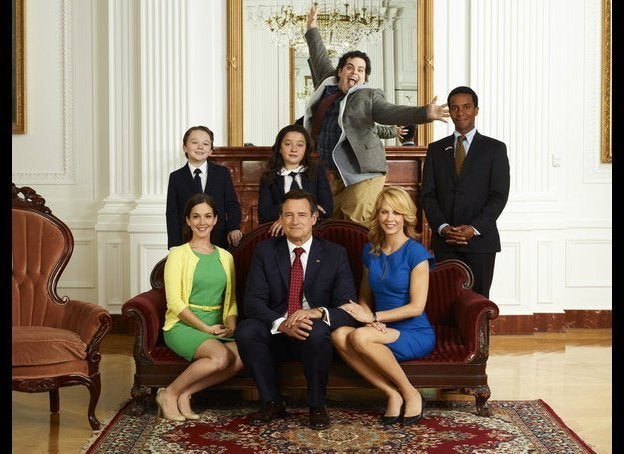 NBC's New Shows
Related
Popular in the Community