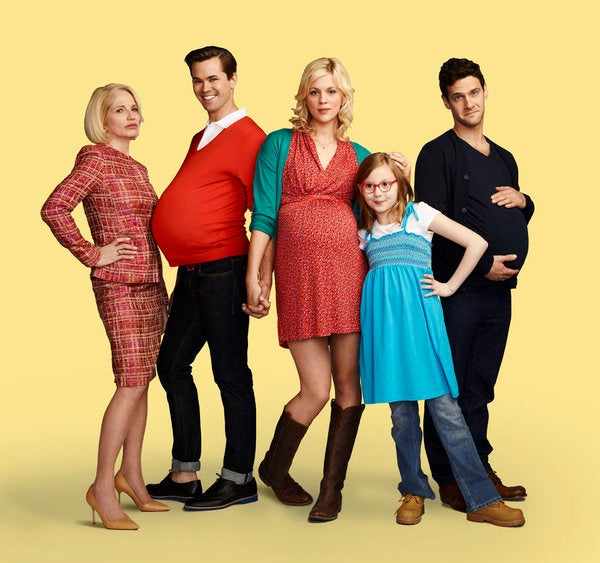 What is "The New Normal" (premiere airs Mon., Sept. 10 at 10 p.m. ET; new episodes premiere Tues., Sept. 11 at 9:30 p.m. ET on NBC)? There are a million definitions for what passes as "normal" these days, and Ryan Murphy and Ali Adler's new comedy hopes to explore as many of those relationships as possible.
From a gay couple David and Bryan (Justin Bartha and Andrew Rannells) looking to start a family to the single mom Goldie (Georgia King) and her young daughter Shania (Bebe Wood) looking to start over, "The New Normal" follows their paths colliding, with comedic help from a feisty assistant Rocky (NeNe Leakes) and an even feistier grandma Jane (Ellen Barkin) with a lot of opinions.
HuffPost TV caught up with the "New Normal" cast to talk about overcoming the show's early detractors, dream guest stars, keeping the show current and how there are many more versions of "normal" left for the show to explore. Keep reading for more …
On co-creator Ryan Murphy
Andrew Rannells: "If something moves Ryan or something happens in the news, his plan for all of his shows is very fluid to account for that. 'Glee' was a good example of that earlier this year when Whitney Houston died, that was immediately incorporated into the story in a way that felt very organic. So I'm looking forward to working with him in that respect … particularly with it being an election year, I feel like this show has the opportunity to stay extremely topical, which is really exciting."
Justin Bartha: "There's a strong, singular point of view, and that's all you want in a television show is someone who has a point of view and sticks to that point of view."
NeNe Leakes: "The thing he did to me with 'Glee' is the same thing he did to me with 'The New Normal.' He basically said, 'I love the job you did on "Glee" and I want you to play a character named Rocky on "The New Normal."' He didn't even really ask me -- he just kind of told me, 'This is your job.' [Laughs.] I got the script and thought, 'Oh my god, this is so not me -- it's written for a white woman!' So I called him up and said, 'Ryan, this is not a six-foot tall black woman.' And he said, 'Oh we're gonna change it for you.' And he did and it's fabulous."
On Ellen Barkin's character
Georgia King: "Ellen Barkin … what an amazing character for her. It's so funny because if you follow her on Twitter, she's so liberal, so this is a wonderful extreme she's playing. It's honestly eye-watering, some of the stuff we've done together, and it's hard to keep a straight face at times."
NeNe Leakes: "She's not a big fan of Rocky's, and Rocky is not a big fan of her because she's prejudice and she is against the gays, and I love my gays. This is my boss she's talking about, and I don't take too kindly to people talking about my boss, because I use his credit card and buy shoes and jewels. [Laughs.]"
Andrew Rannells: "I do love that Ryan is making Ellen Barkin's character part of the One Million Moms. It's genius -- just incredible."
Justin Bartha: "She's a great example of the fact that we cover a wide variety -- every viewpoint is addressed in the pilot."
On the pre-premiere show backlash
Georgia King: "It was surprising for me, purely because the show hasn't even come out yet. A small amount of people with such strong opinions, and they don't really know what it's about. It is a comedy, and there are gay people in it, but it's so much more about family and unity. There's so many different interesting storylines."
More about their characters
Georgia King: "Bebe and I get to play a single mother struggling with her daughter, and we're teaching each other. It's a very interesting dynamic. We have this great respect for each other, and an understanding -- Shania is literally Goldie's light and her drive and she gives her the courage she needs to fight for both of them and provide them with a better life."
Bebe Wood: "Yeah, I really like our relationship. And Shania and David, played by Justin Bartha, have a pretty good relationship too, but she still needs to get to know Bryan, played by Andrew Rannells. Bryan is not so fond of Shania … yet."
Justin Bartha: "The main thing to know is they are real -- they're grounded in reality. We are always conscious of portraying a homosexual couple in a real way. To show them having real conversations, showing them in the bedroom, having real affection, not being any type of punchline of a joke or caricatures of anything."
Andrew Rannells: "Justin and I sort of get to play a little bit of an odd couple in that my character is slightly more flamboyant and dramatic, and Justin plays it more contained and controlled, but neurotic. It's a lot of fun to get to play with."
Justin Bartha: "Because in real life I'm very flamboyant … and you're super straight. [Laughs.]"
Andrew Rannells: "I mean, I'm wearing a suit for Christ sakes!"
Justin Bartha: "And I'm wearing Spanx."
Andrew Rannells & Justin Bartha, in unison: "Full. Body. Spanx."
On researching playing a gay couple trying to start a family
Justin Bartha: "I didn't seek out any gay couples looking at adoption and surrogacy, it just so happens that I know a couple of people that are going through the exact same thing. What's great is how accurate it's portrayed in the show, capturing those emotions of what they're going through. And I talked to straight couples too who went through the process -- it's all really fascinating, and you see the whole process in the show. It's so interesting."
Andrew Rannells: "It's fun to get to show that and how expensive, emotional and time-consuming it is. As a homosexual in real life, I didn't really do a lot of research. The fun part is, coming from the theater, the story here is unfolding as we go."
Justin Bartha: "It's more akin to real life -- I don't know what's going to happen to me next. No one does."
On their dream guest stars
Andrew Rannells: "There's a long list … I really want to work with Kathy Bates. And I'd really love to work with Laurie Metcalf -- I love Laurie Metcalf a lot. Judith Light … she's a friend, but I've never worked with her. I'd love for her to come on."
Justin Bartha: "I did a play with Tony Shalhoub, and I'd love for him to come on. He's the best. He'd be great as my dad. My mom would be someone like Rhea Pearlman. [Laughs.]"
Georgia King: "My dad is a wonderful actor, Jonathan Hyde, and he's very good at comedy. That would be kind of fun to have my dad on. But he couldn't play my dad on the show. [Laughs.] ... My TV dad would be a little bit younger, bless my dad's heart."
On their own versions of the new normal
NeNe Leakes: "Everybody keeps asking what's up with me and [ex-husband] Gregg since he's here with me. You know, I've known Gregg for 17 years? A year ago, Gregg and I couldn't even speak to each other. He's a big part of my life -- we have a 13 year old -- and I think now we've gotten to a place where we can at least co-parent, talk to each other and figure out where we're trying to go. We don't live together. I kind of like living by myself! When we first split up, I was so worried, I hadn't lived by myself since college. Now, all of a sudden, I'm living by myself and I was very scared. But as time went on, I got used to it -- I like my space. Gregg can come over, he can even stay over at night, then he can get his ass back home. [Laughs.] Goodbye! This is our new normal. The new normal is something that is not traditional, but it has become very traditional."
"The New Normal" premiere episode airs Mon., Sept. 10 at 10 p.m. ET; new episodes premiere Tues., Sept. 11, 9:30 p.m. ET on NBC.
PHOTO GALLERY
Fall TV: Fresh Faces
REAL LIFE. REAL NEWS. REAL VOICES.
Help us tell more of the stories that matter from voices that too often remain unheard.
BEFORE YOU GO