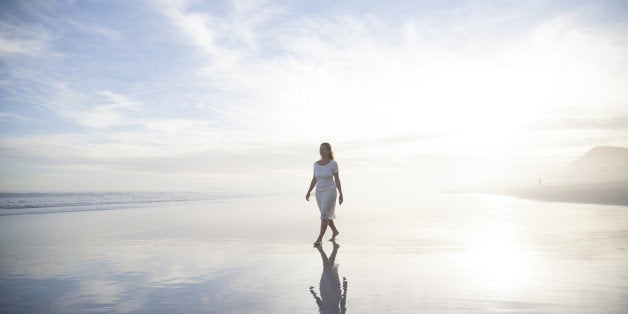 A year ago, on my birthday, I opened up about having cancer for the first time. It was against my nature -- despite being a writer -- to share something so personal in such a public way. But sharing what I learned helped me to retain it as my life meandered back to to its regularly busy pace, you know the one, the work-family-creativity-exercise-work-rest-etc pace most of us have made the new normal. Maybe it was the intensity of the diagnosis and treatment, or the fact that so many people supported me through it, but it was oddly easier to stay calm and present during that strange and difficult time than it is now. In this new post-cancer(?) reality -- more on that question mark later -- I don't really think about the pain or nausea or baldness. What I do try to remember is all that I learned about life and kinship and being human.
I don't want to sugar coat it; cancer sucks! It's really, really hard for everyone it touches. But I think one of the reasons that staying present seemed so crystal clear back then is that illness -- in all its anxiety-provoking, life-threatening, day-to-day-changing weirdness -- is oddly more similar to our shifting spontaneous present than day-to-day life under less tense conditions. For most people outside of the experience of cancer, it looks like it would be clear, too. Either you have it or you don't. If you do, there is a clearly delineated stage to tell you how much you have, right? Not so much! The type and direction of each cancer is unique. Responses to treatment vary. Answers come slowly, if at all. And the medical team's powerful combination of optimism and pragmatism are matched by an equally palpable absence of certainty.
My new now -- a fantastically fortunate one -- seems clearer. I finished the 'big' (surgery, chemo, radiation) treatments and feel better every day. I rarely worry about stray cancer cells lurking. But as one wise nurse graciously and bluntly put it, there is no way to know for sure. You might think that sounds harsh and argue up a whole host of reasons why the docs should or could or kind of do know. I understand, we want answers, but I appreciate the truth of her words, the clarity of the very real unknown.
It may not be as obvious, but we all live in a now embellished with a question mark. Rather than seek certainty, I try to use the question mark as a reminder that every day is a day to feel the sunshine, wonder at the universe, marvel at trees and laughter and a million magic moments, connect with friends, make mistakes, and laugh. I am going to try and distill this into three short steps (PLS!). Please share your tips for being present in the comments and together we will have a list to help us through hard times -- whether life changing, day-to-day, or -- most likely -- somewhere in between.
1. Pause. Whatever you are doing, just pause briefly. In this break is clarity.
2. Love. Find someone or some group of people you really love and show them. Actions really are louder than words. Give or share or call.
3. Smile. Even in the most challenging situation, there is something that is light. Find it and let it guide your face into a smile, even for a second.