The new American Girl Place at 75 Rockefeller Plaza, New York opens tomorrow at 9:00 am, but I got a sneak peek tonight at a benefit event there for the New York Public Library. There was a time in my life when going out on a Friday night looked very, very different from navigating a florescent-lit doll department store in midtown. But for my two daughters and me, this evening was the most exciting party invitation ever.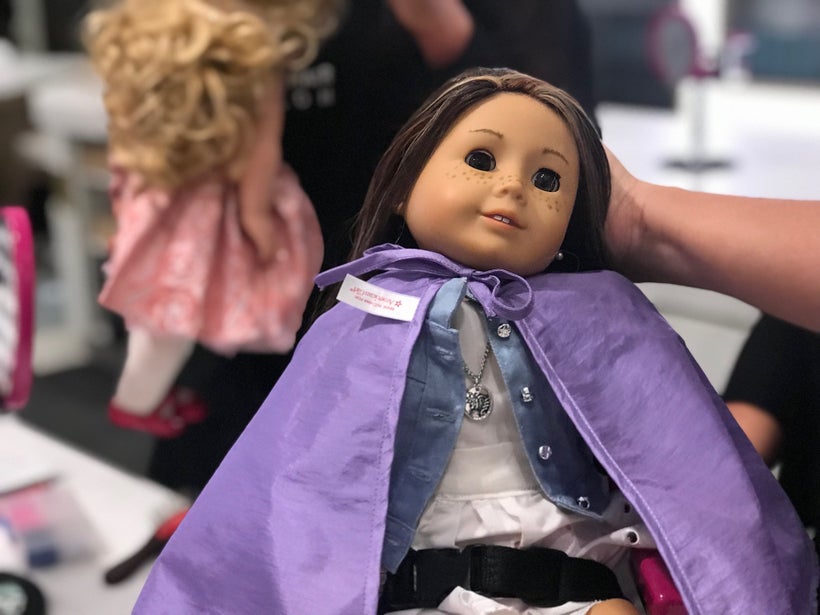 The new store didn't disappoint. I've been to American Girl stores all over the country including ones as far away as Arizona and California. This new Rock Center version is much more modern than any of them. As soon as we stepped in, I could tell it was like American Girl 2.0.
Just to set the stage, there are two levels: the first floor and the lower level (accessible by escalator or elevator). The first floor is the place to be with many of the BeForever and Wellie Wishers dolls scattered about, including a huge display for Gabriela, the doll of the year. (Five bucks if you knew that.) Freestanding pillars grace the gleaming floors displaying the updated merchandise. It felt a bit like the beauty level at Barney's.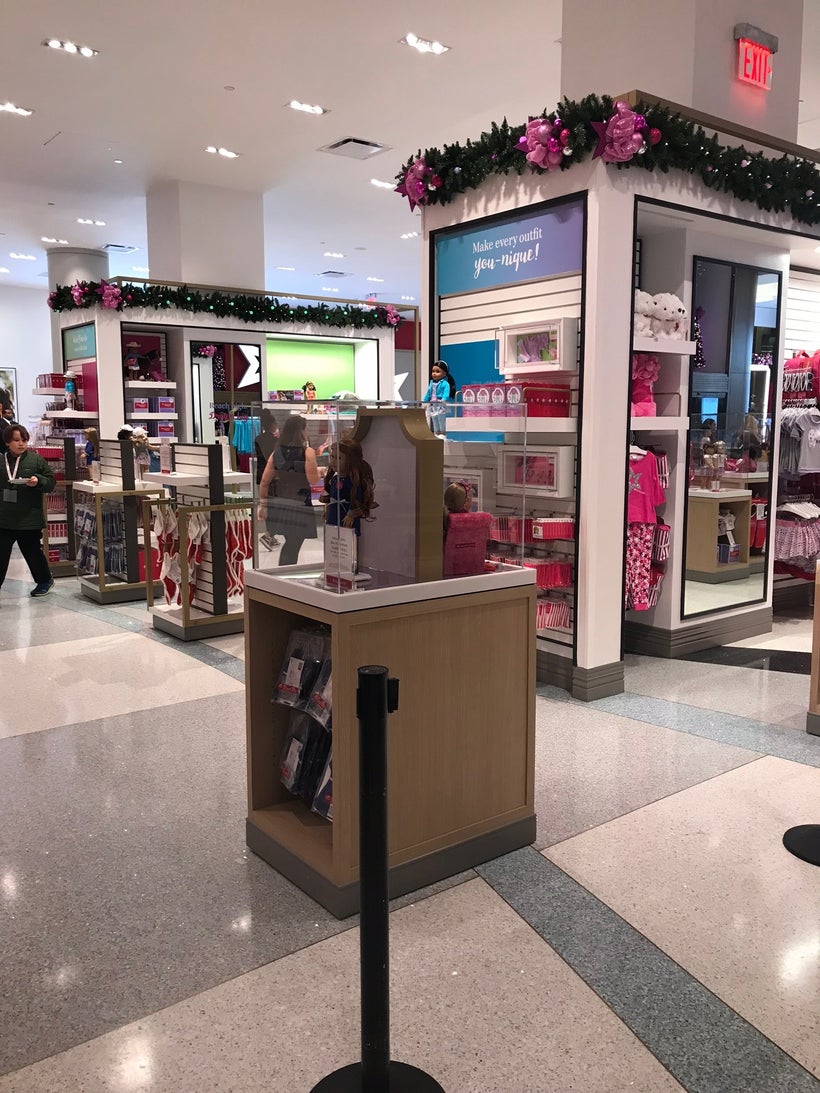 In the center of the first floor is a new touch-screen station where you can design your own doll or clothes (for the doll or for you!) with lots of examples for inspiration. I could barely pull the girls away from this personalization mecca and can only imagine the output there.
The holy grail on the first level is the new salon which offers services like ear piercing, nails and hair-dos not just for dolls but now also for girls. You can make reservations in store, although we got to the event early enough that we didn't have to wait. Both girls sat along a massive mirrored wall almost two stories high in which they could see the action of the doll make-overs behind them.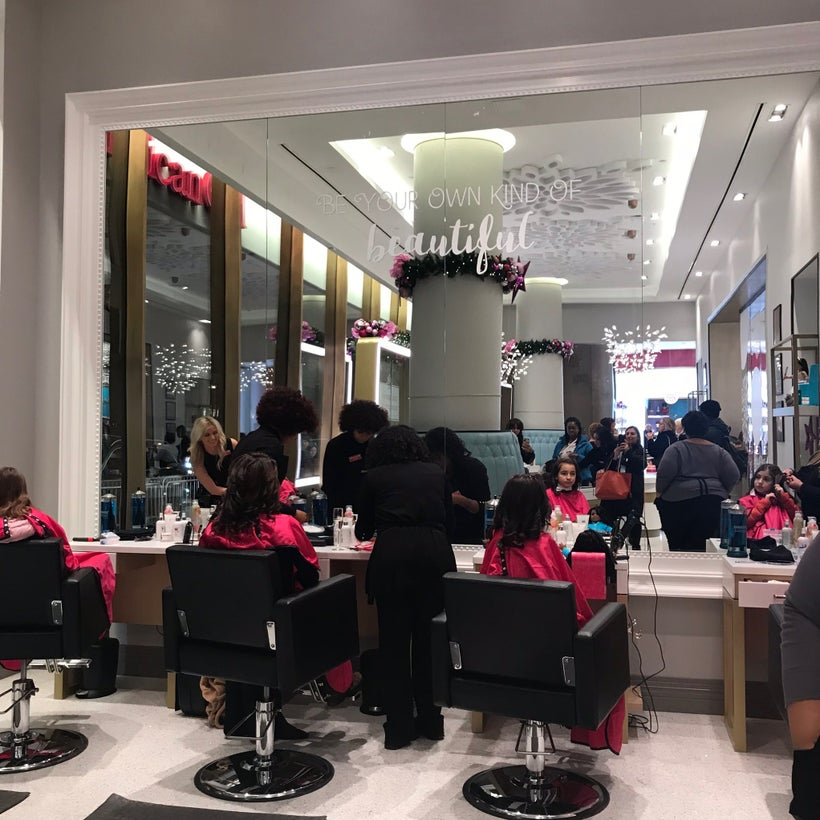 Bedecked in pink chichi salon-style robes, they got "waterfall" braids with their choice of two ribbon colors for the bow. The salon is clean, bright, happy and open with floor to ceiling windows opening onto 52nd Street. I might need to convince my colorist to move to the AG salon just for the ambiance. I've stored this little midtown jewel of an activity away for rainy days, girl parties and basically all special occasions. We will be back. Oh yes, we will be back.
Also on the first floor is a new display of AG lego-style building projects where both my daughters found construction projects (think rain forests and gymnastics studios) that they were willing to save for the holidays. The brick building boxes were pricey but a fantastic option for girls (and parents) who are getting tired of the same old Legos all the time.
Armed with shopping bags, we headed downstairs on the escalator where we were confronted with a huge assortment of books and DVDs. While upstairs feels more open and airy, like a giant square just with a narrower opening hallway, downstairs the narrower hallway part contains the bulk of the merchandise. The ceilings are much, much lower down there so it felt more like Penn Station than the Grand Central of upstairs.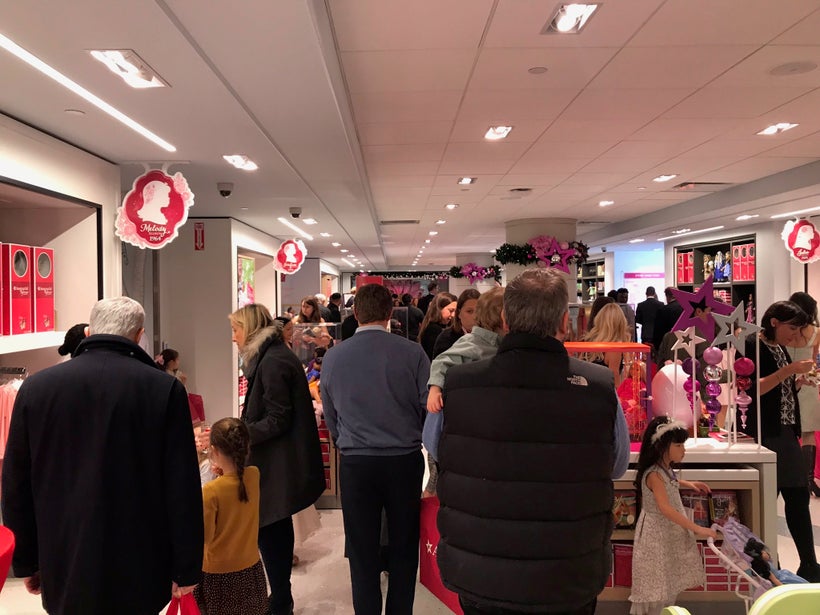 Little tributaries flowed off the main narrow hallway, such as little U-shaped Bitty Baby enclaves and project areas with more books like "The Care and Keeping of You" gift set. Note: lots of great gifts in the workbook section, like craft books for moms and daughters to do together. Kind of wish I'd bought that one. Somehow I arrived home with four large stuffed puppies which have nothing to do with dolls or girls, but whatever. It helped bedtime go a little smoother with the four kids which is all I cared about tonight.
The best part of the bottom level is the brand new restaurant cafe. This is so much better than the last one I almost can't compare the two. It was like moving from an old-fashioned, worn-out Broadway theater with threadbare velvet seats to a brand-new multiplex with cup holders and reclining chairs. The space was open and happy, well-lit and sleek with banquettes and tables that all seemed to sparkle. There were two private party rooms both with flat screen giant TVs and board room style conference tables and doors with windows looking into the main restaurant. (Offsite, anyone?)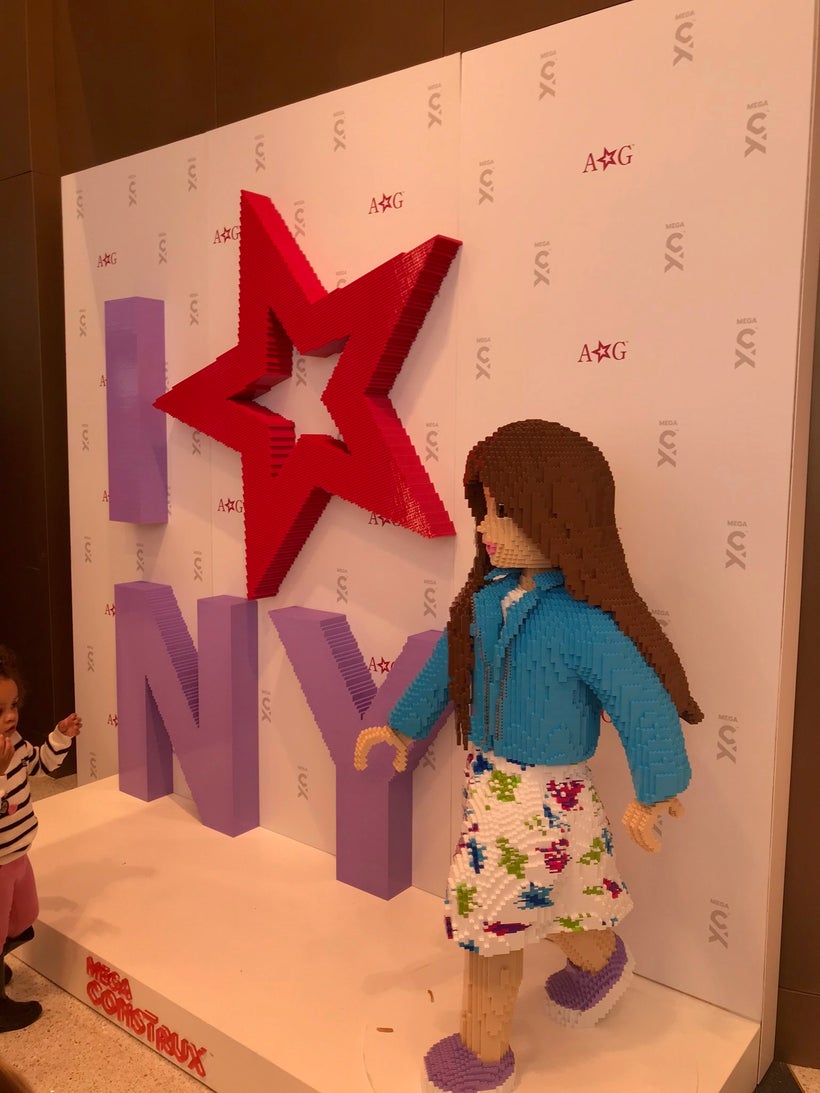 Of course I tried to book a meal and they are completely sold out, but I'll keep trying. I'll be back. Oh yes, I will be back. The menu looked pretty decent too with a nice Cobb salad option. I'm keeping my fingers crossed that they still offer those sticky buns that used to be an appetizer. My kind of meal! The only negative is that the restaurant is subterranean so there's no natural light, but that's the case with about half of Manhattan, so no biggie.
All in all, the new store is fantastic. It's definitely smaller than the old one, but is so much easier to navigate and manage. The salon is absolutely worth going to visit and the cafe is at the top of my list for things to do with kids in the city in the freezing cold. The only negative I can see is that this store is going to be absolutely jam-packed with AG worshippers and their chaperones.
Thank you, American Girl, for updating your NYC store and making it a place that parents might enjoy almost as much as their girls. And thanks for donating 10% of tonight's sales to the New York Public Library which will benefit everyone in the city.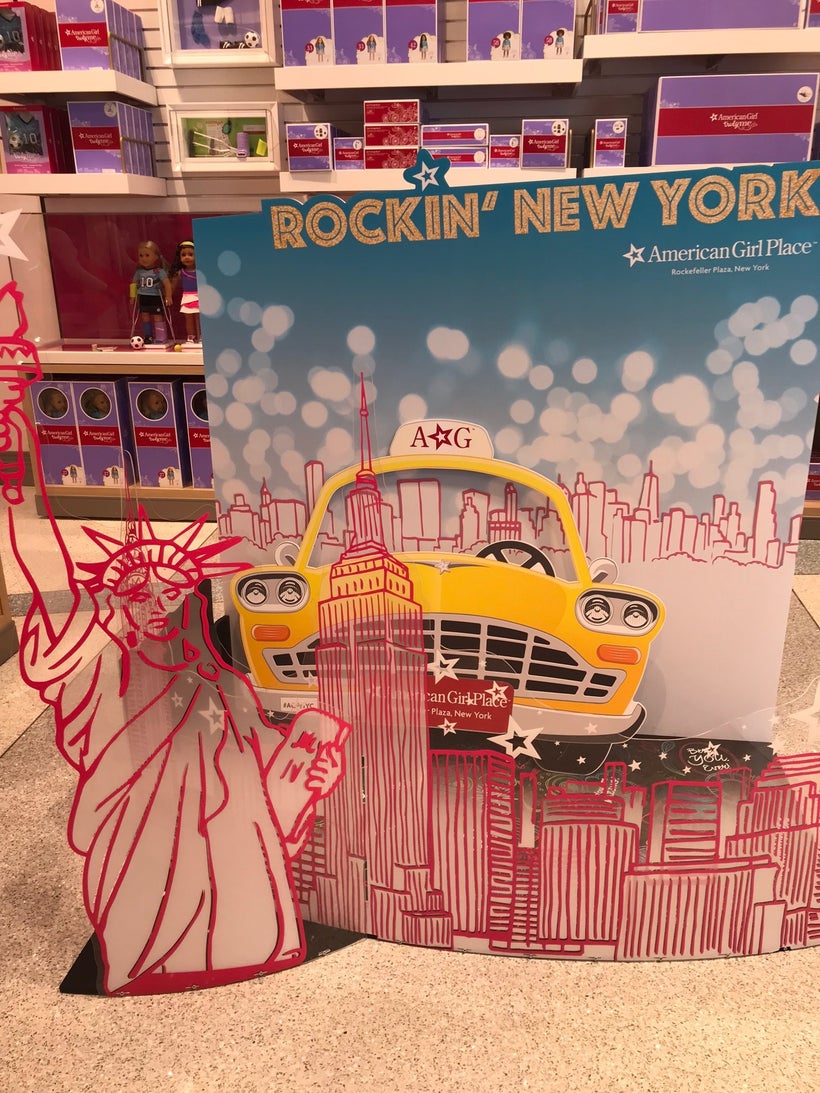 Calling all HuffPost superfans!
Sign up for membership to become a founding member and help shape HuffPost's next chapter
This post was published on the now-closed HuffPost Contributor platform. Contributors control their own work and posted freely to our site. If you need to flag this entry as abusive,
send us an email
.