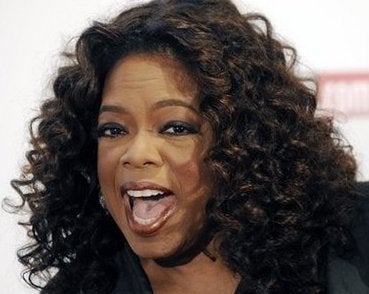 Monday's post was about a third common trait I've seen among the Power Girls I know and have met: They have incredible instincts and they rely on them.
Like many of the great moguls of our time, today's new modern women entrepreneurs follow their gut when it comes to their companies. I've heard stories of instincts driving everything from major business decisions to where or when to travel, hunches that turned out to be great ideas, and examples where "just having a feeling" turned out to be a key factor in shaping someone's work or life. It's something I can definitely attest to. Many of my biggest achievements started from a feeling that if I took a leap, I'd be right.
"Just starting my business was the result of following my instincts," said friend and fellow Power Girl Robyn Volker, of Chique*Plus, an online retail store that specializes fashion-forward clothing for women with curves. "When you're passionate about your work, your intuition guides you."
It's a sentiment I've heard time and time again. Power Girls understand how to let intuition do just that.
Find It: As MyItThings.com co-founder Yuli Ziv said via email, "Tuning into your instincts zone does require some training, mainly because there is so much noise in our busy heads." Ziv cites yoga as her way of tapping in. Other Power Girls rely on prayer, meditation, or even something as simple a long trip or flight. Many describe it as a feeling or a natural flow that comes from within, but it can be a series of events that seem to just fit. "Instincts show up at the strangest of times and oddest of places. They find a way to speak: a flash of clarity, a gnawing in your stomach, or a phone call from a trusted advisor," shared entrepreneur Alison Smith of Echoage.com. The first step? Be open to yours.
Trust It: Volker credits her intuition for finding an underserved niche online with her business. Cupcakes Take the Cake founder Rachel Kramer Bussel has said that ignoring hers is when she "sees the biggest problems with her blog and writing career." Like the dozens of great men and women leaders in business, Power Girls know that they can trust their inner voice. "For me, it comes on so strong, I have no choice but to follow," said Justine Kenzer, of Psychic Girl, who has been an advisor to dozens of entrepreneurs, celebrities and mogul types. "In my work that I do, people come to me to use my intuition for their business." Learn to trust it in yours.
Use It: Most importantly, Power Girls know to how to put it to work. They take time to seek it before making major decisions, follow it when launching new initiatives, or even allow it to be the catalyst for forming companies - all with great result. Many say they started small by following a few simple hunches, while others point to leaning on it full force in all areas of their work and life. "The more I allow myself to go with it, the more I find that it can be trusted," said one female founder. "It's gotten to the point where I don't make any choices or decisions without it."
Unlike many of the fictional female business characters in media and television, who are often portrayed as disheveled, confused and unsure of their path, The New Power Girls take a cue from business masters like Rupert Murdoch and Oprah Winfrey and let their inner sense be their guide.

Related
Popular in the Community