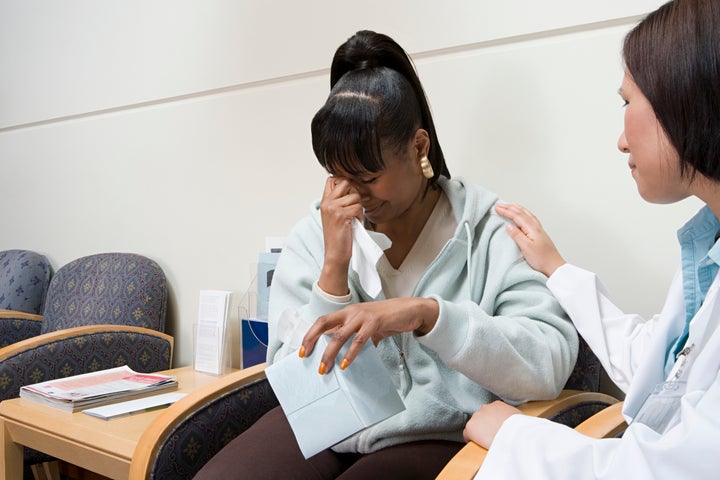 The rising costs of health care are affecting financial bottom lines for families all across the country – especially those confronting expensive, chronic health conditions. To make matters worse, a misguided federal policy is now preventing charities – one of the only lifelines these families have left – from helping to access the care they need.
As health insurance premiums and out-of-pocket costs rise, it has become nearly impossible for many of those with serious health conditions such as cancer, HIV/AIDS, multiple sclerosis, and rheumatoid arthritis, to maintain the health coverage they need. When costs become too high, research suggests that patients can't effectively manage their conditions, and oftentimes undertreat or discontinue therapy altogether.
But patient health is not the only thing that suffers when care becomes too expensive. Patients who can't afford to keep up with their medical payments often lose their jobs, their homes, and even their lives. Others are forced to enroll in government programs or visit hospitals for primary care, compounding uncompensated care costs, which are often paid for using tax dollars.
Patients shouldn't have to choose between paying their medical bills and facing a death sentence from an otherwise manageable condition.
Fortunately, charitable programs exist precisely to alleviate the onerous financial pressures for those living with chronic disease, as well as help them navigate the emotional – and even legal – challenges that often arise. Today, non-profit patient assistance programs provide as many as three-quarters of a million Americans with a temporary bridge to life-saving and life-sustaining treatments.
And these programs don't just save lives – they do so without using a dime of taxpayer dollars.
I founded Patient Services Inc. (PSI), the first non-profit patient assistance program, from my kitchen table in 1989. As a former hospital counselor and as someone living with both hemophilia and HIV, I understand firsthand the financial pressures that families face in treating chronic medical conditions.
But now, this life-saving assistance is in jeopardy for hundreds of thousands of Americans. A faulty policy issued by the Centers for Medicare and Medicaid Services (CMS) is preventing charities from providing premium assistance to many of the nation's sickest, most vulnerable patient populations.
Currently, health insurers in 38 states are citing this policy to deny coverage to those who benefit from charitable premium assistance, unnecessarily putting countless American lives at risk.
Thankfully, Congress now has an opportunity to fix this dilemma. The Access to Marketplace Insurance Act (H.R. 3742) is commonsense, bipartisan legislation that would allow non-profit charities to continue to provide critical assistance to patients under CMS' existing third-party policy, effectively heeding the original intent of the ACA to ensure uninhibited access to health coverage for all Americans. This legislation is supported by a broad range of patient and provider groups, and currently has more than 100 cosponsors.
Congress must swiftly pass this legislation to protect health coverage for hundreds of thousands of Americans most in-need, and allow charities to be charitable.
Support HuffPost
The Stakes Have Never Been Higher
Related
Popular in the Community