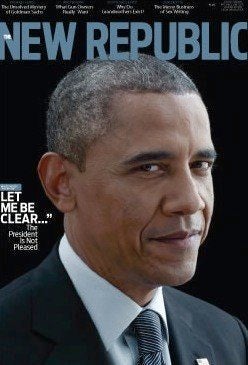 On Monday night, New Republic owner Chris Hughes joked about rumors swirling since the 29-year-old Facebook co-founder bought the nearly century-old politics and culture magazine last year.
"People keep asking, "Why am I doing this?" Hughes said on the evening of the magazine's relaunch, standing before a who's who of New York media figures. "From what I've heard, there's been a little speculation behind the scenes. 'Why in the world would this guy do this?' They would say, 'He could do anything in the world, why would he take on such a hard project in this day and age?'"
Hughes said he didn't buy the New Republic because he "had an axe to grind" or to push a "political agenda," as some might have assumed. (Hughes worked for the Obama 2008 campaign and is a Democratic donor). Instead, Hughes said, he simply believes, like others at the New Republic, in "great writing to shape how we view the world."
Since buying the New Republic, Hughes brought back editor Frank Foer, beefed up the masthead, opened a New York office, and courted journalists from the New Yorker, Atlantic, and New York Times Magazine.
The perennially cash-strapped New Republic always punched above its weight, with young DC-based writers and editors churning out provocative, often contrarian, copy. And the magazine's long had a presence in New York media, even before renting office space. When I covered primarily Manhattan media for the New York Observer years back, the New Republic was part of the beat.
But Monday's glitzy party and PR roll-out for the relaunch issue -- complete with a New York Times profile and Hughes making the rounds on MSNBC -- was a testament to the new owner's oft-stated ambition to have the New Republic mentioned in the same breath as, say, The New Yorker.
Speaking of the New Yorker, editor David Remnick was in attendance Monday night, along with some of the magazine's writers, like Dexter Filkins, Jeffrey Toobin, and Nick Lemann.
But Remnick wasn't the only top editor at on hand: there was also New York Times executive editor Jill Abramson, Huffington Post editor-in-chief (and my boss) Arianna Huffington, New York magazine editor Adam Moss, BuzzFeed editor-in-chief Ben Smith, New York Observer editor Ken Kurson and Slate Group editor-in-chief Jacob Weisberg.
Also in attendance: New York Observer publisher Jared Kushner, Time's Fareed Zakaria, New York Times columnist, David Carr, Politico's Mike Allen and Maggie Haberman, Walter Isaacson, MSNBC's Alex Wagner, IAC chief Barry Diller, Huffington Post CEO Jimmy Maymann, former Obama official and Global Strategy exec Bill Burton, former New York Observer editor Aaron Gell, Business Insider's Joe Weisenthal and Capital New York's Joe Pompeo.
Guests mingled throughout Hughes' Soho loft, which occupies a half floor in a star-studded building where Courtney Love once caused havok. Hughes' apartment is ideally curated for a young, literary-minded New Republic publisher, with a 1951 copy of the Partisan Review resting on a well-worn trunk in his library, alongside the latest issue of N +1. A copy of Henry Kissinger's "On China" sits on a small table near the entrance, underneath an old map of Paris. There are several globes displayed throughout.
Hughes referenced The New Republic's storied history in his brief remarks Monday night, noting that co-founder Herbert Croly described the magazine's mission as trying "to incite little insurrections in the realm of our readers' convictions"
"Nearly 100 years later, while we might not share every single idea or vision that those editors shared, we still hold on to this core idea -- that you can do substantive, high-quality journalism that incites little insurrections in the realms of our readers convictions in 2013."
"There's no shortage of idealism over at the offices here of the New Republic, in New York, or in Washington," Hughes added, "but what binds us is this belief that we can build a future for smart, substantive journalism in an age when technology challenges the paradigm that's existed for a very long time."
Related
Popular in the Community