While brands worldwide clamor for new opportunities to engage customers and consumers in meaningful ways, ensuring every expression is a discreet representation of your core values becomes paramount in today's shifting consumer landscape, and, this is ever more imperative when evaluating sponsorship allocations and relationships.
Now in its 13th year, the John Varvatos Annual Stuart House Benefit brings together like-minded citizens, consumers, community members and brands to raise awareness and money for Stuart House - the UCLA Rape Treatment Center's internally recognized model program serving sexually abused children. This long-standing initiative by John Varvatos illustrates the power, purpose and importance of establishing the right brand relationships with partners that not only align in intention, but have a genuine commitment to the cause.
Integral to the success of the Stuart House Benefit is the support of presenting sponsor, Chrysler, and kid's tent sponsor Hasbro, Inc. The event last Sunday closed down Melrose Avenue at the John Varvatos store and welcomed more than 1,500 guests and raised $800,000 for Stuart House.
While many brands demonstrate support for a variety of causes for a variety of reasons, choosing to tackle those issues that are aligned with your brand's values enable you to establish a long-term narrative with your customer base, and these issues may oftentimes be the most challenging or silenced topics that brands often shy away from. Such is the case with Stuart House, an incredibly pressing issue across our country (and world) that is tremendously underrepresented or underfunded by brands. Looking deeper into the cause, we can understand the drive for both Chrysler and Hasbro to support its eradication as deeply rooted in the authentic and genuine shared value of family.
Since 2009, Chrysler has supported the Stuart House Benefit, recognizing 'John Varvatos [as] a steadfast advocate for the well-being of children and families...", said Tim Kuniskis, Head of Passenger Car Brands, FCA - North America. As an automotive organization rooted in serving families, the Chrysler brand has historically recognized its role and responsibility as being part of the communities in which it operates. Their overarching intention? As described by Brandon Faurote, Head of Chrysler Brand Design, 'We care, and want to see communities thrive. It is our responsibility and our goal to make a positive impact.' From supporting the United Way to its Drive for the Kids program established in 1993, the Chrylser brand has consistently lead a narrative around family and community well-being.
As the only brand in FCA North America's portfolio that places a firm focus on family, Chrysler makes its commitment to the important work of Stuart House apparent. 'It's about community and family; unless our communities are successful, we can't be. We must work together to create an environment where everyone can be happy.', said Faurote. Beyond this Benefit, Chrysler has a long-standing relationship with John Varvatos himself through their 300C John Varvatos Limited Edition car as well as support for Varvatos' new location in Detroit with the goal of being part of the community's notable resurgence.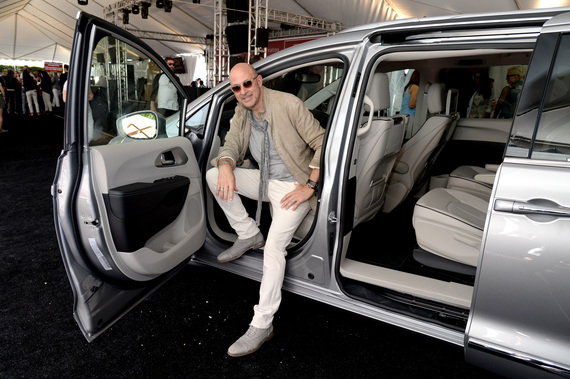 Chrysler's showcases its all-new 2017 Pacifica Hybrid minivan at the event last Sunday.
The second pivotal partner for the Stuart House Benefit is Hasbro, an organization grounded in empowering childhood and creating the World's Best Play Experiences. The Hasbro Studios' Kids' Tent brings the celebration of family to life in a space for kids of all ages through interactive games, storytelling and of course, play. Now in its 5th year supporting Stuart House, Hasbro recognizes the cause is a tough one, however, as explained by Karen Davis, Senior Vice President Global Philanthropy & Social Impact, 'We don't shy away from the tough stuff. Taking care of children that need it most has been part of our DNA.' This long-standing dedication to creating positive change is evidenced by its #3 ranking on the 2016 "100 Best Corporate Citizens List" and being recognized as one of America's Most Reputable Companies based on governance, workplace, and citizenship.
Hasbro frames its commitment to help children in crises through three key principles - Hope, Play, Service - bringing "the sparkle of Hope, the Joy of Play and the power of Service" into the lives of children who need it most.
Appreciating the number of causes that exist as well as an overwhelming amount of requests for donations that brands receive, identifying those to support becomes necessarily a strategic exercise. The decision to work with the John Varvatos team and Stuart House was a natural fit for Hasbro - an important cause that aligns with its values, has genuinely passionate and committed individuals and organizations to partner with, and, a need to for a partner for kids to have a wonderful experience while parents are treated to a day of music, food and entertainment. "We support Stuart House because they provide critical services to kids who really need it the most, and we are delighted to partner with John Varvatos on this effort because they are authentic and they care as passionately about this issue as we do", describes Davis.
Beyond the Benefit, Hasbro continues to evolve its support of this cause. 'The more we got to know Stuart House, the more we became involved with them. We have funded a treatment room in their new facility, have given product, and our leadership is also involved through volunteering,' explains Davis.
In addition to its two headline sponsors, the Stuart House Benefit was supported by a number of brands and organizations including newly launched Stillhouse. The whiskey brand, made of 100% American corn, interacted with guests during the event as an opportunity to support people in rallying behind such an important cause. As described by Brad Beckerman, Founder & CEO, "LA doesn't have a lot of events that pull the community together; being part of a community means connecting with people's hearts and understanding how real this issue is. We must know not only about the healing, but raise awareness around the issue overall." Having launched less than two months ago, Stillhouse is establishing itself beyond its products - a brand that has close ties to supporting its community through the education on this critical, and at times, overwhelming issue.
The key takeaway? For your brand's philanthropic or cause partnership programs, review opportunities to make a difference through a lens of coordinated impact and change. Start by answering three key questions:
1. What cause or causes is your brand committing to long-term that are not only compatible with, but bring your values to life?
2. How (can) we engage all of our stakeholders - customers, consumers, employees and communities?
3. Beyond a single initiative or donation, how can you frame long-term relationships to amplify change and scale impact?
Fundraising efforts for Stuart House are still underway through to April 26th, place your bid for the Benefit's online auction here.
Calling all HuffPost superfans!
Sign up for membership to become a founding member and help shape HuffPost's next chapter