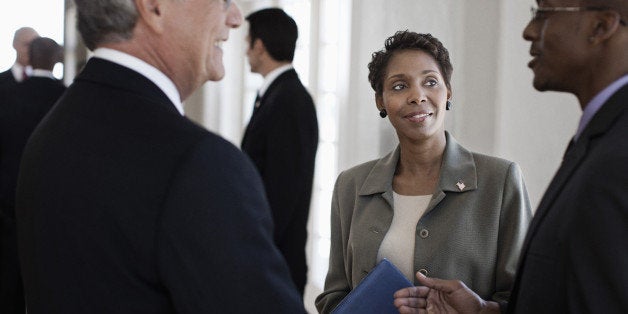 "I gave you your instructions in the dressing room. Remember, protect yourself at all times. Touch 'em up, good luck, and come out fighting!"
That's pretty much the "script" about the rules that a referee will share with two fighters in the middle of the ring moments before a boxing match. Rules are important! They set a tone in the sports world, business (compliance?), entertainment, and religion.
In business, there are absolutely rules when it comes to networking. They're just not written and enforced by a governing body. At least not yet.
If your focus is generating more business (or looking to land a job for that matter), you don't want to be the guy trolling the room selling life insurance. Or the woman flirting with every man she meets. Or the accountant standing alone near the coffee. Or the multi-level marketer looking to recruit everyone they meet.
If networking is important to you, no doubt you want to make a great impression, be liked by most people you meet, and have a strategy for starting, maintaining, and ending conversations. Then, of course, there's the follow up and staying in touch thing.
Here's the problem. There's nobody in your corner telling you what to do. Until now!
Generally, there aren't any established rules (at least not written) at networking events (speed networking might be the exception), cocktail parties, chamber mixers, association meetings, alumni events, and so on. But imagine if there were? Wouldn't we all be much better at making more connections, writing more business, and developing more important relationships?
Have no fear; The Rules of Networking are here!
Here are five Rules (some new, some I've written about in books and articles) to help you build your confidence, as well as your network. I'll cover five more Rules next time!
Protect Yourself at All Times
In boxing, PYAAT means trying not to get hit by the shot you don't see coming. Basically, never drop your guard and take your eyes off your opponent. Naturally, when it comes to networking, PYAAT means something completely different. Ever get "stuck" speaking with someone that you don't want to be speaking with anymore? Maybe they're focused on themselves, dominate the conversation, or you simply don't like them. It's now a matter of protecting yourself - your time, reputation, and self esteem. If you're speaking with someone and you want to end the conversation, when the time is right, say that you've enjoyed speaking with them and look forward to seeing them again soon. If you can introduce them to someone that's a better fit, fine. Otherwise, excuse yourself in a professional and respectful manner and live to fight another day!
No Selling - Ever!
Seasoned networkers do not view the attendees they meet at an event as their prospects. That is, unless an attendee says, "I should probably hire you!" Remember, those attendees are at the event to grow their own business. If anything, attendees at networking events, cocktail parties, or wherever are probable referral sources. They are connections that may potentially connect you to someone else -- perhaps to a prospect!
Incorporate Social Media
There's social media. And then there's social media. If your social media is focused on posting every two minutes about your mood, where you're going, what you're doing, as well as constantly liking, friending, pinging, and posting selfies, you send one kind of message. As a business person that's focused on sales, you'll want to send another kind of message -- one that offers "value." When networking (as in face to face), ask those that you meet and like if they're interested in being connected on LinkedIn and perhaps Twitter with you. Now you have a passive way of staying connected. All of your posts should reflect interesting and actionable ideas that add value to your audience and position you as a thought leader.
Make "Deposits"
My friend Cynthia Greenawalt of Sea Change Networking talks about ways of making small deposits (or investments) in a relationship. Examples include inviting those you like to an event, giving recognition, purchasing a gift, or referring business. The essence of networking is giving so, as you make contacts (the ones you like most and seem to be the most important), look for thoughtful, creative, and fun ways to make deposits and potentially help them.
Know Who You Want to Meet
It's so important to know who a great connection is for you. The more specific you are about those you wish to meet, the more likely it is that you'll meet them. In fact, when describing who you want to meet, it's best not to use words like anyone, everyone, and someone as they equate to no one. Anyone who needs life insurance. Everyone with an electric bill. Someone that needs my services. Be specific! What industry, profession, market segment, niche, and geography are you targeting? Who are the best probable prospects and referral sources for you?
Calling all HuffPost superfans!
Sign up for membership to become a founding member and help shape HuffPost's next chapter