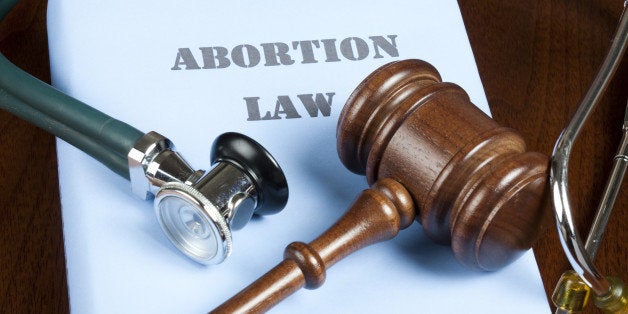 In a recent display of political chutzpah, Donald Trump shocked conservatives and liberals alike when he suggested that women who have an abortion should be punished for their crime. During a town hall-style interview on MSNBC, host Chris Matthews pressed the Republican front-runner on what that penalty should be:
MATTHEWS: Do you believe in punishment for abortion, yes or no as a principle?
TRUMP: The answer is that there has to be some form of punishment.
MATTHEWS: For the woman.
TRUMP: Yeah, there has to be some form.
MATTHEWS: Ten cents? Ten years? What?
TRUMP: I don't know. That I don't know.
Matthews immediately focused on criminal damages, such as a fine or imprisonment. Under a Trump administration, however, the notion of "punishment" could actually take a non-criminal, but no less incriminating form.
The Scarlet Letter, written by Nathaniel Hawthorne in 1850, tells the fictional story of Hester Prynne, a Puritan woman who, found guilty of adultery, is forced to wear a red letter "A" and stand on a scaffold in the middle of a market for three hours in a display of public humiliation. Prynne's reputation is ruined. Even after she resettles in a small cottage on the outskirts of Boston, members of the church remain suspicious and ultimately turn against her.
In Donald Trump's vision for the country, abortion rather than adultery represents the new sin. His version of punishment could be as simple as printing women's names in local newspapers, the journalistic equivalent of a humiliating three-hour display in the town square. But the more likely alternative -- one that could be mandated by law instead of relying on local media -- already has a tailor-made framework for its implementation: the sex offender registry.
The federal Sex Offender Registration and Notification Act, also known as the Adam Walsh Act (AWA), was unanimously passed by both houses of the United States Congress and signed into law by President George W. Bush on July 27, 2006. The AWA requires states to maintain a standardized record of any convicted sex offender's current address, physical description, and license plate number, as well as other identifying pieces of information like a DNA sample. Depending on the jurisdiction, individuals in the registry may be subject to additional restrictions, including not being allowed to live near a school or park. Some are barred from voting. Regardless of the punishment, sex offenders' names are made publicly available on the Internet via the National Sex Offender Public Website (NSOPW), or through other means as dictated by Megan's Law.
It's not hard to imagine Trump proposing a national abortion offender registry, considering that he has already floated the idea of creating a database to track Muslims in the U.S. Just as the idea of a Muslim registry has fanned the flames of tension between the Muslim and non-Muslim communities, an "abortion registry" would further deepen the rift between pro- and anti-choice factions -- and the women caught in the middle would, as usual, be the victims.
Risk of public humiliation and potential backlash from the community resulting from being placed on such a list would be enough to deter many women from having the procedure. "Public exposure of a woman's abortion -- through the press or gossip -- [once] served to punish women who had abortions, as well as their family members," writes Leslie J. Reagan, Professor of Gender and Women's Studies at the University of Illinois and author of When Abortion Was a Crime: Women, Medicine, and Law in the United States, 1867-1973. "The investigative procedures themselves constituted a form of punishment and control."
Reagan's research documents many cases of women who suffered specific consequences due to social stigma, and alludes to thousands more who may have suffered in silence. Donald Trump's version of an anti-abortion law could go even further, enforcing punitive measures such as government-mandated counseling or compulsory sex re-education classes that stress an anti-choice agenda. Worst of all, fear of being placed on a criminal abortion list would force many women to seek risky, unregulated abortions in total secrecy -- or even attempt to perform the procedure themselves.
Trump has changed or clarified his position on abortion several times since making his controversial comments during the MSNBC town hall, even saying in a statement that "the doctor or any other person performing this illegal act upon a woman would be held legally responsible, not the woman." Trump's initial reaction to Chris Matthews is telling, though, and may reveal his true colors on the subject. Even if he doesn't envision criminal consequences for women seeking abortions, he might advocate for a punishment that is ultimately almost as damaging. And if it comes to pass, then the scarlet "A" of Hawthorne's novel would take on a whole new meaning.
REAL LIFE. REAL NEWS. REAL VOICES.
Help us tell more of the stories that matter from voices that too often remain unheard.