This article was written by Laura Lambert for Brightly.
I'm currently the mother of a school-aged girl on the precipice of puberty -- and I really thought I was prepared. I can totally handle talking about periods and pubic hair, I thought. I got this, I thought.
A spate of brand new titles tackle the topic of girls as they grow, just like that, into little women. Hormones and eye-rolls, frenemies and first crushes, I expected -- just not the way that smartphones and social media change everything. It's been a crash course in all the things I didn't realize I should be freaking out about.
Here's a cheat sheet to what I've learned, and a preview of what us parents of girls might be in for.
The author: Laura Choate is a licensed counselor, educator, and professor at Louisiana State University who writes about women and girls' health and wellness.
This is a kinder, gentler intro to the trials and travails of budding teenhood. Choate's tips -- tell your girls you love them, as-is; know what they're watching and consuming online; spend time together offline -- are 100% above-board. She's very reassuring. She messes up as a parent, just like you. She's frustrated that she can't find a one-piece bathing suit for her pre-teen, like many of you.
If you're totally lost, do not fear -- Choate has concrete activities and scripts, particularly in part two of the book, which is about the R-word: resilience. If you like an encyclopedic approach, you're in luck. The topics Choate presents are comprehensive, if a little clinical.
The author: I'd shared countless Lisa Damour columns from the New York Times before I put two and two together, so it's no wonder this book spoke to me. Damour is an author, psychologist, and champion of normalizing the "abnormal" behavior of teen girls.
The title promises a path through the wilderness of adolescence, breaking the teen years into rational developmental stages, from "Parting with Childhood," through "Contending with Adult Authority," and "Entering the Romantic World," using real stories, real mothers, real teens with real concerns to illustrate her point.
The schizoid behavior your teen is exhibiting? Chances are it's normal, natural, even necessary to the journey of growing up and out of your house. And just in case it's not, she includes a "when to worry" section at the end of each stage.
The book is written in the spirit that anxiety isn't a great position from which to parent -- and the tips are down-to-earth, like this indispensable nugget: "Girls can listen and roll their eyes at the same time."
Also, it's a nice soother after reading either of the next two titles.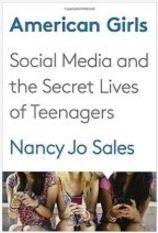 American Girls: Social Media and the Secret Lives of Teenagers

The author: Nancy Jo Sales is the seasoned Vanity Fair writer behind the 2010 story about the infamous teen celebrity burglary gang the "Bling Ring" (which became a movie of the same name) and a much-debated piece from 2015, "Tinder and the Dawn of the 'Dating Apocalypse,'" both of which inform the tenor and POV of this book -- pegged as "a disturbing portrait of the end of childhood as we know it." Teens and technology make for an alarming subject matter.
Right now, my eight-year-old gets Facebook, texting, searching YouTube for Carpool Karaoke clips. I'm still ever-so-slightly in the game. But, per American Girls, not for long.
For this book, Sales talked to more than 200 girls, aged 13 to 19, across 10 states. Social media is central to their lives, which is not news. What is news -- to me, at least -- is the intensity of the pressure to post #hot #pornstar images, all to get the likes that are a sign of social success. New to me as well is the wave of boys blackmailing girls for "noodz" (nude photos).
Aside from a broader critique of society, technology, online porn -- or pinning our hopes on feminism -- the book has little in the way of solutions. But that's not the point. Here, the narratives give you a visceral sense of what our girls may face in the years to come, so we're not totally shocked.
The author: Peggy Orenstein, who also wrote Cinderella Ate My Daughter, has a knack for finding that thing that vaguely chafes at my generation of parents and articulating it loud and clear.
Here, it's teenage sexuality.
I will say that more than one fellow mom has commented on this title sitting on my bookshelf. Maybe because our kids are still in elementary school or younger. Maybe because, well, sex.
I'm just as chastened as the next mom when I encounter tales of sexting gone wrong, hook-up culture, and the pornification of young boys' minds.
Like Sales, Orenstein interviewed a lot of girls -- more than 70 teens, aged 15 to 20, share their stories. The word "eye-opening" graces most reviews of this book -- and it's true, but not just for the salacious stuff. Perhaps one of the more eye-opening points is about redefining virginity to include orgasm -- or at the very least, to put pleasure over penetration. There's a feminist -- girlist?-- call to action to talk to our girls, and our boys, about the crazy world we live in, so that they don't have to navigate it alone, glued to their smartphones.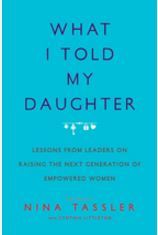 The editor: Nina Tassler, former CBS Entertainment chair, and journalist Cynthia Littleton, talked to righteous, feminist moms ranging from the Notorious RBG (Ruth Bader Ginsberg) to my personal '80s idol, Pat Benatar.
Reading books about what I now think of as "screenagers" has been, at times, almost physically painful. No one wants to imagine their daughter in the world they present -- a complex, hostile, hypersocial, hypersexual minefield fueled by relational aggression, misogyny, and omnipresent technology. Most of the time, I'd find myself wondering, What on earth am I supposed to do?
Well, in What I Told My Daughter, there are 54 shades of inspiration, from 54 notable mothers. These aren't therapists offering strategies, nor journalists spinning tales. These are successful moms, writing for, presumably, an audience of moms, about how they've navigated being mothers of daughters.
The first-person-ness of it all -- mother-to-mother -- is a great comfort.
Rabbi Sharon Brous is there, saying, "You realize pretty quickly as a parent that the thing you love most in the world is something you can't fully protect, no matter what."
Chirlane McCray is there, describing how she and husband Mayor Bill de Blasio helped their daughter deal with addiction. "Seeking help is an act of strength," she writes.
There are secretaries of state, supreme court justices, first ladies, actresses, lawyers, activists, and a lot of Harvard thrown around, which is to say there's a sheen of privilege to each of these essays.
But still. What I Told My Daughter isn't an operating manual. No one is telling me how to not get caught reading my daughter's texts. It's more like a moms-only series of TED talks -- not every essay is meant for everyone, but the inspiration, the notion that it's possible to raise your little girl into a fine young woman, mostly unscathed, is there. And that's what counts.