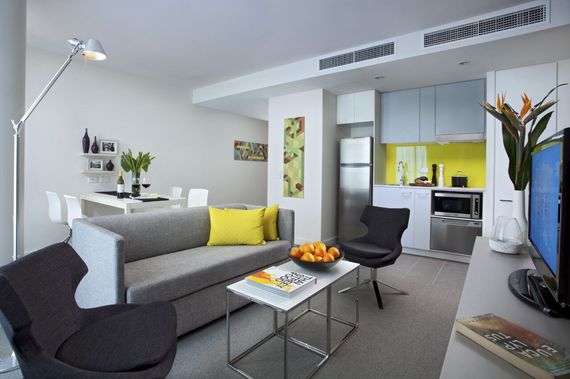 While in the past, fully equipped serviced apartments were considered only for relocation and extended stays of more than a week or two, times are changing. Apart'hotels, or Serviced apartments, are popping up in major cities across the world, and with comparable nightly rates to traditional hotel rooms, they are staking their claim on the hotel industry.
Pictured above is a two bedroom serviced apartment at the Apart'Hotel Citadines on Bourke, in Melbourne Australia. Offering two bedooms, two bathrooms, a fully equipped kitchen (with Dishwasher!), a separate living area and work space. Centrally located in the Heart of Melbourne's CBD, and at a comparable room rate to a traditional hotel room, it's no surprise the Ascott Limited's, Citadines won 13 World Travel Awards in 2015.
The trend towards Apart'hotel development is showing the growth in serviced apartment units to far exceeded traditional hotel unit expansion over the next two years. According to a survey conducted by the Association of Serviced Apartment Providers (ASAP), 48 serviced apartment operators show expansion targets both in the UK and globally, at an anticipated global increase in supply of 145,000 serviced apartment units through 2018.
The shift towards Apart'hotels is great news for budget-freindly family travel. With the larger foot print, fully equipped kitchen, and in-room washer and dryer facility, families can pack lighter and prepare meals in the room. This is especially helpful when traveling as a large family, or with young children. The money saved on baggage fees and eating meals out may even pay for the room.
For the business traveler, the apart'hotels popping up in major cities allow for more convenient, comfortable business trips. Especially, for extended stay.
Whether it's for business or pleasure, before you book a traditional hotel room, research the options, because chances are, there's a new Apart'hotel that's just popped up next-door with plenty of room for you to stretch out.
Related