I'm sitting in front of Parks' building waiting for him to return from teaching yoga. I can hear Russian news blaring from one of the open apartment windows. Hearing this broadcast makes me think of two things. First, the time when I had accidently landed on a radio station, where the host was speaking against homosexuality to people in Mexico. Second, the announcement made by the Russian ambassador to the UN, about António Guterres becoming the new United Nations Secretary General (UNSG).
I've been following this election more closely than our national one, mostly because of how the previous UNSG's support of LGBTI rights has brought about a lot of visibility and dialogue for LGBTI rights around the world.
António Guterres, the former Prime Minister of Portugal, will succeed Ban Ki Moon on Jan 1, 2017.
Jessica Stern, the Executive Director of Outright, an organization that is a member of the LGBT Core group at the UN, posted on Facebook - Guterres has been generally dependable on LGBTI rights in the past ten years.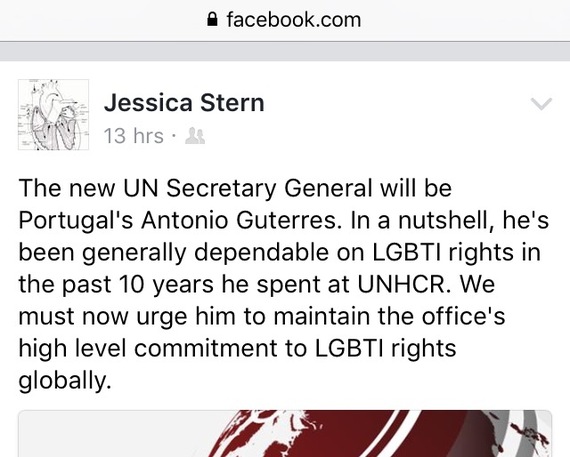 As I sit here listening to the Russian news, I wonder what is being said. Is it anti gay propaganda, like the Mexican station I had come upon? Last week, I went to Ensenada, Mexico, with Parks. We strolled down the touristy part of the city. As I reached over to hold Parks' hand, I thought, 'Is it safe to hold hands here?' I mean, gay marriage had just been made legal in Mexico less than a month ago but there has also been a huge backlash. The picture that comes to my mind is of the 12-year-old boy who stood in front of an anti-gay protest with his arms wide open. When the photographer asked why he stood in the middle of the street like that, he replied, "I have an uncle that is gay. And I don't like that they hate him." The boy's bravery and heart was palpable in that picture.
What hit home for me was how beautifully his uncle must have shown up in his life, for him to stand up for his gay uncle. Had his uncle not talked about his sexuality or been open with his nephew, the boy would have probably just been another bystander at that protest. I decide to hold Parks' hand and we continue exploring the city.
An advertisement on a shop window for private Spanish conversation lessons catches my eye. I inquire within. The teacher, Rocio, is a warm slender native Mexican woman, in her late 50's, with grey hair, pulled back in a pony. She has the air of an Albuquerque artist. She wears a short sleeve white t-shirt, cuffed at the sleeves and loosely tucked into her faded blue jeans. She has an opening and is able to accommodate me. She begins with basics, where I'm from, what brings me to Mexico, etc. With 'gay rights in Mexico' fresh on my mind I'm curious to know what she thinks. 'What if she is anti-gay?' I think for a moment. I choose to look beyond her age and my idea of what she might or might not want to talk about. I follow my curiosity and ask her what she thinks about gay marriage being legalized in Mexico. What follows is a lively discussion. She surprises me and we talk about her interaction with gay people, Mexican politics, traditional family values, how it feels to be gay, anal sex, human rights and more. At the end of our lesson she asked me to repeat something I had said that had struck her. I repeat, 'Culture and tradition can no longer be used as alibis to discriminate against any group of people and not give them human rights, especially the LGBTI community.' She jots this down and says that she would like to think about it more. As her next students arrives, she says she is grateful for our session because she learned a lot of new things.
What I learned was to give people more credit, and trust, that like me, they want to know about things they might not know a whole lot about. Despite everything Rocio had heard and seen in her country with gay issues, she was willing to reevaluate her opinion or at least think about it after our lesson.
António Guterres has worked multilaterally as the UN High Commissioner for Refugees for the past ten years. This has probably given him a better understanding of how marginalized communities feel. The openness of a UNSG really matters. It is a privilege to experience desire, attraction, love, and connection and not be afraid to show all of it back. In some countries LGBTI people are killed on account of any of those. I remember how excited and hopeful I felt as a young adult whenever I'd see a gay couple holding hands. I needed to see it, to know that there were others like me out there. It is everyday LGBTI people and allies who are changing minds and hearts. It is people like the two openly gay Russian men running for office in their home country. It is people like that gay uncle in Mexico that are showing up with love and inspiring their families. We can't always know how our actions affect other people but I do know that love is a force field that hums in our veins. It breathes us. It leads us right in front of the eyes of another soul. So the next time you feel like grabbing your partner's hand or sharing about your sexuality, know that maybe a young LGBTI person or ally, might need to see or hear you. And, who knows? Maybe, that little 12-year-old boy may some day become the next UN Secretary General, and that Spanish teacher might be a grandma to one.
Calling all HuffPost superfans!
Sign up for membership to become a founding member and help shape HuffPost's next chapter