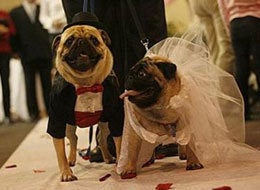 How is today's bride -- her groom in a kilt and yarmulke, her virtual guests, half sisters, whole pre-nup and Santa Monica Kabbalah officiant -- supposed to tell what still makes sense in a world where couples meet the old-fashioned way - on-line?
New traditions are replacing old ones with lighting speed. Your grandmother in Chicago can watch you try on wedding dresses at Kleinfeld's in Manhattan via live streaming video, he can take her name, and brides debate whether to ask "online bridesmaids" -- the blog buddies who've shared every moment of their wedding planning -- to the real-life wedding.
A quick take on the nuptial update:
Something old: Wedding planners. Registering at Crate & Barrel. Your dog as ringbearer.
Something new: Proxy weddings (ideal for those in the military or the romantic incarcerated.) Registerstock.com. Destination wedding dresses. (Save the $15 checked-bag surcharge by taking it in your carry-on.) Dresses with crazy cleavage.
Something boring: Wedding blogs (mydallaswedding.wordpress.com) in the spirit of those endless self-absorbed Christmas letters. Wedding programs. (Tip: the one in white's usually the bride.) Endless receiving lines.
Something blue: Think blue toenails. Blue tattoos. Blue cowboy boots under your gown. (Prefer something red? Try "a blog about Russian Wives and Finding One" at www.red-october.net)
Let's face it. Love has gone from an emotion to an emoticon; we have tiny smiley faces and huge over-the-top expensive weddings ('til debt do us part); Bridezillas; celebrity brides selling their wedding pictures to People; e-showers; Krispy Kreme wedding cakes:
Unprecedented situations require creative new solutions when your choices include professionally-choreographed bridesmaids numbers at the reception and gawker.com to rate your New York Times wedding announcement by where the bride went to school, which club had the wedding, and how many initials the groom had after his name.
In lieu of wedding gifts (they haven't registered anywhere), the couple asks that you make a charitable contribution to The North Shore Animal Hospital (www.northshoreanimalhospital.com). But you want to give a gift.
Give them what they want, recommends Mike Dane. Particularly if you're on a limited income, since the bride and groom will never know the exact amount you gave. Just give what's comfortable for you and enjoy the tax deduction.
Ignore them, says Heide Follin, a graphic designer with an eye for the beautiful gift. Why shouldn't you have the pleasure of picking out a gift you think is special, and will be meaningful to them?
Cop out. Give them a generous check and let them decide whether they want to give it all to the kitties and puppies or use part of it to set up house, says Amy Robin. Downside: they get the tax deduction instead of you.

At one wedding, the rabbi called the bride by the wrong name. At another, the minister quickly launched into how many couples today end up divorced.
Don't leave it to chance. Ask to see ahead of time what the person performing the marriage will say. "I write each ceremony and e-mail it to the couple a week before the wedding so they can make changes," says, Interfaith Minister and wedding officiant, Dotti Templeton. (www.poetic-ceremonies.com)
Speak up ahead of time. "Some couples don't want to mention that they met online, especially if it involved some creepy sexy website, like Nerve.com," says Megan Colebrook.
The bride grew up hyphenated, and so did the groom. Now they're getting married. What to do about the name?
If you grew up hyphenated, there's always name surgery. Unwilling to be Phoebe Day- Connell Danziger, she opted for Phoebe Day Danziger. (What will her kids do? Stay tuned.)
Start from scratch. "You should create a whole new name. It can have nothing to do with the other four names. Fun at airports!" notes ezraglenn on fluther.com.
Consider the complications. "It's easier when the parent and child have the same last name, especially when signing up for a conference!" says preschool teacher Jackie Everett.
A little borrowed, a little new. "A friend of mine's parents combined their last names into a hybrid. They took a few letters from each to make something new and unique," writes sferik on fluther.com.
Forget it. "Oops! Can't get married" is the conclusion of MisterBlueSky85 on fluther.com.
The bride wants to live out her "red carpet fantasies" on her wedding day in a bridal gown that leaves little to the imagination. Your advice?
Follow your heart. "It is the bride's big day. If she has her heart set on wearing a revealing gown then that is what she should wear," says Adina on fluther.com.
Gently redirect her. "Mom or a very close friend could gently steer the bride toward a more flattering choice. Page through wedding magazines and point out styles that would flatter her...I am not sure when the wedding became an opportunity for total self-indulgence, but it seems to be happening more and more," notes Marina on fluther.com.
Get real. "If she's got fabulous fake boobs she wants to flaunt, let her. If she wants to show off a back that took a personal trainer six months to tone, go for it. This is not the era of The Princess Bride. And everyone from Vera Wang to Priscilla of Boston are designing dresses that show off a bride's figure," says copywriter Aurora Slothus.