The Listening Room Cafe in Downtown Nashville that is! During #CMAFest 2017 a new generation of Women Country Music Artists will be taking the stage at the Listening Room Cafe, to perform for their individual fans, and industry invitees in a free showcase, presented by the premiere Country Music Fan Funding platform, Bandtwango Music.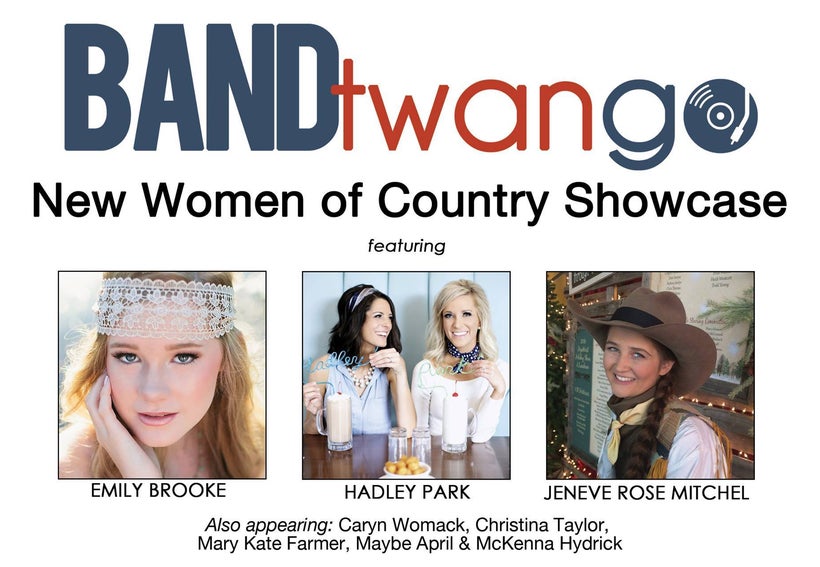 Bandtwango has been helping country music artists take their careers into their own hands since 2016. They enable artists to partner with their fans, to fund album projects, videos, tours, charity projects, and even promotional and marketing campaigns for their projects. This first ever Bandtwango showcase features a line-up of 8 emerging or discovery female acts, and includes artists ranging from former American Idol finalists, artists beginning to receive significant radio and video airplay, to critically acclaimed names in the business. . All these ladies have had or currently have campaign's running on the Bandtwango platform.
John Alexander, one of the co-founders of Bandtwango stated "We are so excited about giving these deserving female artists their only CMA week performances at the Bandtwango New Women of Country showcase. The eight Bandtwango campaign artists performing will draw a capacity crowd. It will be one of the most talked about showcases at this year's CMA Music Festival"
These women are ready to show you what they are made of and are the next generation of where country music will be going. The line-up includes:
Jeneve Rose Mitchell: 2016 Top 14 American Idol Finalist. She won the hearts of America last year as the "Rocky Mountain Hillbilly Girl", who lives "Off The Grid" in Crawford, Colorado, and plays 12 instruments! Her NEW project (funded through Bandtwango) will be released on June 8th. Fans can pre-order the project at bandtwango.com
Hadley Park: An emerging music duo, whose name is inspired by their two daughters Hadley and Parker, born 4 days apart. They were Bandtwango's first campaign, and have since gone on to record and release their EP, be featured on Sirius XM The Highway "On the Horizon" radio show for 13 weeks and just released their first professional music video for "Another Bottle of Wine", currently getting airplay on a number of video outlets.
Emily Brooke: A two time American Idol alum, with an adoring very active fan base who has recently been featured in Nashville, performing with the Song Suffragettes, and has opened for many top artists, including Kelsea Ballerini, and fellow South Floridian, Cassedee Pope. She currently has a Bandtwango campaign running to help her record her latest EP and get new music to her excited fan base!
Maybe April: Billboard Magazine calls them one of the "New Acts to watch". Their Audiotree Sessions on YouTube is closing in on 1 Million Views, and their brand new EP has been getting rave reviews from influencers in Nashville. Maybe April are a trio of 3 young ladies who were put together to form a band as part of a"Grammy Camp" project in 2012. They've been together making music ever since! They are currently on the Bandtwango platform to help fund the video production for their single "Last Time" and also to record a few new songs for a potential new EP.
Mckenna Hydrick: An inspirational singer songwriter country artist with a powerful voice, reminiscent of Martina McBride, who currently has a featured video on The Country Network, called "Just Keep Living".
Caryn Womack: is a talented singer/songwriter from GA, whose campaign to fund her music video for the upcoming single "White Trash Without The Trailer" was successful. Her fun outlook at life is evident with the songs she sings, and the way crowds fall in love with her every time she takes the stage.
Christina Taylor: who just released her new EP "That Girl" and is raising funds for a radio tour to promote her latest single "Don't look good in your June 11th, 2017 from t-shirt, anymore".

Look for many of these artists during CMA Music Fest signing autographs at the Visit Music City Booth inside the convention center at Fan Fair X. And fans of Jeneve Rose Mitchell can meet as she hosts her own emerging artist booth there. Special Bandtwango hand fans featuring the artists will be distributed throughout Music Fest, promoting the showcase, and keeping the throngs attending cool!
For more information on the showcase, see the details below or visit Bandtwango.com.
Venue: Listening Room Cafe, 217 2nd Avenue S, Nashville, TN 37201
Date/Time: June 11th, 1-4 pm
REAL LIFE. REAL NEWS. REAL VOICES.
Help us tell more of the stories that matter from voices that too often remain unheard.
This post was published on the now-closed HuffPost Contributor platform. Contributors control their own work and posted freely to our site. If you need to flag this entry as abusive,
send us an email
.