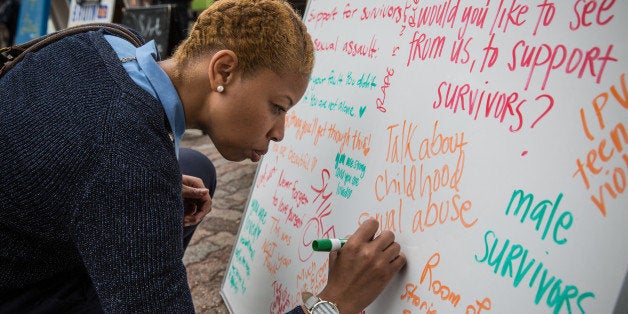 The President portrays colleges and universities as centers of sexual assault where men routinely escape responsibility for their actions. Twenty eight Harvard Law School professors decry campus adjudications "stacked" against young men. No wonder college age women and men (and their parents) look at this aspect of college life with trepidation.
Two powerful themes contend. On the one hand, victims of sexual assault present a civil rights issue: the right of young women to have their claims taken seriously and redressed. On the other, young men face the potential for limited due process and unjust outcomes.
Just five years ago, campus sexual assault was a matter of state criminal law, assigned to criminal prosecutors, defense lawyers, judges, and juries, in a system heavily stacked against the victims. Since then, states have begun to implement "Yes Means Yes" laws, while federal law has created a parallel universe where educational institutions must venture into the business of justice -- and administer it pursuant to federal standards.
Critics of the new federal framework question the requirement that academic institutions (rather than police, prosecutors and courts) determine claims of sexual violence, and they question their expertise to conduct the necessary investigations and adjudications. They also note substantial limitations on the role of counsel, including on cross-examination, and the use of a preponderance of the evidence standard, instead of a requirement of proof by clear and convincing evidence or beyond a reasonable doubt.
Proponents of adjudications by academic institutions note that Title IX requires colleges to reliably and promptly investigate sexual violence. No one goes to jail here, they argue. These are civil, fact-finding, disciplinary proceedings, and not an occasion for lawyerly tactics which can be used to delay cases until the students charged transfer or graduate.
Either way, when private universities and colleges decide to discipline (or not discipline) students, those upset by the rulings may seek to challenge the university's determinations in federal and state courts.
Over the last few years, young men have alleged that educational institutions violated Title IX by reaching outcomes motivated by gender bias, focusing on the conduct and statements of Title IX officers, professors, and students, as well as claims that universities have taken disciplinary action to please the Department of Education's Office of Civil Rights. They have also alleged erroneous outcomes based on the underlying events, testimony, witness statements, and electronic communications.
In deciding whether to allow these federal cases to proceed, courts have assessed the plausibility of the claims asserted based on the facts alleged. Federal trial courts have as a preliminary matter allowed cases against private universities to proceed to discovery in Virginia, Ohio, Maryland, New York, and Rhode Island, while two federal courts in New York have dismissed such cases outright.
In state courts, those disciplined by state universities have challenged disciplinary actions for violations of due process. State universities are public entities, and have responsibilities to their students that private universities do not, enforced by state courts. State courts have overturned determinations by universities in California and Tennessee on due process grounds. In California, the university panel chair declined to ask the victim numerous questions submitted by the accused, and the panel admitted an investigative report without testimony from the author of the report. In Tennessee, the university chancellor relied on a determination that the victim was intoxicated, although the administrative law judge handling the matter had found the evidence insufficient to support that allegation.
Federal court challenges also have been brought by women to redress the failures of universities to properly investigate allegations of sexual assault. A federal court in Florida allowed such a case to proceed under Title IX where a student alleged sexual assault by a star college athlete and pled facts supporting the university's "deliberate indifference" to her claim, resulting in a $950,000 settlement in January 2016. In February 2016, six women filed a lawsuit against a state university in Tennessee alleging rapes by football and basketball players and an official policy of deliberate indifference to sexual assault.
Meanwhile, enactment of "Yes Means Yes" laws in California in 2014 and New York in 2015 (applying to both public and private universities) have considerably raised the stakes. Such laws are designed to help colleges step up their game in combatting sexual violence, reflecting a legislative judgment that they have not effectively addressed the problem so far. Under these laws a person who is incapacitated by alcohol or drugs cannot give effective consent, and depending on the "degree" of intoxication, a person may be incapacitated and unable to consent. The new laws will be most significant in upping the ante for sex fuelled by heavy use of alcohol or drugs and addressing situations where students freeze or feel they cannot safely resist aggressive sexual conduct.
They may also subject students to discipline for conduct not previously defined as a civil or criminal wrong -- actions that few state penal laws would characterize as sexual violence, and that fewer prosecutors would pursue. This added sweep and differential treatment for campus conduct may be justified by the view that a university is a community whose members owe each other duties different and above those owed to each other by persons in the outside world. These standards set rules that prohibit individuals in a university community from taking advantage of each other.
Significantly, the California and New York standards may move nationwide. The White House Task Force to Protect Students from Sexual Abuse has endorsed a "voluntary agreement" standard to define consent on campus, apparently supporting a national "Yes Means Yes" standard.
It's a whole new world on campus, and, as in most great social controversies, this one is increasingly headed to court.
Popular in the Community