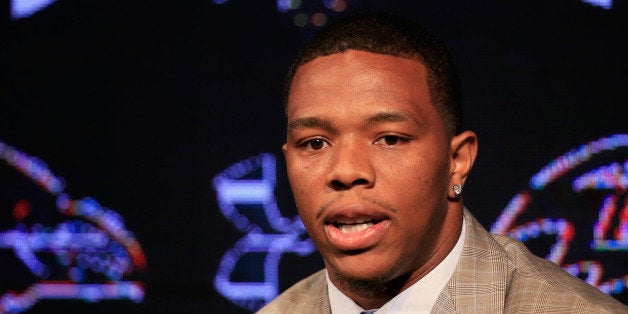 The New York Giants should sign Ray Rice because they present the best opportunity to turn a troubled and lost individual into the biggest advocate against domestic violence in the history of professional sports. Likewise, if there is to be a happy ending to the Ray Rice story, the best way for it to begin is for the New York Giants to offer him a contract.
If you think Rice should never get another chance in civilized society, or think that he simply shouldn't be allowed back in the NFL where a minimum salary equals six figures, hey, it's hard to argue with you. What Rice did was despicable, stomach-churning and in his own words, "indefensible." Wanting him to disappear from the league forever is a justified, passionate reaction.
However, for those who see the advantages to rehabilitation and redemption, be it from one horrible mistake or a deeply-rooted lifetime of wickedness, you should be hoping that Rice's hometown team, the New York Giants, puts him on their roster today.
The ideal template here is the one of Michael Vick, Pro Bowl quarterback turned convicted felon. Vick returned from two-years in Leavenworth prison to resurrect a successful career and more notably, become an advocate against the horrors of dog-fighting, the crime that nearly ended his football career.
That is precisely what Rice needs to do. Like Vick, Rice would benefit from the right football setting where leading a team is nowhere near his top priority. He needs an organization that will allow (i.e., require) him to focus on becoming an advocate against domestic violence.
Can he do that on his own as an unemployed former-NFL player? Sure, in theory. But he'll get nowhere near the attention and have nowhere near the effect he could have if he's allowed to return to the national spotlight.
The New York Giants can and should provide that environment for Rice, just as the Philadelphia Eagles provided it for Vick.
Remember: when the Eagles brought in the convicted dog-killer in 2009, they already had quarterback Donovan McNabb, as well as Kevin Kolb waiting in the wings. The plan was never to hand the reins over to Vick. It was to provide a member of the NFL community a place to resurrect.
The Giants can do that for Rice now. While other teams are signing players involved in domestic violence scandals to increase their championship aspirations, wouldn't it be something to see a franchise sign a player with the sole intention of helping the player, and not themselves? The Giants currently have Rashad Jennings, Andre Williams and recently signed Shane Vereen on the depth chart. They don't need Rice, but he most certainly needs them.
Rice is from New Rochelle and played college ball at Rutgers University. He's as New York as footballers come. The New York Giants under the Mara family have been one of the most stable organizations in all of sports. There's no better place for Rice to transform from the most hated athlete in America to its most public advocate for domestic violence.
In the words of Vick, you have to "try to make amends for what you've done... you have to show people that you're trying to help yourself and bring awareness to that situation to help others, to prevent it. You've got to become an advocate."
When the Eagles offered Vick a contract, what they really offered him was a place to change the narrative. The Giants can do the same for Ray Rice, and in doing so create the most powerful advocate against domestic abuse that professional sports has ever seen.
Calling all HuffPost superfans!
Sign up for membership to become a founding member and help shape HuffPost's next chapter