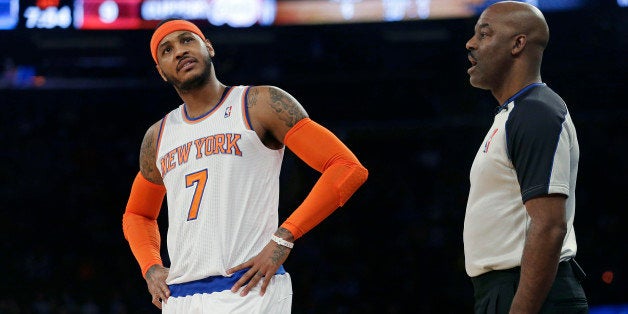 The New York Knicks were looking for a 180 degree shift from last season's dismal campaign as they began this season. However, the triangle offense, which new Knicks president Phil Jackson made famous and rookie head coach Derek Fisher played in, has been hampering that potential. Now at just 2-6 on the early NBA season, the Knicks are in need of a turn for the best. A triangle itself contains 180 degrees and the potential is there... but this team has not been able to adapt or thrive under this system, and might never do so.
The triangle offense takes a lot of thought, requires every player to buy in to the system, and is only executed effectively if everyone feels comfortable within its confines. It's obvious that the key players on this Knicks team certainly do not meet these requirements.
You can see just how elaborate the system is by checking out the following clip from ESPN's Sport Science series.
While in the middle of the pack defensively, ranking 14th in the NBA in points allowed (98.4), the Knicks are dead-last in the league in points scored, averaging just 91.1 per game. While they are seventh in the NBA in assists per game (23.0 per game), the triangle's reliance on constant ball movement has limited the isolation game of their primary scorer Carmelo Anthony, who is averaging just 20.3 points per game this season, which is the lowest of his entire NBA career to date.
He's also shooting just 39.1 percent from the field this season, which is also a career-low, despite taking 20.1 shots per game. Any time a player is averaging around the same number of shots he takes per game, it's never a positive sign.
The triangle is based on the passing ability and offensive awareness of the team's big men. The Knicks arguably don't have a single NBA starting power forward or center on the roster, as Amar'e Stoudemire, Jason Smith, Cole Aldrich, and Samuel Dalembert have been platooning at those spots.
Last season, New York, despite having a 37-45 record, averaged 98.6 points per game (7.5 more than this year). This was due mostly to the combination and offensive abilities of Anthony, who averaged 27.4 points per game on 45.2 percent shooting, and J.R. Smith, who averaged 14.5 per contest on 41.5 percent shooting. As mentioned previously, Anthony is averaging 20.3 points per game on 39.1 percent shooting, while Smith is averaging just 8.5 points on 42.9 percent shooting. Despite the slight jump in field goal percentage, Smith has looked completely lost in this new offensive scheme.
Both Anthony and Smith have shown that they can be prolific scorers, especially when given the freedom to isolate and create shots for themselves. In the triangle, their ability to play the game the way they're used to playing it is simply not allowed.
An important ability as an NBA head coach is to adapt to the talent you have on your roster. Forcing a triangle scheme upon this squad is a bad fit and needs to be changed before it's too late. With two supremely-gifted scorers in Anthony and Smith, it will be up to Derek Fisher to figure out how to solve New York's problem... a problem that has resulted in a 2-6 record in a very unforgiving city.
Calling all HuffPost superfans!
Sign up for membership to become a founding member and help shape HuffPost's next chapter