The New York Times Arts & Leisure Weekend brought New York City four days of rousing discussion with 15 of the most active cultural figures today. We've curated the best moments from five of these talks, from Carey Mulligan's tales of drama school rejection to the incredibly quotable Simon Doonan's theory that gay men are French women, but with penises. Read on for more from Alan Rickman, Glass, Mulligan, Doonan, and the cast of "The Good Wife," and hop over here to stream the talks online in full.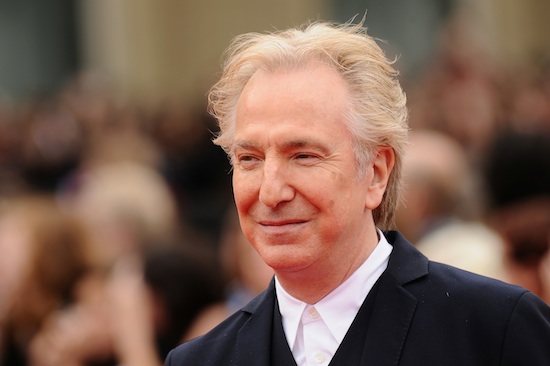 Getty Images
Alan Rickman sat down with New York Times theater reporter Patrick Healy early Saturday morning to discuss acting, his famously distinctive voice, and his role in the new Broadway play "Seminar."

Alan, thanks so much for joining us.
I'm not awake yet. I don't know that I'm actually here.
First theater role?
The very first thing I ever did was at what we call primary school, when I was 7 years old. I played the title role in a play called "King Grizzlybeard." I remember my mother cutting a little triangle of fur out of a rug for the beard.
When you started your training at RADA (Royal Academy of Dramatic Art), how similar was your voice to what we hear now?
What I hear is not what you hear, so I don't even know what you're talking about. Certainly, when I was at drama school it was the source of many complaints, big problems, a great deal of work. A lot of it's just to do with the architecture of your mouth, the sound you make, and it's about the muscle strength in your tongue, so once it all gets taken apart -– you know, I had big problems.
What sorts of problems?
That I had very lazy diction, that I had a spastic soft palate ... my voice teacher said, 'You sound as if your voice is coming out of the back end of a drainpipe.' So that's how cruel drama school is. It means, I suppose, basically, that I had to learn to bring it all forward. It was all kind of traveling backward.
Differences between the New York and London theater scenes?
It is very different performing here, in a good way, because you really do feel that theater is part of the life of this city, in a way that you don't in London. London's so spread out as a city, anyway. There isn't in any way the same kind of contact between people working. You know, you come out of the theater and we go over the road to a bar or restaurant, and there's a bunch of actors who are all doing a show, so you get to know each other here. Of course, it's kill or be killed here. You get a bad review and you're off anyway.
On whether he has a penchant for playing villains.
Well, you'd have to name them and you'd run out after about three, I think. Because, if you say "Die Hard" and "Robin Hood," then you start going "uhh..uhh…" because everything else is a bit more complicated than that.
Did [Harry Potter author] J.K. Rowling know ahead of time what would happen with your character, Snape?
Yeah, she knew everything. It's fair to say that she put the ending into a safe. She knew how it would finish.
Did she tip you off?
Before I said I would do [the first film] I said I had to talk to her. We spoke the next day, and she gave me a very small piece of information ... that let me know there was more to him than met the eye.
Can you share that with us?
No. I promised her I never would.
Having played the character all those years, did you have emotional or cathartic moments toward the end?
With the last film, it was very cathartic, because you were finally able to see who he was. It was strange, in a way, to play stuff that was so emotional ... but satisfying on all sorts of levels. You know, Ray [Fiennes, who played Voldemort] and I had a scene where you just thought, well, finally it's just a couple of actors talking to each other, with no special effects.
On holding a wand.
Holding a wand is not the most threatening thing. And pointing it at Dame Maggie Smith, who you've grown up worshipping from the cheap seats at the National Theatre, and she's pointing it at you … and she can arch an eyebrow like nobody. Thank god for the sheets of flame.
Did he ever consider not acting in all eight of the movies?
No, I wasn't going to let anyone else finish him.
On differences between acting and directing.
It's satisfying to be in control of the visual aspect, as much as anything else. I'm passionate about storytelling, and sometimes you want to tell a story as an actor, and sometimes, now, you want to tell a story as a director. It takes a long time -- or it did for me -- to get to the point where you've actually got something to say. All these hopeful faces staring at you on the first day, it's a bit challenging. But over the years you've learned that one of the greatest things a director can say to an actor, that will make them immediately trust you, is the actor will ask a question and the director will say, 'I don't know.'
What about Leonard, your character in Seminar?
The story is of four young writers in New York who hire a mentor, pay him $5,000 each for a ten-week mentoring period, and pretty early on are pretty resentful of the money they've given him. He's a truth-teller. Relentlessly truth-telling … but fortunately he's also a human being. You do wonder whether that's going to be the case or whether he's just a destroyer, but he's not.
What would Leonard think of Jo Rowling's writing?
He'd probably be very jealous of what she's achieved. I'm sure he'd have to say -– her storytelling. You can't fault it, really.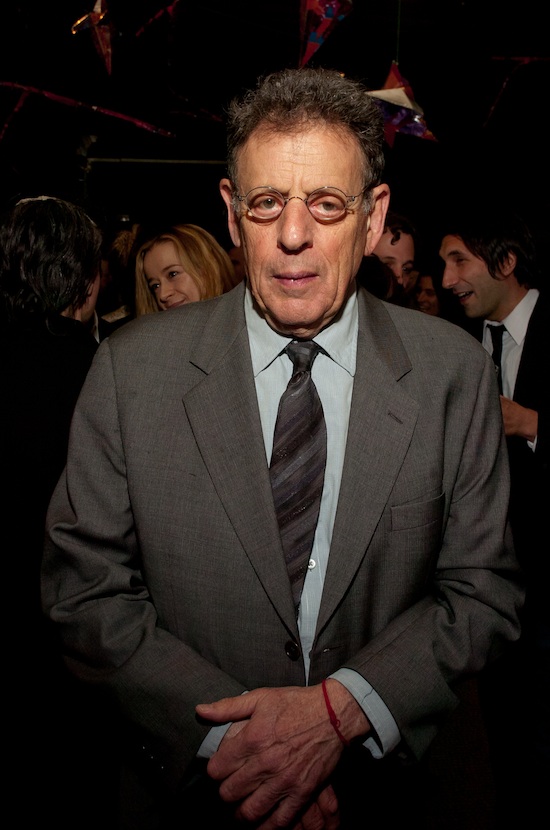 Surprisingly warm for a master of minimalism, composer Philip Glass, who turns 75 this year and has "as much work as 20 years ago," spoke about public approval, the internet, and why his audiences are like Dorian Gray's portrait in the best possible way.
On the "poetic justice" of landing an audience of billions when he scored the 1984 Olympics opening ceremony:
I don't need poetic justice because I've never been treated unjustly.
On why he doesn't care whether or not individuals like his music:
Some people don't like the Beatles. Can you believe that?
On the number of audience members that used to leave mid-concert:
I think 25 percent is a very kind estimate.
On the sole American staging of "Waiting For The Barbarians" in Austin, Tex., and its run abroad:
The only reason I got them to do it was because they thought I was writing about George Bush, which was very unlikely. The Europeans did it because they thought it was about America, but it wasn't. It was about any place.
On why new pieces rarely premiere in the U.S., but often make it over:
I don't think we're less educated or cultivated. It's the way we support the arts here... We've destroyed music education in the schools, to the detriment of children. At the same time, I don't know any country that loves the music and the arts the way the Americans do.
On a "new" music culture in the age of the internet:
I want to be part of it. I don't want to compete with it.
On the "curious" fact of his audiences "staying young":
It's some sort of Dorian Gray thing. I'm getting older and they're staying the same age. [I think it's because] the language of my music is a binary language and the language of the internet is a binary language. What you're really hearing is music that's based on ones and zeros. It's the complexity of simplicity that's interesting... I just made that up, by the way.
On critics who call his work simplistic:
The complete artist will always make his work look easy. So am I insulted?
"It's just something to do."
"Am I creating it? Or am I just listening?...Painting is seeing, composing is listening, and writing is speaking."
"Music is a place. It's a place like Ann Arbor, or Minneapolis...Like dance, when it's over, it disappears."
Carey Mulligan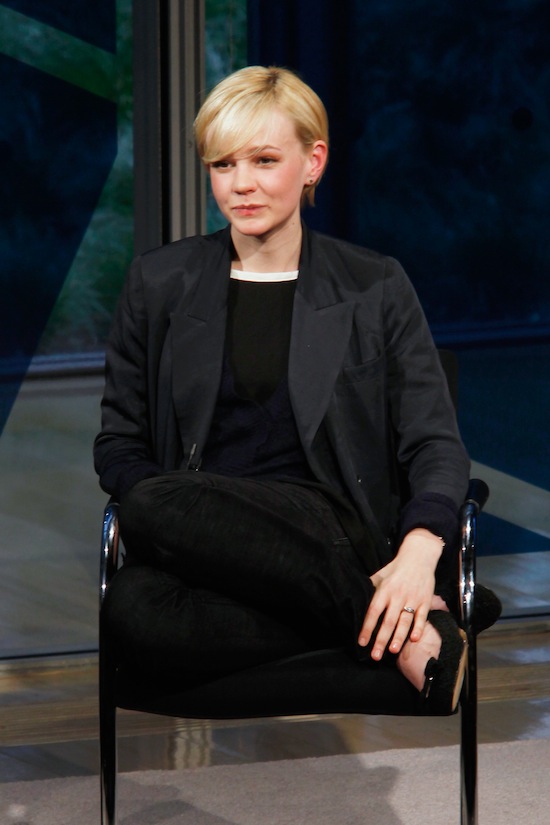 Getty Images
The 26-year-old woman New York Times writer-at-large Chip McGrath called one of the -- if not the -- best actresses of her generation, spoke to him about her first nude scene, getting rejected from drama school and much more.

On what she was like as a young girl:
I went to boarding school when I was 14, and I was like a drama geek. I never fell into acting -- I was obsessed with acting from a really young age, so I just wanted to be in musicals, and I wore a "Les Miserables" t-shirt for like four years.
My first home was the Mayfair Hotel in London, which sounds way fancier than it is. I lived in hotels till I was about seven... My dad was the general manager, so in most of the hotels there's an apartment for the manager.
On not going to drama school:
I wanted to, but when I was in school, I was about 17, in England you choose six universities, or five, and you're only allowed to apply to that certain number, and I wanted to apply to drama schools... and my parents were very against it. They wanted me to go to university first. So the most rebellious thing I ever did was lie to them about that and applied without telling them. I used up spaces on my application to apply to drama schools instead of universities, so I ended up with like one university place and no drama school, because I got rejected from everyone.
On how she felt about getting rejected from drama school:
I never got the lead parts in school and I always played the men, so I played like John Proctor in "The Crucible." I was crushed cause I wanted to go… but to be fair, I went and did "4:48 Psychosis" as my audition speech. So here's this incredibly privileged, happy, well-adjusted person coming from boarding school [doing a monologue about someone committing suicide]. So I'm miming slitting my wrists on stage and they were like, "go home." Or at least experience something, other than boarding school. So that's what I did, so it was fair enough.
On doing an American accent:
"Drive," I had a nightmare with it... Ryan [Gosling] and I would come in every day, and I think we decided that our whole deal... we were the love story, the calm amidst the madness... So a lot of the lines felt superfluous so we took them out. So I didn't end up saying very much, which in the end was great because I had a horrible time on my accent with that. I think I hadn't worked in a year, and I lost all my confidence.
On meeting 'Drive' director Nicolas Wending Refn:
I flew to LA to meet Nicolas, and I'd met him in Australia, and I'd thought he was really unpleasant, and I wasn't looking forward to meeting him (laughs). And I walked into his house, and he had his back to me, and he turned around and he glanced at me, and he turned away and he went, 'Carey, you were much fatter last time we met.' And I was like, 'Oh, cheers! That's great, I like your films.'
On her first nude scene in "Shame," opposite Michael Fassbender:
I don't think if you held a gun to my head I would do sexy naked, but raw naked in this bit... it serves the purpose. It's the best way to introduce her... By the time I was doing it I really didn't feel nervous at all, which was so weird. I thought for a while, oh, I'll go to the gym, then after a while I ended up not doing that. I went the opposite and went away and drank a lot of beer for a while, and then I came back to New York and suddenly this was the first scene we filmed.
I think probably theater. I recently started having really good experiences making film, but I'm not good at the aesthetic... it takes me a couple takes to forget that there's a camera there. Especially if it's a big film I get very self-conscious… [On "The Great Gatsby"] the cameras are huge, and they're on cranes, and they come zooming towards you, and it's like 'War of the Worlds.'... I love standing on a stage and not being able to see anything, and no one being able to say anything to you for three hours.
On auditioning for "The Girl With the Dragon Tattoo:
I wanted to work with David Fincher, and I'd read all the books... I thought it was a challenge, and I just didn't want to be associated with jobs I'd done before and I just didn't want to play the same parts, and she was wildly different... I thought, they'd never in a million years cast me, and I was right!... You kind of always have to trust your casting -- if you get it, then you're there for the right reasons, if you don't, then you're also not cast for the right reasons, and I wasn't right for that.
Simon Doonan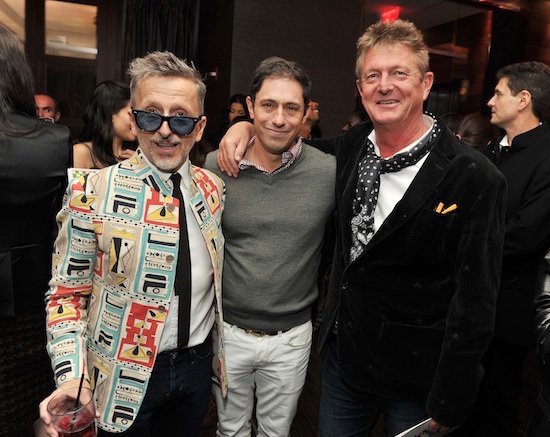 Simon Doonan, designer and curator Jonathan Adler and Nicholas Graham/Getty File
Eccentric New Yorker, Barney's creative director and Slate writer Simon Doonan discussed his book, "Gay Men Don't Get Fat," with New York Times writer Erik Piepenburg. Piepenburg set up the dialogue thusly: "If there's one thing gay men like to talk about, it's their bodies, body issues, weight issues." The conversation delightfully traveled onward from there to, among other very quotable things, the sexual orientation of food.

On the title of his book:
It riffs on obviously 'French Women Don't Get Fat.' My basic hypothesis is that gay men are French women, but with penises. Right? And also, real men don't eat quiche. So it makes fun of all those preoccupations, and it also makes fun of gay men's obsession with being perfect.
On the pressures facing women today:
The expectations that are mounting on women -- mounting may not be the best word -- are extraordinary. Think about it. In our culture, women are expected to be a combination of Angelina Jolie and Giselle, but for their entire lives, not just when they're young. They're expected be professionally successful. How annoying! When did that happen? It used to be OK to be a dumb blonde and a ditzy broad, and now you're supposed to be brainy and accomplished and have a lifestyle brand and be Bethany Frankel... and then women are also expected, hello, as if those first two weren't enough, you're expected to pop out children like the old woman who lived in the shoe.
All these women need the velvet entourage, they need the help -- they need my gay wisdom, and they're getting it whether they're wanting it or not. So these are my nuggets and nuances of gay wisdom that I'm flinging at an unsuspecting world, directed at women mostly.
The received wisdom is that French women know everything... it's not true. It's the gays. French women only think they know everything -- we gays actually do know everything. And the reason for that is quite simple and strangely obvious, but I'll explain anyways. As a gay, you're this marginalized, freaky outsider. As a kid you realize you're part of this reviled group of people who are basically discriminated against, or were. When I was a teenager, to be gay was illegal, you would go to jail... We gay men have had to navigate that discrimination, learn to feel good about ourselves under those circumstances, and so we have this very idiosyncratic world view, we have this creative, quirky way of seeing the world... French women don't have that... Hello, yawn!
On how gay and straight men should dress:
I'm not a very helpful person, I don't have that gay helpful gene, like "Queer Eye for the Straight Guy." I want people to be really flamboyant and uninhibited and demented looking, and that's my MO. I'm not interested in tidying them up. In the Star magazine, I much prefer the 'what was she thinking?' spread over the 'who got it right' spread... I'm just telling you that so you know where I'm coming from... I think we're at a point in history where... gays shouldn't be dressing different from straight men, they shouldn't be miles ahead or whatever. There's three basic ways men -- both gay and straight -- can dress today, and look hip and groovy and perfectly acceptable and have fun with how they look. And the key is to figure out which one you are. Ready?
1. The Perverse Prep -- sort of like an IMB salesman circa 1950, sort of like the Jehova's witness in the little gray suit. It's like Tom Brown... a very 60s preppie, but shrunken -- you look like a ventriloquist's dummy.
2. Heritage Henry -- like depression workwear, and a lot of companies now -- like Dickies --have reinvented themselves now. It's a hipster thing, everything's washable now... tt's sort of masculine, great for gays and for straights.
3. The Douchebag Look -- works for gay men and straight men. It's sort of like Jersey Shore, Abercrombie and Ed Hardy. It's sort of hedonistic and sleazy. Listen, I'm an equal opportunity gay if you're that person. The key is, if you're that person, that look works for gay men and straight men.
On bears in the gay community:
There are 1.7 million gay men in America who identify as bears, and the reason so many of you probably have no idea what I'm talking about is because it's essentially invisible. It's based on sort of hairy, bulky masculinity which is ubiquitous anyways. If you go to Home Depot, everybody looks like a bear... Some guy called me a fag on the street, and being resilient and fabulous, one doesn't care, but it made me think, wow, that never happens to [bears] because they have the ultimate camouflage... I think it takes all the essential elements of homophobic masculinity and somehow disempowers them by adopting them... it's a complex process that I'm much too stupid to explain, but that's the beginning of explaining it.
On fashion advice for lesbians:
First of all, it's a great time to be a lesbian. My sister's gay, and when I compare our experiences, it was sort of easier for me... to be a lesbian coming out in the 60s, I thnk that was really hard for her, and she became a feminist, women's lib, bra-burning, she went that route... now we live in an age where Ellen and Portia are on the cover of People magazine... The things I made fun of my sister for -- like organic oatmeal and birkenstocks and wearing fleece all the time, they're now very central to our culture. Locally harvested, community tables in restaurants -- all that crunchy stuff, which has become a big part of our culture. All the women who were in the lib movement... all those lesbians now earned their cultural centrality that they have now.
On the favorite window designs he's done:
I did a caricature of Margaret Thatcher ironing, because people were calling her the Iron Lady, and put her in this black, rubber S&M outfit, with metal buckles on it. It was like a dungeon, and she was ironing, listening to Metallica. That one was fun.
[In Los Angeles] there was this weird period where coyotes were starting to come into Beverly Hills in the 70s, and there was some woman's child was abducted by a coyote, and I thought, 'god, that would make such a great window.' So in my naivete, depicted this abduction, because you know, I was 25 and impulsive. So that window, yeah.
On designing the Obama's Christmas tree:
On the first Obama Christmas I was involved in designing the decor, the Blue Room tree I worked on. We found these big plastic balls in this warehouse outside the White House where they keep all this old jujsh. I found these big plastic balls and I said to Desiree Rogers, we should take these and use them because they're horrible, they're objectively awful, they must have been a Betty Ford disco thing... So I took all these silver balls and took them to community centers around America and had people decoupage them with the theme American monuments. And people in Pittsburgh put a tiny Andy Warhol Mao on their ball. And someone from some website photographed the chairman Mao, and somebody from a gay community center had put a picture of Hedda Lettuce's, the tranny -- oh, the trans-entertainer, sorry, we're not allowed to say tranny -- on their ball, so this website claimed that I was interjecting a communist, gay agenda into the White House, and it became this big internet thing, and someone was threatening to kill me with a baseball bat, and I forwarded the email to the White House and they emailed me back saying, 'Buy a helmet.'
Nellies are sort of like gay squared, the exquisitely refined, truly demented, sort of shamans of the gay world... I actually am not that nelly. I've had very nelly periods in my life... but essentially I don't have the guts to be full-on nelly all the time because you don't get a lot of positive feedback being that nelly all the time.
Foods are either gay or they're straight. And the key to a healthy diet, and the key to staying thin and trim is to not eat gay foods -- the key is to have a balance. If you order a big steak, which is obviously straight, hello, and you order the mashed potatoes to go with it, that's two straight foods together, that's too much heterosexuality on the plate. So you're better to have a fluffy green salad with your steak. Japanese food is very gay -- you're taking sloppy bits of fish and turning them into little bon bons, which is clearly a very gay thing to be doing. Mexican food is wildly straight -- a burrito is basically a combination between a penis and a turd. It's very important that once in a while you have a fluffy tostada with that.
>Up Next: The Cast of 'The Good Wife'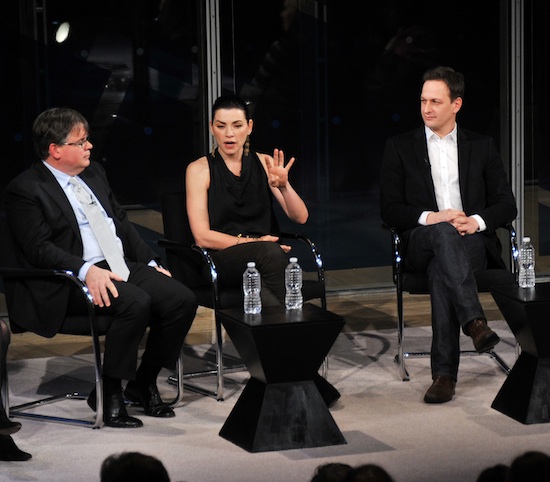 Writer Robert King, actress Julianna Margulies, and actor Josh Charles
Actors Julianna Margulies, Christine Baranski and Josh Charles, and writers Robert and Michelle King sat down with New York Times theater editor Patricia Cohen Friday night to discuss their critically acclaimed drama series, "The Good Wife." The panelists discussed what's going to happen during the rest of the season, the importance of portraying strong women on television, and how it feels to have your show constantly delayed by football. The discussion was the first of Arts & Leisure Weekend to sell out, and the theater was packed with enthusiastic fans.

On how the show has changed since it began:
Michelle King: I think structurally, I anticipated it being a little bit more procedural. I think we've been fortunate in having been able to explore the characters as deeply as we have. A lot of that is because we've had support from CBS on that. In terms of where the story has gone, it's always been about Alicia [Florrick, Margulies' character] and Alicia's journey... in Season 3, her life has gone on, and as a result the story has gone on.
Robert King: The other thing that probably changes it is that the ensemble – we react a lot to what the other actors are doing. For example, even with Alan Cumming ... he was going to be on for three episodes, and then he came on as his own character.
Julianna Margulies: I really find this path of Alicia so interesting, because the people she's meeting along her path are forming who she is. That's why it's an ensemble show. And it becomes this incredible journey of a woman who has to redefine her values, and who she is, and that's in every facet of her life –- the way she parents, and the way she works, and the way she handles the ex-husband and the way she handles the lover. And it's so exciting to play, because every day is new.
What do you say to viewers who feel shortchanged by how quickly Will [Gardner, Charles' character] and Alicia's relationship ended?
Josh Charles: Isn't that life? It's very appropriate, I think. It feels right. I think as everyone will see as the season progresses, what happens after that, it allows us to kind of go deeper into Will as a character, deeper into his relationship with Diane [Lockhart, Baranski's character], deeper into his relationship with Alicia, as their friendship develops.
Margulies: And who's to say that it's over, really?
Christine Baranski: It was a relationship that had such reverberations in terms of the firm and the workplace. So much of what I did last season and the beginning of this season was say, "You can't do this. This is crossing a line that has consequences." … You know, it's a big, weighty thing to be involved with the wife of the state's attorney.
Charles: That's how I roll.
On how Diane Lockhart feels revolutionary compared to most middle-aged female characters on television, who are generally "bitches and psychos":
Baranski: When I shot the pilot, I just thought, "Oh, strong woman who's going to give the leading lady a hard time," and people said, "Oh, you're going to be the bitch on the show," and I thought, "Oh god, here we go." But Robert and Michelle have written a woman, over 50, who doesn't go home and drink herself into a stupor because she has nothing in her life, where she's bitter, she's a bitch. She's got some hard edges, there's no question. But we've never really seen this culturally. I think it's incredible. And that they would give me a boyfriend, it was like, "Wow." And a sexy boyfriend. Not some fat bald guy.
Michelle King: I love that Christine said it was a triumph, when in fact in my mind, it was a failure. Diane was supposed to give Alicia more trouble, but we fell so in love with you and Diane that we were like "Oh, she can't be an antagonist." And so suddenly, that was lost.
Robert King: As writers, it's kind of like, "Oh, damn. Who has to be the villain?"
Baranski: Well, there's still time.
Was the show's move to Sunday nights a "dis" from the network?
Robert King: It's not being sold as a dis, but we're really concerned, on the East Coast, about the delay [from football].
Michelle King: It was not CBS's intention, I am positive of that. That it has made it more difficult to find is a frustration for everybody, but -– they have confidence in it.
Robert King: They're very entertained by it and they want it to work, so they are supporting it in every way they can. I mean, in theory, there will be no preemptions and no delays until the end of the season.
Margulies: That's not true. February, it's not on.
Baranski: When does football end?
Charles: The regular season is over, but the playoffs begin this weekend…
Robert King: We're in constant talks with CBS.
Michelle King: We're hoping the NFL strikes.
On how people's political and religious views have affected their viewing of the show:
Robert King: I would say there's a red state/blue state differential on it because I think it's about more liberal issues but it's really a liberal satire. It's not "West Wing," like a liberal wet dream. But it's about corruption of the political machine, which is very much a Democratic institution.
Margulies: This doesn't have to do so much with red or blue as much as it has to do with religion. A friend of mine got sent a letter – we're laughing about it, but it probably would be disturbing if I got the letter and opened it up – someone had written in, after [Alicia and Will's] liaison, and said, "Why don't you just call it 'The Good Slut?'"
Robert King: That's my mom. She asked for your address. You can expect two more of those.
Margulies: But it's interesting, there are a lot of people -– I'll walk down the street, and they'll go, "Don't go with Will! You're cheating on your husband!" And it is amazing to me, in 2012 –- I'm like, "Have you seen the show? He fucked a hooker! Oh my god. And, not just hookers, but people he worked with. And oh, by the way, I left him!" That's what shocks me about our world. And many of the letters that come in are people who are rightwing, Christian, who see a woman who is still married, not legally divorced, and it doesn't matter what the husband has done.
Patricia Cohen: I think one of the reasons you're getting letters is that websites actually organize these letter-writing campaigns.
Margulies: Or people just don't have a life.
Related
Popular in the Community