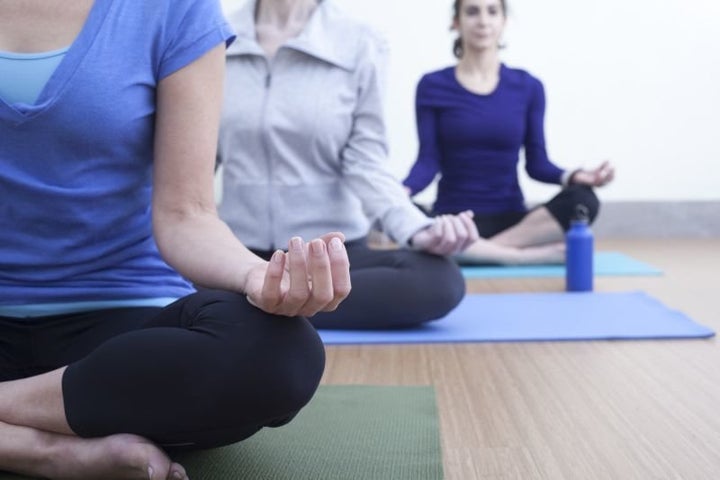 The column, credited to senior staff editor Honor Jones — though some have speculated that this is a generic pseudonym used by multiple people at the Gray Lady — calls out yoga pants for being too constricting, sexy, and unforgiving. According to the Times, they "threaten to show every dimple and roll in every woman over 30" and offer less comfort and modesty than the baggy sweatpants of yore.
The opinion piece also argues that women wear tight workout leggings to "look hot at the gym," choosing fashion over functionality.
"We aren't wearing these workout clothes because they're cooler or more comfortable," "Jones" writes. "(You think the selling point of Lululemon's Reveal Tight Precision pants is really the way their moth-eaten design provides a 'much-needed dose of airflow'?) We're wearing them because they're sexy."
The op-ed goes on to lambaste the booming fitness industry for pressuring women to splurge on pricey gym classes and the latest athleisure looks. But while there's no doubt that a SoulCycle membership and a gym bag stuffed with Lululemon leggings have a certain prestige, the yoga pants tirade has rubbed many readers the wrong way.
Much of the backlash stems from the implication that yoga pants are too tight and "sexy" to be comfortable, and that anyone with a less-than-perfect body should opt for something slouchier. It's also worth noting that women who wear workout leggings are often criticized for being overly casual. They're either too seductive or too sloppy, with women getting shamed either way.
The op-ed does raise one valid point: Sweatpants are comfy too. Still, they're not for everyone, and nobody should feel pressured to wear one thing over another. A pregnant woman might prefer the stretch of a yoga legging; someone else might want a garment that wicks away sweat, or something tapered that won't catch on their jump rope or Reformer machine.
Bottom line: Wear what suits you, don't judge others who do the same, ignore the haters, and brace yourself for the eventual takedown on sports bras. You know it's coming.
Read more from Yahoo Style + Beauty: