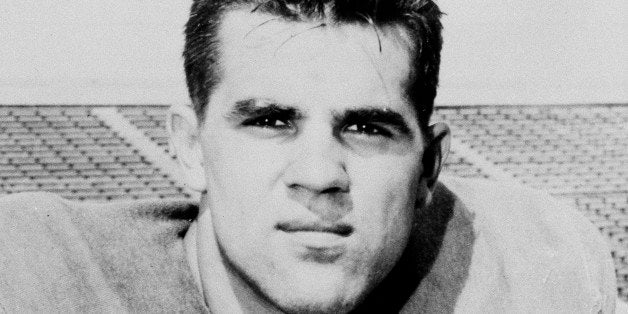 In death... maybe we can give people a break? Just one day? And for a grieving family? Why not make it "half full, not half empty?"
Lou Michaels had an amazing career -- far more impressive and challenging than some editor at a newspaper (or yes, TV anchor). What should be an editor's obituary headline: "Misspelled 6 headlines in 30 year career"? Or "Edited a Pulitzer Prize winning article"?
Here is the headline in the New York Times for Lou Michaels' and his family (below). Yes, true...

But why not get a headline out of any of this in his obituary they posted?
".....He was an all-American in 1956 and 1957, the same year he was named Southeastern Conference player of the year. He came in fourth in the voting for the Heisman Trophy.....he kicked 26 field goals (the most in the N.F.L. that year) and scored a career-high total of 110 points. In his 13-year career he kicked a total of 187 field goals, with a success rate of 54.8 percent....Michaels went on to kick five field goals in a game against the San Francisco 49ers in 1966, tying the league record at the time....He retired from football after spending the 1971 season with the Green Bay Packers....."
The missed kick was big and belonged in his obituary.... but not the headline for his family. Missing that field goal was very painful to him: "....The sting of losing the big game never left him, Michaels told The Baltimore Sun in 2010..."
So why not give him a break? at least in his obituary.
Calling all HuffPost superfans!
Sign up for membership to become a founding member and help shape HuffPost's next chapter